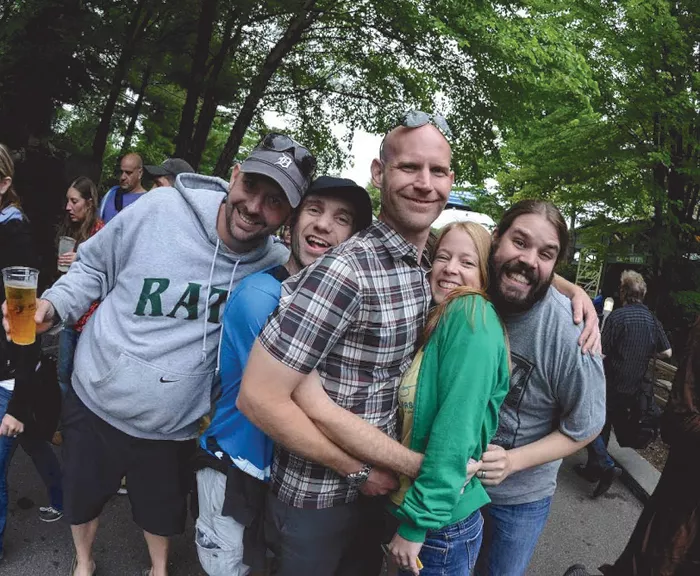 Something's Phish-Y
The legendary hippie bandPhish performed a nearly sold-out show at DTE Energy Music Theatre this past Wednesday. Phish has been around for more than 30 years and just released another new album entitled Fuego. This band has one of the most dedicated following of fans, known as Phans, and it is they who have made the band so popular. Phans flock to the venues early and set up a temporary community in the parking lot, usually referred to as Shakedown Street. A strip of vendors sets up tailgate-style tents, selling common things like food, tie-dyed garments, art, and other items. For many Phans, they follow the tour and attend dozens of shows. We chatted with a girl by the name of CHICKS, who reported to DDAYS that this was her 168th Phish concert. Whether you are a fan of the band or not, a Phish show is something every music lover should witness at least once in their lifetime. Its Phans are something like the next generation of Deadheads, and they are the friendliest, happiest, most dance lovin' people around. Security was busy the entire time, continually telling Phish Phans the aisles were not for dancing … but it was useless. When Phish comes to town, the Phans get down!
The King of Carrot Flowers
It's rare that a band does a show at the Crofoot one night and then Royal Oak Music Theatre the next. What takes it to mythic proportions is that both shows were sold-out. But Neutral Milk Hotel is magic and can do whatever it wants. It was the band's first time in metro Detroit since 1996; that's even before their seminal record In the Aeroplane Over the Sea. So when Jeff Mangum stood by himself on ROMT's stage opening the show with "Two-Headed Boy," we felt tingly. The next hour-and-a-half was a cathartic trip down memory lane. "Oh Comely" was a live experience that needed to happen, and it was the perfect end to the show. But, the most beautiful thing about the show (besides the "no cellphone" rule) was the band's ability to bridge generational gaps. Emotional teens and emotional thirtysomethings were standing shoulder-to-shoulder, creating a sea of sympathy.
Oink-oink, Glug-glug
Pig & Whiskey took over downtown Ferndale last Friday, Saturday, and Sunday, and to say it was packed would be an understatement. DDAYS hit the beer tents on Friday night and ran into MillKing it Productions' Kristy Smith, the Storefront Gallery's Derek John, Hip in Detroit's Sadie Q, and Dale Earnhardt Jr. Jr.'sDan Zott. We also spotted Adam and Stephanie O'Connor, Lauryn Eve, and Heather Franklin as well as a very friendly pirate who insisted that we all take a photo together. After all the whiskey (shhh, we had a half pint in our pocket) we couldn't resist and, oh, the memories will last a lifetime. The music area was packed thanks to Heartless Bastards, the Beggars, Duende, and Oak Bones, and we heard folks roaming the crowd talking about just how good the evening's headliner was. Saturday saw Goober & the Peas along with Jason Stollsteimer and his new band Ponyshow, and Sunday featured Justin Townes Earle, the Infatuations, and more. Some whiskey drinkers even spotted Superman (aka Henry Cavill) amid the crowded festival and even walking down Woodward. The actor reportedly stopped to take photos with fans and signed autographs while chatting up the throngs of ladies who clamored to get close to the celebrity. His co-star Amy Adams was spotted near the festival at Imperial on Saturday night.
We're SO Ready
We at DDAYS note that there have been about a half-dozen restaurants in Detroit that have been slated to open "really soon" all summer long. Now we're actually starting to see some action. Antietam in Eastern Market announced it was beginning to take reservations July 21, at info@antietamdetroit.com. They were serving an RSVP-only crowd during their soft opening last week, and maître d' Matthew Varvil told us, "It's going very well." Rose's Fine Food over by Waterworks Park had at least a soft opening last week, and the long-awaited Selden Standard teamed up with the Oakland for a pop-up preview. It's about time. We love it when a plan comes together.