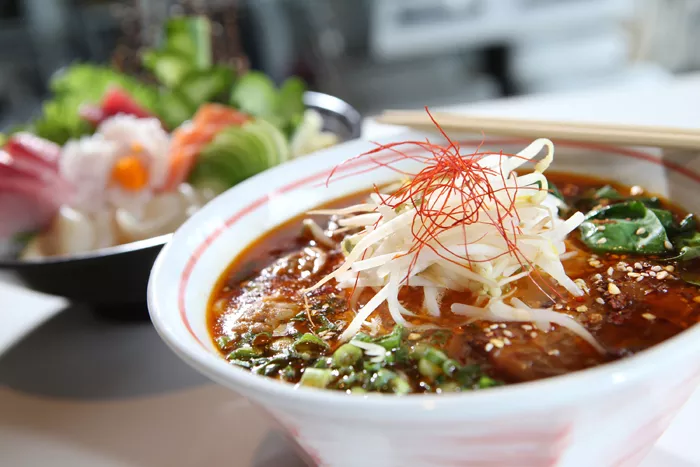 Slurping Turtle
608 E. Liberty St., Ann Arbor
734-887-6868
slurpingturtle.com
Handicap accessible
Tapas: $8-$10; ramen: $12-$13
Open for lunch 11:30 a.m.-3 p.m. daily, 5-10 p.m. Sunday-Thursday, 5-11 p.m. Friday-Saturday.
No, it's not Tribute, and, yes, it does have an anime-style, big-eyed turtle for its mascot — a creature no adult should have to look at. But those are the only semi-negatives about Slurping Turtle, Takashi Yagihashi's new venture in Ann Arbor and a spin-off from his flagship Slurping Turtle in Chicago.
Yagihashi can go Eastern or Western; he or his minions prepared the best meal of my life 12 years ago at Farmington Hills' Tribute. His aspirations aren't the same here; they're to offer the best ramen experience possible, along with Japanese (or Japanese-style) "tapas." When I visited, the restaurant seemed to be serving every Japanese student at the university — along with a good mix of natives.
You might start with miso soup, which comes with a bento box and a few of the non-soup entrées. It's larger, stronger, more sea-like, and more complex than many, with its seaweed, inviting little green scallion circles, and tiny tofu cubes.
Tapas includes a four-critter ceviche, gyoza, pork belly or chicken bao (buns), and soy-marinated salmon with anchovy aioli (on a tortilla). I liked the non-Japanese-seeming fried Brussels sprouts, a big serving that was both chewy and flaky. I tested the duck-fat fried chicken carefully to see if it was fattier than regular fried chicken and found that, yes, the greasy taste did linger in the mouth longer. The chicken itself, however, was too dry.
Another small plate is saikyo eggplant, saikyo being a sweetened miso paste. It's broiled or grilled with asparagus and lots of mozzarella, and the result is pretty sweet.
But best from the tapas list and one of the very best dishes overall was a serving of hamachi tacos: different kinds of silky sushi with cilantro and cherry tomatoes, on an easily shattered shell (this is not a take-out dish). It's an excellent combo of textures, colors (shredded carrots, even), and flavors.
The stars of the show, though, are the ramen, which are made in the building's basement. An employee will emerge from behind the glass door to show you how it's done on the imported multi-step machine. (Look downstairs also for a picture of Yagihashi's grandfather as a child.)
I tried hard to slurp my ramen as prescribed, but my teeth kept interfering. We tried two giant bowls, tonkotsu and roast chicken. Tonkotsu is a pale yellow pork broth dotted with intensely orange fat globules, with three big pieces of unfatty pork belly (chashu), mushrooms, and greens. I liked the chili oil that comes with it — squirt your own — and the shakeable "Japanese allspice," which seems to intensify the flavors without altering them.
The shio broth for the chicken soup is equally strong and intensely chickeny. Vegetables are firm, an egg is poached in the soup, and it contains kamaboko, which are slices of processed white fish roll with a pink spiral.
I loved the spicy salmon donburi (don = rice, buri = bowl), with its beautifully arranged layers: warm sticky rice surrounded with cucumber slices, topped with gorgeous, cool orange salmon, lots of it, flying fish roe, a white tangle of shredded daikon, shredded carrots, and sprinkles of black sesame seeds. What executive chef Tadashi Nagura knows about presentation is exceeded only by his knowledge of how to combine ingredients.
A bento box is similarly lovely to look at (and a lot of food), but was more pedestrian in its flavors. It includes tempura vegetables, shrimp, and sweet potatoes, plus a choice of protein, rice, three pieces of sashimi, a tapas daily special, and miso soup, which is pretty good for $15.
For dessert, you can get an Iron Chef Shooter: a quail egg with mint, condensed milk, and coconut milk. There are ice creams in appropriate flavors (red bean, black sesame, sea salt) and tofu cheesecake; we tried a raspberry-wasabi macaron but found it disappointing, too artificial raspberry-tasting. To have room for dessert, you really should plan ahead to take half your giant ramen bowl home.
The Slurping Turtle is well-staffed — so heavily that we were being asked about our delight level every few minutes, and a nearly full water glass was refilled as we waited for our check. A very slight expression of annoyance brought a manager who apologized for overattentiveness. And he wasn't even Japanese.
Japanese sodas are offered for $5 a can, which isn't high when you consider the cost of shipping water and metal across an ocean, but is high when you consider they taste like Nehi.
When the liquor license comes through, the Turtle will have a good list of sakes (such as crème de sake and "First Grandchild"), Japanese and Midwestern beers, Champagne and white wine (hard to imagine red with Japanese food), and such cocktails as "Tea Time for the Empress." The latter, based on gin, will be served in an almost ceremonial fashion, poured over orange peel into pretty, handle-less cups, and topped by chrysanthemum leaves. If you're going Japanese, you might as well go all the way.