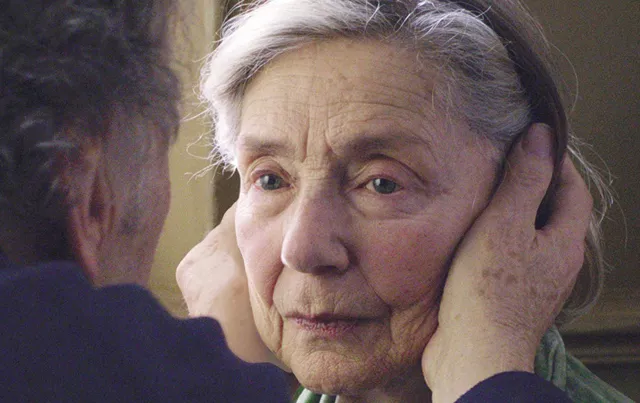 Amour A-
In MichaelHaneke's Amour, Georges (Jean-Louis Trintignant) and Anne (Emmanuelle Riva) are an affectionate elderly French couple enjoying their twilight years in comfort. Then Anne is struck by a series of strokes, and her husband must take care of her; feeding her, helping her go to the bathroom, supporting her as a suicidal depression sets in. Over the course of the movie — which is devoid of a soundtrack and full of long static shots — we witness the gradual disintegration of Anne's body and spirit, and George's mostly wordless attempts to cope with responsibilities he never expected.
So, does Haneke's title reflect the strength of the couple's relationship or is it an ironic statement about what love requires you to endure and, ultimately, do? If you're expecting an easy answer, you're probably not familiar with the director's work. Haneke is one of the most uncompromising filmmakers working today, provoking audiences to confront issues of cruelty, fear, guilt and unexpected violence. Films such as The White Ribbon and Cacheare mercilessly austere studies in emotional dread, relying on small details and quiet precision to unsettle their audiences.
Amourlacks none of those attributes, but also features an unexpectedly tender approach to its story. Haneke, not surprisingly, is unflinching in his view of the indignities of old age and mortality, presenting (rightfully so) death as a dark and burdensome thing. There are moments in Amourthat go beyond discomfort to dwell in nihilism. But with Trintignant and Riva the director has found actors who can express a lifetime of experience and connection. The relationship between Georges and Anne is exquisitely intimate, and the actors handle the humbling realities of the situation with uncanny grace and specificity. Every glance and gesture brings with it a personal history and we never for a moment doubt that these people are sorrowfully real. It's no surprise that Riva has been nominated for an Oscar. Her character's battle to retain dignity and refinement in the face of an insidious demise, and her eventual despair is as troubling as it is heartbreaking.
Though the movie is set almost entirely within the confines of Georges and Anne's well-appointed apartment, Haneke finds room for both suspense and visual flourishes. There is a terrifying dream sequence as well as repeated incursions by an unwelcome pigeon, whose instinctual tenacity may echo George's own. Leave it to Haneke to turn what might otherwise be comical into something strange and disturbing.
More than just a stark chronicle of someone dying by degrees, Amour, like all of Haneke's films, has a mystery at its core. The movie opens with a surprising bang as firemen break down the door to Georges and Anne's flat. What they ultimately discover isn't really a mystery, but the particulars are. And much like his other films, questions remain unanswered when Amourreaches its end. Nevertheless, nothing in Haneke's work is there by chance, and nothing can be taken at face value. His rigorously spartan approach challenges us to question the characters' motives and forces us to search the frame for answers.
Ultimately, Amouris a mirror, and what we see depends upon who we are. For some, the conclusions will be too harrowing and severe to accept, for others, they will be beautifully tragic. Either way, this deceptively simple film makes clear that death, real death, the kind we all face and most art refuses to address honestly, is relentless and unsentimental. All we can do is reckon with the certainty that the people we love will eventually be taken from us and there's not a damn thing we can do.mt
Opens Feb. 1, at the Maple Theatre,
4135 W. Maple Rd., Bloomfield Hills; 248-263-2111.