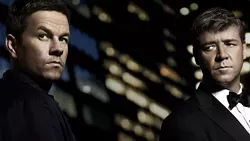 Chinatown this ain't: Crowe and Wahlberg in Broken City.
Broken City C
Naming a movie can be a complex act of juggling marketing and artistic concerns in an attempt to stand out, but one thing a title probably shouldn't do is give eager film critics so much ammunition. Broken City does in fact evoke visions of a shadowy, floundering, morally ruined metropolis, but it also highlights that the final screen product is a compromised, flawed mutt of a thriller.
The film's January release, the slow season where unloved projects are tossed out into the frosty wastelands and left to die, affirms that harsh assessment. Mark Wahlberg, however, scored a surprise hit around this time last year with the solidly made Contraband, so perhaps the studio hoped for a similar result, though this dour political crime story is not nearly as much fun.
It's a shame, because this one does appear to have a decent enough pedigree — in front of and behind the camera — to elevate it above the mid-winter box office swamp. At least it does on paper, but the devil is in the details.
Wahlberg leads the way as Billy Taggart, a heroic New York City cop forced to turn in his badge after a very controversial shooting incident in the tough slum he grew up in. Seven years later, Billy is muddling through as private eye, spending most of his time sneaking around outside bedroom windows and hounding his clients for unpaid bills. Fortunately Mayor Hostetler (Russell Crowe) kept Bill's number handy in case he needed some dirty work done, and in this case he's offering him a huge payday for proof that the boss' well-heeled wife (Catherine Zeta-Jones) is fooling around with Paul (Kyle Chandler), the campaign manager of his honor's main rival.
Barry Pepper overplays the role of the previously clean city councilman who will do just about anything to win the mayoral job, in what turns out to be a close, fiercely contested election. Both candidates sport very odd haircuts for politicians, but Crowe is also covered in enough spray tan to make him look like a bronze statue that should be in front of Yankee Stadium. Not helping his image is his collection of comfy sweaters, or his forced Brooklyn accent, which has hints of Boston and Crowe's native Aussie dialect peeking through the cracks.
Still, even at his hammiest, Crowe is watchable and appropriately sinister. His scenes display much more spark then those between Wahlberg and his blandly pretty love interest, played indifferently by Natalie Martinez. Catherine Zeta-Jones looks like she's there to shoot a Prada ad, not a serious drama, and her storyline never develops into anything all that interesting. The same could also be said about the crooked real estate deal behind all the intrigue. Jeffrey Wright growls and puffs up his chest as the intense and calculating police commissioner, but his character too is underdeveloped
Director Allen Hughes, flying solo for the first time without his brother Albert, displays a steady hand, but he's got only so much material to work with. Brian Tucker's script has been bouncing around for several years, and once generated some serious blogging buzz as an untapped gem, but now it's hard to see what the fuss was about. The plot is a bit convoluted, yet still predictable. The dialogue, while offering some clever flashes, too often it sounds like the dusty remnants of a B-list noir.
Despite it's cast and ambitions, Chinatown this surely ain't.