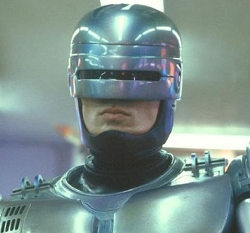 27 years ago in Metro Times: The first Robocop had just been released, and the staff at MT was in quite a tizzy. A movie set, even if not filmed, in Detroit still managed to show a lot of the city's harsh realities — white flight, a city still corrupted by crime in the future, and a few dozen pawn shops to dot the crumbling scenery. Reporter Cal Burnett writes,"in this future, government — municipal, state, federal — is little more than a comic phantom." Oh, and the government is practically replaced by a large corporation that takes hold of the town. This year, a new and improved Robocop movie hit theaters and a Kickstartereffort that had raised nearly $70,000 toward the goal of building a real Robocop statue is set to reveal its creation later this year, after a false alarm in June.
17 years ago in Metro Times: Watch out, Oakland County, you're about to get developed. MT interviewed a Clarkston hopeful who had escaped Sterling Heights to enjoy the quiet seclusion of a more rural setting. However, the resident was becoming upset with the new subdivisions plaguing his town — not to mention a pesky mall set to be built. The county already had seven, but that wasn't stopping Great Lakes Crossing from being built, taking out trees and greenery as its construction continued. Developers anticipated the mall would provide a day-long shopping and entertainment experience for folks far and wide, but these days malls are a place you expertly avoid unless if you're shopping for disease and consumer guilt.
13 years ago in Metro Times: MT published an essay on discrimination after a public opinion poll revealed that only 6 percent of Americans at the time saw racism was still a "very serious" problem for African Americans. The reporter, Tim Wise, pointed out that twice that percentage has told pollsters that they believe Elvis is still alive. Wise said that whites say they know the struggles black Americans face, even though more than 80 percent of whites lived in nearly all-white neighborhoods. He also commented on how discrimination in the workplace and within crime was still too obvious to ignore. A few days ago, a similar essay surfaced on thefrisky.com, highlighting the same issues but adding a few sentiments on "reverse racism," a term thrown around quite a bit recently.