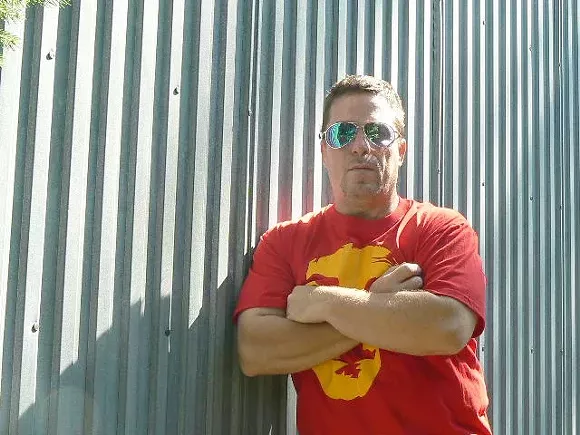 Photo courtesy Darren Robbins
A southwestern Michigan man faces up to a year in jail and up to $2,000 in fines for painting "I love you Jolene" on a vacant building in Cass County — in temporary, washable chalk — WBEZ's
Jim DeRogatis reports
.
Darren Robbins 48, painted the message for his friend, who he knew would pass by the building on her way to get breast cancer treatment. A cancer survivor himself, Robbins is no mere
common graffiti vandal
— he sells street art-inspired cornhole boards and has decorated buildings with permission under the alias
"Lemmy Cornhole."
Robbins has also made a name for himself in the Chicago music scene with his band
Time Bomb Symphony
.
Robbins says he did not want to create permanent damage and took great pains to find a medium that would wash off easily. In his
own words
:
"Whatever I was going to do, I knew it had to be big—something that there would be very little chance of missing as she drove by. A cheap can of spray paint would have done the trick, but that would have been permanent. Instead, I opted to spend 10 times what a can of spray paint cost and procured a few cans of marking chalk. I then spent a few days spraying the chalk on a multitude of surfaces to determine which was the most temporary and easiest to remove. Of the three brands I purchased, Krylon came off with a water hose, or a bucket of water and a brush. Worst-case scenario, the chalk disappears in the first rain storm, or fades altogether in a few weeks."
The message was painted at 3 a.m. on July 23, and Robbins says he had every intention of removing it himself later that day. Police were at his door mere hours after he painted it, however. Robbins says it's only the latest in a long history of hostility from the Dowagiac police, adding they "have credited me with every unsolved tag or act of vandalism in this town from the dawn of time in hopes of getting the big one."
Robbins is due in court in Cassopolis, Mich. for a pre-trial conference on Sept. 22.