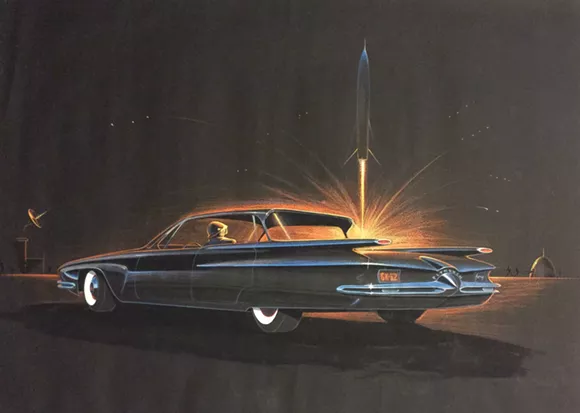 Courtesy of Robert Edwards
George Krispinsky, AMC concept early 1970s.
Artist and collector Robert Edwards' collection of rare automotive designs is rolling into Detroit's Scarab Club.
American Dreaming: Car Style Detroit
features more than 50 works of art created in Detroit's automotive studios from the post-World War II "Golden Age" of design.
The show has an opening reception from 5 p.m. to 8 p.m. Friday, Jan. 8. Several of the designers who have loaned their original art for the show will be in attendance.
When we interviewed
Edwards about his collection last year, he explained that these drawings are so rare because standard auto industry policy deemed such artwork as "works for hire" — and they would be destroyed at the end of the model year. Many artists don't have any work from their careers. (Much of the art that exists today was smuggled out.)
Edwards thinks it's important that automotive design is recognized not just as design, but art. "If this artwork is only seen in the context of car museums, it doesn't really elevate it to the stature of art," he told us last year. He also thinks it's important that Detroit recognizes it as art. "This is Detroit history, and it has to stay in Detroit," he says.
The original artists will return again later in the month to offer an artists' talk and guided tour from 7 p.m. to 9 p.m. on Thursday, Jan. 21 — a must-see event for true automotive design enthusiasts.
Admission to the exhibit is free. The Scarab Club is located at 217 Farnsworth, Detroit. The show runs through Feb. 13.
In connection with this exhibit, Edwards is working on a feature-length documentary film,
American Dreaming.
Watch a trailer for the film below: