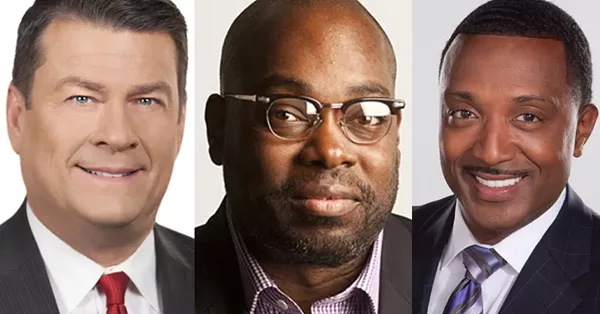 We now know the fate of all three Detroit media personalities who were accused of sexual harassment by a Detroit reverend in a Dec. 5 news conference.
The reverend, activist W.J. Rideout III, is out of a radio job at 910 Superstation after leveling the ambiguous claims on behalf of what he said were anonymous victims.
Stephen Henderson
, the Pulitzer Prize-winning journalist called out, was, as many know, removed as opinion editor at the
Free Press
last week. Today, we learned the fate of the other two men accused by Rideout — both of whom were with WXYZ-TV.
An
internal probe
launched by the station's parent company in response to the allegations has found that Stephen Clark, the station's former evening anchor, who recently retired, did not act inappropriately. Morning anchor Malcom Maddox, who was placed on leave following the allegations, was reinstated Friday, after the investigation determined his behavior was limited to communications "that did not conform to company policy," for which he was already reprimanded with a two-week unpaid suspension in 2015.
Henderson, the only person to go down following Rideout's claims, was fired from his role at the
Free Press
after the paper's management said an internal investigation found he acted inappropriately. Henderson took to the WDET-FM show he hosts to
clarify
that vague wording this week, saying that, years ago, had made rejected advances toward a manager in another department and had a sexually-themed conversation with an employee outside of work.
The firing has resulted in some criticism of the
Free Press.
An opinion writer for the
New York Times
this week asked whether a milder penalty for Henderson would have sufficed.
"Don't we have the moral capacity to distinguish between aggressive sexual predation and run-of-the-mill romantic bungling — between a pattern of abusive behavior and a good man's uncharacteristic bad moments?" Bret Stephens wrote in a piece titled,
"When #MeToo Goes Too Far."
"It will not serve the interests of women if #MeToo becomes a movement that does as much to wreck the careers of people like Henderson as it does to bring down the Weinsteins of the world," he wrote. "Nor will it do much to convince men that #MeToo is a movement that is ultimately for them if every sexual transgression, great or small, vile, crass or mostly clumsy, is judged according to the same Procrustean standard."
Despite the
Free Press
's firing, both WDET and Detroit Public TV have kept Henderson on as an employee.