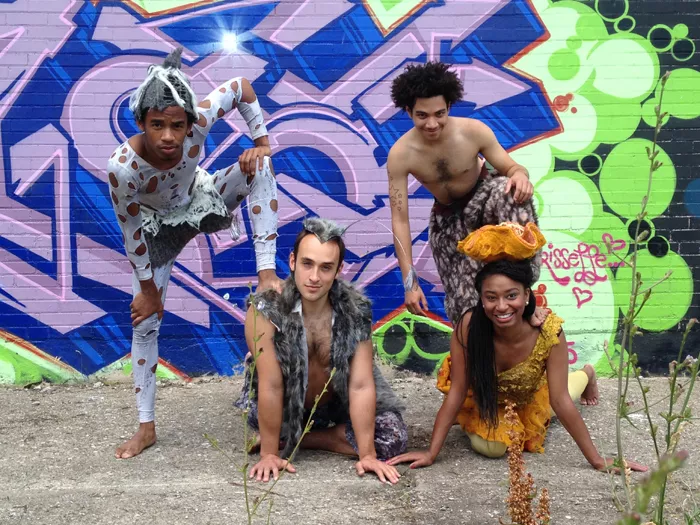 Under gray skies and the looming threat of rain, more than two-dozen people lined up an hour and a half before last Saturday's fine performance of A Midsummer Night's Dream in New Center Park. Two minutes after the doors opened, the park was packed, expectant people filling the space like breath in a balloon.
The audience was incredibly racially diverse, likely one of the most varied for a work of theater this town has ever seen. They were joyous and near rowdy, clapping, and whooping after and even during scenes for characters and moments they liked. A straw poll of the crowd included people from Woodhaven, Clawson, Commerce, Ferndale, Dearborn, and even as far away as New Orleans.
Directed by Cal Schwartz and presented by Shakespeare in Detroit, A Midsummer Night's Dream is the troupe's first attempt at one of the Bard's comedies. SiD's focus on tragedies snuck into the relentlessly upbeat Midsummer and was revealed in many rather poignant moments in the first half. The second was all ripples of laughter from the audience, the young cast adding an effective and youthful physical comedy. The production, heavily influenced by dance, used both the large stage and outdoor environment — many scenes ending in excellent, nearly painterly tableaus.
The set design was almost nonexistent, consisting only of a set of chairs, coyly placed at opposite sides of the stage and surreptitiously moved closer as drama progressed. Standout performances from the solid cast included Chris Jacob as a spazzy, hyperactive Puck and Helen K. Danko as a hilarious and inventive Helena, channeling Seinfeld's Elaine Benes for consistent laughs. Alexis Mabry as Flute and Patrick Hanley as Snug made the most of their small parts.
The performance was occasionally plagued by small technical difficulties with the sound and lack of microphones, although the music was well-chosen and added depth and momentum. The juxtaposition between the tall, angular buildings of New Center and the play containing fairies set in a magical wood was striking, and the small difficulties with the sound seemed to conspire to never let the audience forget they were indeed still in Detroit.
But the crowd didn't seem to mind. The final scenes, consisting of a play within a play, were necessarily staged without the aid of amplification. It was occasionally difficult to hear, but had the effect of pulling the audience to the tips of their seats, drawing them in closer and creating the feeling of being in on an inside joke.
The crowd was warm and kind to the hiccups, obviously pulling for the scrappy little company, in only its second season. The staff was friendly, and when one woman in line for a hot dog asked if there was insect spray available, the vendor offered her an "all-natural, organic, and pesticide-free" solution she'd made herself. It smelled wonderful and appeared to work. There was the sense that lots of people were trying real hard to make this work with thousands of tiny gestures of community and joy.
A few drops of rain fell at intermission, yet few left until the finale, many parents carrying sleeping and starfished children to their waiting cars. One woman caught a firefly between cupped hands, briefly turning them into a lantern. She released it into the night.
Shakespeare in Detroit will stage a free performance of Romeo and Juliet in Grand Circus Park July 26 at 7 p.m. Bring your lawn chairs and arrive early. They also have a current Indiegogo campaign in support of their autumn season. Donate at indiegogo.com/projects/shakespeare-in-detroit-aspires-for-another-season.