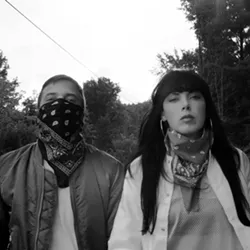 Facebook
Derek Edward Miller and Alexis Krauss of Sleigh Bells.
Sometimes you need to go to a show and just hear loud, in-your-face, raw music. Well, look no further than noise-pop duo Sleigh Bells to cure that craving. The critically acclaimed duo is set to release their newest album in November called
Jessica Rabbit
, so we're hoping to see some new material from them at the show.
Opening for Sleigh Bells is
MT
favorite and absolute badass Tunde Olaniran of Flint. Olaniran was one of our favorite acts at this summer's
Mo Pop Music Festival.
Olaniran's music is personal, political, and in our opinion, lit as fuck. We just hope that this guy's star continues to rise.
With just a drum machine and loud, metal guitar licks — Sleigh Bells will make you whip your hair back and forth with their sweet, thrashing music. Plus, they are suing Demi Lovato for allegedly ripping off one of their songs, so they deserve an award for that alone.
Thursday, 9/1; Doors at 9 p.m.; 4114 W. Vernor Hwy., Detroit; elclubdetroit.com; Tickets are $25