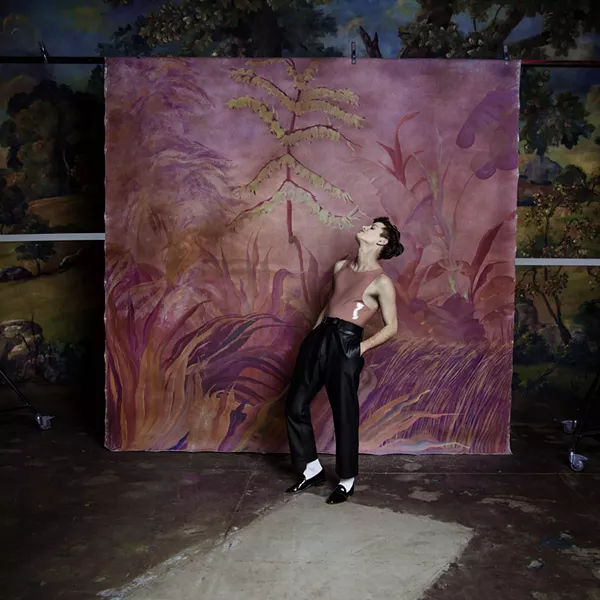 Perfume Genius. Courtesy photo.
Perfume Genius is the stage name for Seattle-based solo artist Mike Hadreas.
His show at the Magic Stick on Wednesday, May 10
opens his tour in support of his new album,
No Shape
, the singer-songwriter's first since 2014's acclaimed
Too Bright
. It's a bit of a shift in direction toward a more experimental sound that's at times joyous, weird, and haunting. We caught up with Hadreas, one of indie rock's most/only outspoken gay artists, as he prepared for the tour.
Metro Times
: Are you going to be selling the "
Effeminate Eminem
" tee-shirts at the Detroit show?
Mike Hadreas
: No, those are a rarity now. But I think I'm going to be cooking something new up.
MT
: That's too bad — you'd make a killing off those here.
Hadreas
: (Laughs.) That's true; I never thought of that.
MT
: For the Detroit readers who might have missed it, but will definitely appreciate it, can you tell us a little about why you made the shirts?
Hadreas
: Oh, man. I still get a lot of shit from Eminem fans for that. I don't even know what search line they're using in Google to find it. It wasn't that big of a deal, but somehow they're really digging. We disabled the comments on one of my videos because of it. I'm not a fan of people who pass off misogyny and homophobia as a joke. I think that there's funnier stuff; there are jokes that don't involve that.
MT
: The new album has a different feel. There's a lot of joy where the other albums were a little more dark. Was that a conscious decision, or is that what came out while you were writing?
Hadreas
: A combination of both, I think. The first song I wrote for the album was a little more warm, and it was the one out of a batch of songs that I was trying to write that I felt was the most inspired. So I sort of started building on that. But I thought of it as a challenge in some ways, because I've always liked movies and music that're heartwarming and joyous and free. And I think it's a lot more difficult to make music like that and have it not be corny, or have an after-school special kind of feel. So it was a fun puzzle to write music that would make you feel that way.
MT
: Did the lyrical content follow suit?
Hadreas
: The lyrics came after, which is weird. I've traditionally done that the other way around. The lyrics are happier, but there's alway a thread of something kind of dissonant underneath all the songs that maybe all sound warm at first, but if you listen there's something bubbling underneath that's not so nice. I think the lyrics are kind of approaching happiness, but you never really quite get there.
MT
: I read an interview after your last album,
Too Bright
, in which you said you were listening to a lot of Otis Redding while writing that album, and one can hear a lot of Otis's influence in it. Were you listening to anyone in particular while recording this album?
Hadreas
: I'm always listening to a lot of old soul and a lot of 4AD music, like Cocteau Twins. But I think for this album I kind of liked the idea of doing my version of Bruce Springsteen's stadium anthems, and there're a couple songs like that, or Elvis — crooner-y dudes. If I were thinking of a direct reference, it would be those two for sure.
But I didn't worry to much about making it into any one way. I kind of went with whatever influences, even if they were conflicting or from different time periods. I didn't worry about them all coming out on one song, and my producer is kind of the same way. We like music that's kind of all over the place and we're not really super music nerds about one era.
MT
: Why did you decide to work with Blake Mills and how did that impact the sound?
Hadreas
: A lot of the songs could sound like more traditional, band-y rock songs, and I wanted a certain amount of that, but I wanted it to be more fucked-up, and a lot of his recordings have that. Like they're instantly familiar, but there's still something strange and new about how the guitar sounds, or how it's played, and I wanted some of that.
I sent him all my demos and he wrote pages of notes, and a lot of the references were exactly what I was going for, though some of them were surprising but made a lot of sense. So I felt like he understood the spirit of what I was doing and what the songs were about, and he could technically push it and wouldn't be scared to make it genreless and kind of fucked up.
MT
: This sentence was included in the press pack as an explanation for your music: "God is all around, actually, and some of these songs are about being equal, and some are about the witchcraft of believing." That's interesting can you expand on that a little?
Hadreas
: That's pretty deep. I didn't write that. Can you say it again? (Laughs.)
I thought of a lot of the music as kind of sacred, like hymnals. I've always written like that. I've always been obsessed with choral church music, but never felt like I was included in any of it. What was weird to me is church always felt very witchcraft-y, though it's supposed to be the opposite. It's a bunch of people chanting and invoking something. I was very into that part of it, but I wasn't into the part where I was going to hell.
So I like the idea of making music that has that feel, but is a little more inclusive for me and other people others who needed it, but who never felt they were allowed in.
MT
: You've been sober for a long time. How does that impact or help or hurt your creative process?
Hadreas
: It's different for everyone but, for me, I didn't make anything when I was using. It was a void, really. It was enough for me to be doing that stuff. I didn't want to add something like a song on top of it. That was fulfilling enough, and that's why I did it — it kind of took care of that need to figure things out. It created enough of a dramatic feeling inside me that I didn't feel the need to dramatize anything else by painting.
But I think mostly it allowed me to commit to follow through on stuff. Maybe I had a lot of ideas throughout the years, but I never really sat down and worked. And I think getting sober helped me actually work, which I've kind of learned is actually very important. I thought for a long time that I was going to fall into something, or it would just happen, without having to do anything.
Perfume Genius performs on Wednesday, May 10 at the Magic Stick; Doors at 8 p.m.; 4120 Woodward Ave., Detroit; majesticdetroit.com; $16.