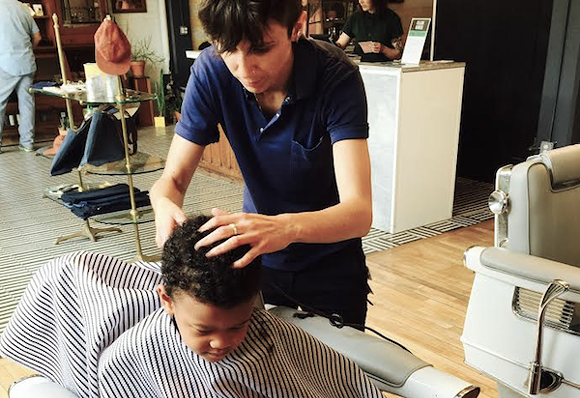 Courtesy Ash Hipps
Stylist Ash Hipps does her thing.
When it comes to Detroit's "comeback" story, some of the most interesting redevelopment stories are taking place outside downtown. Without overarching plans or multimillion-dollar subsidies, a ragtag network of small developers and street-level shopkeepers are re-creating historic neighborhoods along pedestrian lines. And their collective commitment to neighborhood life really sets them apart from the big-ticket developments that earn so many banner headlines.
For instance, take a look at what's going on at the corner of Trumbull and Bagley. That's where entrepreneur Brian Mulloy is rehabbing a few commercial units, dating as far back as 1877, that are open or will be opening this summer, including the Farmer's Hand, a specialty grocer.
But this weekend's Corktown Historical Home & Garden Tour will include the chance to peek in on another tenant in Mulloy's renovated property: The Bearded Lady, a 300-square-foot beauty and barber shop going in on the Bagley side of the building. It will be big enough for three chairs, a desk, and as much kitsch as will fit on the high-ceilinged walls. It could be keeping regular hours as soon as next week.
It's the brainchild of Ash Hipps, 30, a Flint native who grew up helping out in her aunt's beauty shop. She came of age in Genesee County, finished cosmetology school, and spent five years styling and cutting hair in Chicago. She says Chicago was "too populated," and that she wanted something a little scaled-back, and worked at a few places in Detroit.
Now she's opening a business of her own where she can call her own tune. She echoes something several other Corktown business owners have said down the years: It's the biggest small town in America.
"This was kind of the perfect mix for me to do what I do," Hipps says, nursing a drink at Anthologie Coffee on a recent weekday morning. "It's worked out really well. I like how everybody kind of knows everybody, how everything has that community feeling."
Hipps says it will be a really small beauty and barber shop, full service, with three stylists with different specialties, from chops to styling to coloring, a place that can handle everybody at a fair price, "without all the fluff." The goal is to have a shop that's priced fairly, doesn't stand much on ceremony, and is unpretentious and fun.
Speaking of which, only the most humorless would miss the goofy gender-bending that's right in her shop's name. That's no accident. It's a pre-emptive zinger. Hipps is an out lesbian who lives in Detroit with her partner, and she's hoping her salon will strike a middle ground that welcomes the LGBTQ community, but also doesn't alienate a broad cross-section of longtime Detroiters.
"I saw a need for somewhere in the city that just sort of accommodated people," she says. "Why not have a place where everybody can get together for a fair price, and nobody has to feel alienated?"
If it sounds overly earnest, in Hipps' regular-gal manner, it all makes sense. "Even when I started in cosmetology school," she says, "people treated me differently because I'm not some fabulous gay guy, or some flashy long-haired princess, or I don't have the tattoos and all the makeup. I had to make my own path. I wanted something to be done right, so I have to do it myself. I don't want to be a famous hairstylist. I don't want to be standing on a stage. I just want to have my little shop, with my little people, just … shooting the breeze and having fun."
Asked if she agrees with the mission of Bindle & Keep, the Brooklyn tailor featured in a new HBO documentary this month that works to help trans people feel confident, she says yes — with one caveat.
"Yes, I'm absolutely there for the community in all aspects," Hipps says. "But just because you're a straight man with a wife and kids and live a very vanilla life, I don't want you to feel alienated either, and I don't want people who've lived in Detroit forever to feel they're alienated either. I just want everybody to be able to walk through the door. I set the prices as low as I could without shooting myself in the foot just to make sure I could get a good cross-section of customers."
The cheapest chops will be buzzcuts and short haircuts for seniors and kids: $15. From there, prices will go up based on length, styling, color, and curls. Color retouches could start as low as $50. And shaves will come with the old hot-towel treatment, a flourish Hipps says just makes people feel special. She even says she'll be avoiding the use of the most caustic hair-care products, in an effort to protect the environment for her staff and her neighbors.
"I wanted to have a barbershop's vibe, where you can walk in and hear people's stories," Hipps says, "but it's not male-focused. Yeah, all men are welcome, all women are welcome, all kids are welcome, anybody who identifies as something in between is welcome. It's just all-inclusive: Come and get your hair cut. Feel a little pampered. You know, you can't do that if you don't own the shop, to have that ability to reach out to people."
That invitation to community and gabbing with your neighbors will be rounded out by a kooky sign painted by Golden Signs, all based on a sparkly green barber chair Hipps acquired that enjoyed a former life in a Hazel Park barbershop.
"That chair was meant to be mine," Hipps says with a laugh.
Like barber shops of old, she'll load up the walls with anything to help people crack up and relax. "Anytime I find something that makes me chuckle," she says, "I pick it up. So my house is a hodgepodge of crap that I've collected that makes me laugh, and that stuff is going to spill over into the shop."
What can those in the barber chair expect? Golden Girls will be a theme. As will mid-century nostalgia. And pineapples.
"I only recently found out that pineapples are the international symbol for hospitality," Hipps says. "Right away, they invoke a playfulness, shake off the seriousness. And they just make you feel warm and fuzzy. I just want it to feel like going to grandma's house."
You can sneak a peek at the Bearded Lady during the Corktown Home & Garden Tour, noon-5 p.m. Sunday, June 5, at the Bagley Street entrance to 1701 Trumbull, Detroit. Call 313-338-5122 for appointments.