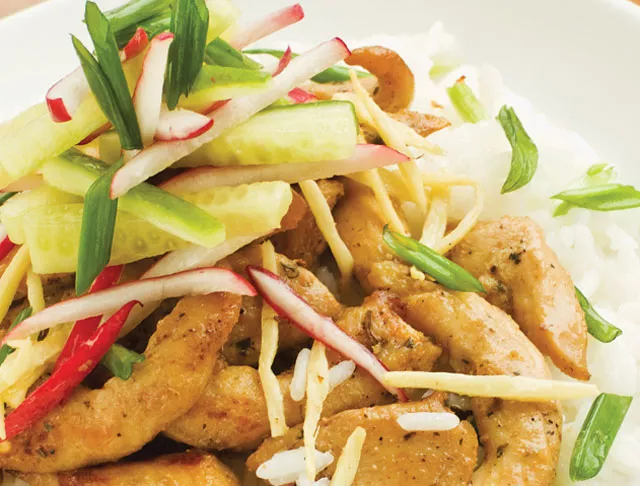 Today, savvy diners know that authentic Chinese food is an exotic delight showcased in better restaurants. Thanks to more than a generation of new immigration from the East, Americans can sample cuisines from all over China, such as dim sum or chicken feet, and may look back upon the relatively simpler delights of chop suey and General Tso's chicken with a bit of disdain.
But it doesn't have to be that way. After all, American Chinese cuisine has a rich history all its own, pioneered by the first wave of Chinese immigrants, most of whom came to work in California mines and railroads in the 19th century. But after the Chinese Exclusion Acts at the turn of the last century cut off the stream of Chinese immigration, and with growing anti-Chinese racism in the West, Chinese found industrial work scarce, and adapted by opening laundries and restaurants.
Chinese cooks opened restaurants offering meals remembered from their native Guangdong province, in southern China. Named for the province's capital city, Cantonese cuisine became North America's default "Chinese" food for more than a generation. These cooks were often working people, and were never classically trained chefs. Most had initially emigrated from China because of poverty, which meant they were used to rice and noodle dishes, when there was food at all. Their meals had mostly centered on vegetables, and if they had meat at all, it was often pork, as beef was rare and chicken expensive.
Since the tide of Chinese immigration had been stemmed by law, Chinese-American cooks couldn't rely upon a growing ethnic community, and their cuisines needed broader appeal. With some intelligent tweaks to accommodate American tastes (and restaurateurs' budgets), Chinese-American cuisine became a national success story, becoming the most popular "ethnic" food in the United States.
To cater to Americans, cooks began serving dishes centered on beef — complemented by vegetables. To serve people quickly in their small kitchens, they exploited the quick cooking styles well-known in poor rural areas that used high heat to create small portions quickly in tight spaces. With stir-fried and deep-fried preparations, starchy breading and such sweet flavorings as duck, plum and sweet-and-sour sauce, one could argue that Chinese-American cuisine was the original American fast food.
With a successful formula — probably not much more than the wonton soup, chop suey and egg foo yung — Chinese food as we know it streamed out of the early cookshacks and diners of California and spread across North America, adapting to local tastes every step of the way. Fortune cookies and egg rolls, for instance, were largely popularized by Chinese-American restaurateurs. Some Chinese-American dishes can only be found in certain American cities, such as a St. Paul sandwich (St. Louis) or — better known here — war su gai, aka almond boneless chicken, or ABC. These recipes can be intensely local, designed to appeal to specific regional tastes, contributing to local cuisine rather than overwhelming it.
With immigration laws relaxed between 1943 and 1981, new waves of immigrants from all over China have arrived, and they have regarded U.S. "Chinese food" at best as a curiosity, preferring the authentic fare of their homeland. Make no mistake: This has been good for local diners, who now have more fantastic choices than ever before. With such restaurants as Warren's Golden Harvest and the two locations of Shangri-La, we can now encounter everything from Fujian and Hunan fare to seafood so fresh it was swimming just minutes before being served.
And yet, we wonder if we are neglecting a part of our history as Americans. For a lot of locals, the comfort factor of Chinese-American food can't be beat, the authentic food of their childhood and their region. Will this new, sexy, exotic fare eclipse our home-grown "ersatz" fare? The two cuisines co-exist, but seldom influence each other — or even behave as if the other existed. With Americans traveling abroad for a taste of the real thing, and a new generation of Chinese restaurants untouched by American influence, could we be at risk of losing respect for the venerable foods designed by generations of inventive Cantonese cooks?
We asked some of our friends and got an overwhelmingly enthusiastic response, as well as many suggestions. The listings that follow highlight a few places serving that old-time Chinese-American fare. Dig in.
China King 6580 Orchard Lake Rd., West Bloomfield, 248-539-3220, $$: China King hit it big satisfying the taste buds of a discerning crowd; it prepares the usual Chinese fare unusually. The restaurant is lavishly decorated with etched glass, painted mirrors and brass-trimmed woodwork. More than 100 different dishes are on offer, both familiar and unique. One of the more unusual dishes is chow-ma-mein, a spicy broth filled with beef, seafood and homemade noodles. Its most popular dishes include string beans sautéed in ginger-garlic sauce and General Tso's chicken, chicken breast deep-fried into chicken balls and then stir-fried in a spicy brown sauce. This delicious chicken dish is served with steamed broccoli. Also, the ma-po tofu is excellent, with silken tofu marinated with pork and black beans, served in a spicy brown sauce.
China One 40 W. Nine Mile Rd., Hazel Park; 248-399-2550: This place is small, mostly servicing carryout customers from its spot in the Kroger strip mall, right off the freeway where it bends around the corner of Nine Mile and John R. One of our friends raves about the fried rice and the soups, which include your standard hot and sour, wonton and egg drop, as well as a few American (chicken with rice, anyone?) choices.
China Ruby 157 W. Nine Mile Rd., Ferndale; 248-546-8876: An inexpensive, hole-in-the-wall place with a loyal following. (Ten years ago, it won Best Chinese in Oakland County in an MT readers' poll.) It was one of our colleague's faves for many years, and he probably dined there seven or eight times a year. "We were such regulars," he says, "that the servers knew exactly what my wife would order. My wife almost always had Szechuan shrimp. I liked the orange preparations as well as General Tso's, Kung Pao and sesame dishes. Every now and then they had a great lobster dish. The combo plates with fried rice and egg roll were especially inexpensive. ... It is certainly not fancy or cutting-edge, as it is, to some degree, a greasy spoon. But it is lovable, and the couple that runs the place is delightful."
Chin's Chop Suey 28205 Plymouth Rd., Livonia; 734-421-1627: Owned by the same folks who owned the Chin Tiki in downtown Detroit, you'll find this spot overflowing with tiki tchotchkes thanks to owner Marvin Chin, who designed both interiors. Expect plenty of bamboo, blowfish lamps, and of course, tikis. Expect the usual Chinese fare, all served in a sumptuous, faux-tropical setting.
Chung's of Waterford 4187 Highland Rd., Waterford; 248-681-3200: The suburban branch of the now-shuttered Cass Avenue restaurant has a much larger and more glamorous setting and an expanded menu accompanies the dimensions. There's even sushi, for instance. But many will probably be there for memories of the food they grew up on. The famous Chung egg roll filled with cabbage, shrimp, pork and bean sprouts is here, along with the Cantonese, Szechuan and Hunan dishes including stir-fried shrimp and broccoli, a vegetarian array called Buddhist Delight, Hunan scallops and, naturally, General Tso's chicken.
Golden Chopsticks 24301 Jefferson Ave., St. Clair Shores; 586-776-7711: Food quality varies widely, with sizzling rice soup and non-greasy potstickers a definite yes. Familiar Chinese menu includes moo-shu pork, Hunan chicken, kung pao everything, chop suey and egg foo yung. Low sodium or low oil on request and a selection of vegetarian dinners.
Hong Hua Fine Chinese Dining 27925 Orchard Lake Rd., Farmington Hills; 248-489-2280: The restaurant's decor has more of a fine-dining than a Chinese feel, elegant to look at, with its curving lines of cherry wood and tasteful paintings of flowers. The shredded duck and mushroom soup comes highly recommended. The Szechuan hot and sour soup is another winner, more complex and flavorful than hot, it actually seems a bit sweet. An excellent entrée is eggplant in chili sauce. The moo-shu pork is tasty if not overly interesting, slightly sweet and crisped-up by the shredded cabbage that's used. Dessert can be peppermint or ginger ice cream, or translucent lychees served on ice.
Kowloon Restaurant 22905 Michigan Ave., Dearborn, 313-565-4521: Though it once occupied a cozy railroad car-sized spot on Michigan Avenue, it's now in an updated-looking park-in-front eatery between Outer Drive and Military Street. The Chinese fare is dependable, but, to those who would know the pleasures of boneless almond chicken — deep-fried in batter, drizzled with brown sauce and set on iceberg lettuce until it wilts — this is your perfect introduction.
Lucky Dragon 430 Eureka Rd., Wyandotte; 734-282-3333: Once, when we did a roundup of Chinese restaurants for this section, one of our readers piped up and sent us an e-mail: "We love Chinese food and enjoyed your recent collection of places to try. You might not know about Lucky Dragon. We have a busy schedule but enjoy Lucky Dragon at least once a week. We are fortunate to have such a healthy and tasty restaurant right here in downtown Wyandotte." Sounds like an honest recommendation to us!
New Hong Kong 8695 Telegraph Rd., Taylor; 313-292-3050: Downriver is blessed with more than a dozen Chinese restaurants, but our friends seem to favor this joint, for its affordable prices and consistent quality.
New Peking 29105 Ford Rd., Garden City; 734-425-2230: It's a classic little Chinese joint with a loyal local following that has kept it going for more than 20 years. We canvassed their opinions, and they all agree on dishes with plenty of garlic. One person said he loves their garlic sauce. Another fan praised the $8.95 garlic chicken, which comes with boneless chicken chunks, green peppers, onion, diced bamboo shoots and mushrooms in a house brown sauce, calling it "more addictive than crack!" Hear that, garlic lovers? For those who shy away from the "stinking rose," there is a full line of Chinese-American classics, from moo-shu pork to Peking duck.
Red Star Dearborn 13944 Michigan Ave., Dearborn; 313-581-1451: This unassuming restaurant serves your typical Americanized Chinese fare, with one remarkable twist: Almost everything can be made vegan, which means vegetarians can have a taste of the food they grew up on without having to eat chicken or beef. Not only will the kitchen whip up mock meat using wheat gluten, they also accommodate Muslim diets by having Halal meat available on request. Solid soups and large portions.
Shangri-La 4710-12 Cass Ave., Detroit; 313-974-7667: Yes, the location in West Bloomfield (6407 Orchard Lake Rd.; 248-626-8585) is probably better-known, but this spot, located in the former Twingo's, is managed by legendary restaurateur Raymond Wong. The restaurant's strong suit is dim sum and other traditional Chinese cuisine, and they serve quality sushi as well, but they maintain a solid menu of Americanized classics, and the kitchen churns out a quality rendition of Almond Boneless Chicken, and a wonton soup that's large enough for two.
Szechuan Empire 29215 Five Mile Rd., Livonia; 734-458-7160: Feeding its Livonia neighborhood for more than 10 years, this is a busy little place, but the staff is friendly and attentive. Even though "authenticity" has been subjugated to American tastes — fiery Szechuan specialties are toned down and interspersed with milder Cantonese entrées, for instance — the dishes have an attention to detail that is admirable. Even the wonton soup has a tasty broth and mellow little chunks of meat at the bottom, ensuring you'll drink down the last drops.
See any errors or inaccuracies? Let us know! Call 313-202-8043 or e-mail mjackman@metrotimes.com.