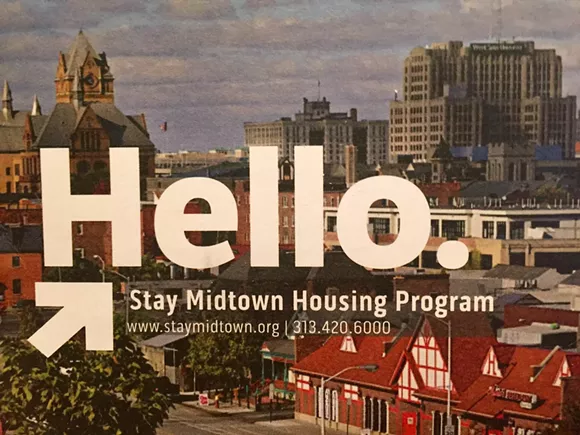 If you live in Midtown — the artist formerly known as the Cass Corridor — you may have received a postcard within the last week that both piqued your interest and made you break out in a cold sweat.
The postcard came from "Stay Midtown," a new program offering direct rental assistance "targeted toward Midtown's working class population who may be experiencing the negative effects and inconveniences of Detroit's revitalization."
In other words, it's similar to the Live Midtown incentive program, but for people who were residents before there was a
leather shop with a giant tepee
, a retailer offering
$98 T-shirts
, or even
a functioning coin laundry
— and who want to stay.
Stay Midtown offers assistance to those living in the area bounded by I-94, the Chrysler Freeway, the Fisher Freeway, and the Lodge and who are spending more than 30 percent of their income on housing due to recent spikes in rent.
Eligibility is limited to those with an income between 50 and 80 percent of the area median income, which equates to a range of $23,450 to $37,520 for a household of one.
Stay Midtown offers funding over a three-year period; the maximum rental assistance amount per household has a cap of $4,500; and participants must re-qualify each year.
The program is a partnership between Midtown Detroit, Inc., Capital Impact Partners, the Ford Foundation, and Kresge Foundation, according to the Stay Midtown website.
We reached out to Midtown, Inc.'s executive director Sue Mosey for comment; she's out of town until Thursday.
Tim Bartik, senior economist at the W.E. Upjohn Institute in Kalamazoo, says the effect of programs such as Stay Midtown on the area's housing market — such as potentially pushing rent levels higher — depends on the number of people being assisted.
"I'd be surprised if they're spending enough to affect rent levels," Bartik says. "Rents should be at a level where people can afford to keep housing in good condition and [can] replace it. If not, it's a problem."
Development in Midtown has surged in the last five years or so. In that time, destination businesses such as Shinola, Will Leather Goods, Third Man Records Cass Corridor, Selden Standard, Jolly Pumpkin, and HopCat have all opened their doors.
At the same time, the QLine light rail on Woodward Avenue is nearing completion,
driving interest in Midtown real estate
even further into the stratosphere.
On the residential front, renovations of existing buildings have been underway,
including at the landmark Forest Arms, which reopened in June after sitting vacant since a 2008 fire.
And with high demand for housing in the area, new construction is now bringing projects such as
a condo development with units priced close to $500,000
to streets that felt downright desolate a few short years ago.
What does all of this mean? If there are any $500 rent opportunities left in the neighborhood, you're about as likely to land one as you are to run into your parents at
Haute to Death
.
For more information, visit staymidtown.org or call 313-420-6000.