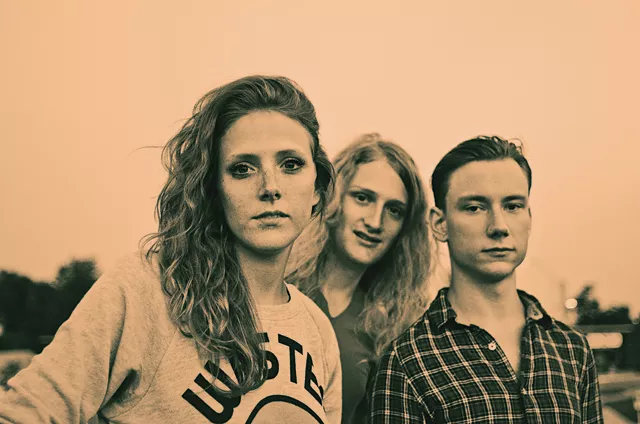 Leah Diehl, Aaron Diehl and Ben Collins contemplate their next three-minute heartbreaker.
Lightning Love's Blonde Album Release Party No. 1 is Friday, Aug. 31, at Woodruff's Bar in Ypsilanti, 36 E. Cross St.; woodruffsbar.com. Jamaican Queens and Wally Dogger open; doors at 9:00 p.m., music at 10. Party No. 2 moves the lineup to the PJ's Lager House, 1254 Michigan Ave., Detroit; pjslagerhouse.com.
The members of this fresh-faced trio of blond-haired pop peddlers know all too well just how long their local fans have been waiting for "the next one."
Lightning Love singer-keyboardist Leah Diehl chooses strong words, such as "definitely scared," to describe one point where she'd thought The Blonde Album — Lightning Love's slow-but-steady follow-up to the band's stunning 2008 debut of lo-fi pop delicacy, November Birthday — might never come out. 
She admits, though, to being the lead worrier of the group (as well as lead vocalist and lyricist). 
She's been thinking about the next one for a while, that she'd "like to do one more." Her brother, drummer Aaron, and guitarist Ben Collins are equally eager to stop talking about Blonde. The band's already hard at work on its successor, demoing inside Collins' home recording space in Ypsi. 
"That's the thing, though," Leah says. "You put one out and then you wanna fix all your mistakes on the next one and then you wanna fix all your mistakes from that one." The threesome may have been overly meticulous in constructing Blonde, with each member adding, editing and arranging privately via their humble portable recorder. "But, I wanna do one more."
One more? "Well, I dunno, that's as far as I dare to look," she chuckles half-wearily. "I mean, we have to do one more."
Lightning Love's sound is a stripped-down piano-centric pop. "Orange Glow," is a shimmying new jam off Blonde, but the title also effectively embodies the summery essence of their style.
Five years after forming between Eastern Michigan and the University of Michigan, they're no longer rambunctious college kids, and Blonde feels like another kind of graduation. The scene's seen them grow up on stages, charming both Washtenaw and Wayne counties with their two-minute heartbreakers. They've learned to dazzle audiences with the curlicue-hooks of Leah's melodies, spurred by Aaron's stripped-down percussion and tastefully garnished with Ben's guitar.
The scenes have always blurred together for the Diehl siblings; raised in Redford, they went to school in Ann Arbor. Now, as adults, they write and record in Ypsilanti while performing regularly back in Detroit.
"It's almost all one scene, at least in my head it is," Leah says. "I was surprised when I found out it isn't." To accommodate, they have two release shows this weekend: Friday in Ypsi, Saturday in Detroit.
Blonde was recorded in a similar neither-here-nor-there fashion, with members trading off a portable recorder to capture individual contributions.
"We definitely could have been more efficient," says Collins, who works as an engineer at Ann Arbor-based Big Sky Recording. "This next one's going much quicker, but that's because we know each other better."
And they know each other well enough musically to play without a lot of rehearsing. Collins says, "Practices for us are few and far between. We've played these songs so many hundreds of times at this point that we can go more off the cuff. It's definitely stress-free, as it should be when you're in a band with your two best friends, I guess."
November had a comparably slow formation. It was the third time they threw away their studio recordings of what would become their debut when they really congealed, he said.
He remembers looking into Leah's eyes after Round 3 and seeing a certain inspired excitement when he asked: "Do you wanna just do this ourselves? Let's just do it. Let's just go home, pick up some SM-57 mics on the way and do it on our own!"
She said, "I was hoping you'd say that." Lo and behold, they pulled it off. They self-released November four years ago and have built themselves up quite handily on their own since. But they're glad now to get the backing of Quite Scientific and collaborate with such talented engineers as Jim Diamond and Gerald ("Pan!c") Roesser.
Collins still considers self-producing and releasing November. Opening up for Mayer Hawthorne to a capacity audience in Ann Arbor's Michigan Theater or getting write-ups in Vice Magazine are notable accomplishments, but when he and the others look back, what resonates is just hanging out and "playing with your best friends."
That's this band, really, Collins says. Leah and Aaron don't even act like typical siblings. "The jokes made between them I ... I can't picture making around my own close family."
Moving on, Leah can still find something to worry about. Like how this album — thanks to Quite Scientific's clout — will be the first time many ears beyond the local scene will hear Lightning Love's music. Like whether everything will run smoothly on their self-booked Midwest and East Coast tour (with Detroit-electro-pop trio Jamaican Queens). Or how (and when?) they'll finish their next record.
Leah says she's gotten better; soothing dosages of classical music help. But The Blonde Album's actually done.
"So, you can't do anything about that anymore," she says.
Jeff Milo can be reached at letters@metrotimes.com.