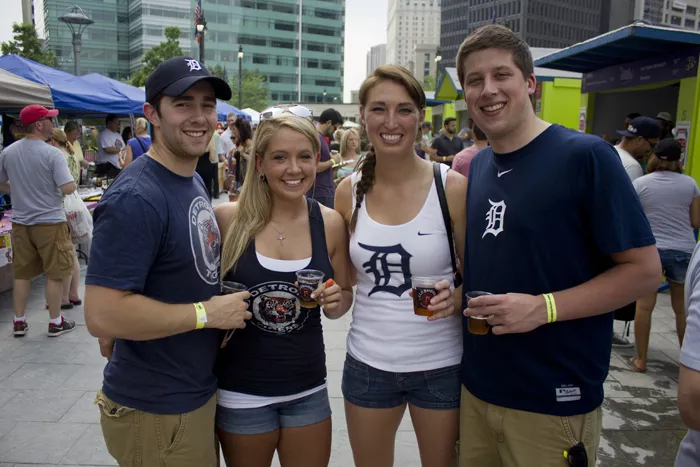 While previously held at the Royal Oak Farmers Market, 2013 was the year that ushered in a big change for Summer Beer Fest. It moved to Campus Martius in Detroit and went from a one-night-only event to a two-day affair. And damn, did people love it.
As Metro Times puts on this event, we thought it pertinent to include a preview of the activities that will take place at Campus Maritus on Friday, June 20, and Saturday, June 21.
Packing breweries from across the state, country, and world along with food vendors and retailers, this outdoor affair will return to Campus Martius this Friday and Saturday, featuring also wine and spirits, sometimes even combining some of each for a creative craft cocktail.
Often a launching place for new brews, one thing we love about attending Beer Fest is that there is most likely something you've never tried before available for the tasting. This year new beers will include Gateway IPA from Griffin Claw Brewing Company, offerings from Blake's Hard Cider Co., and a special selection from Blue Moon that's only available to taste at beer festivals such as this.
Atwater will be in-house with a vast selection of their offerings, including Dirty Blonde, Vanilla Java Porter, Decadent Dark Chocolate, Hop-A-Peel, Teufel Bock, Blueberry Cobbler, 8 Mile Amber, and more. Motor City Brewing Works will also be on hand with their ever-popular Ghettoblaster along with their traditional lager, cider, and IPA. Millking It Productions will have their signature AXL, BRIK, SNO, and CITY. Frankenmuth will have their pilsner, Brown Hound, Twisted Helles, and Hefeweizen. National craft offerings include New Belgium's Snap Shot, Fat Tire, Summer Helles, and Trippel, Sierra Nevada's Pale Ale, Summerfest, Torpedo, and Kellerweiss, and Crabbies will have their ginger beer and Crispin will have several of their cider offerings.
While there are always a few dark horses at any beer fest, we're really excited to taste a few things this year. Beard Bender and Catawampus from Blake's Hard Cider Co. are sure to be popular this year, particularly. The Armada-based company uses apples from their own orchards, leaving out concentrates and huge helpings of sugar. The ciders are brewed in their brand-new facilities and are available along with a host of other flavors and wines in their Cider Room. We've had the Flannel Mouth, which is on the sweeter side, but we're looking forward to tasting the ultra dry Beard Bender and the semi-dry Catawampus that features a dry-hopped flavor. All three of these ciders ring in at 6.5 percent ABV.
Blue Moon will have their signature Belgian White and seasonal Summer Honey Wheat, but alongside those offerings they'll have Pine in the Neck and Chimp available from their special Graffiti Collection. Pine in the Neck is a double IPA made with juniper berries alongside Pale, white wheat, Munich, caramel and carapils malts, citra, simcoe, Taurus, and cascade hops. At 75 IBUs, it's a fairly bitter brew and at 7.5 percent ABV, it's stronger than your typical Blue Moon. Chimp, rings in at 12 IBUs and 9.5 percent ABV, so you're definitely going to be feeling something after one of these. The Cinnamon Horchata, however, just might steal the show. This spiced ale is inspired by the creamy Latin drink rings in at only 5.5 percent ABV and is only available to taste at festivals.
Sour beer makers Jolly Pumpkin will be on hand with Calabaza Blanca, a Belgian Biere Blanche made with spiced orange peel and coriander, aged in large oak casks and re-fermented in its bottle. Available year-round, this tart and dry brew comes in light at just 4.8 percent ABV. Not Special K, a 6.5 percent ABV and 27 IBU brew, will also be available from Jolly Pumpkin. Named for its Kamut flakes, an ancient strain of wheat, this beer features the signature sour flavor of a Jolly Pumpkin product with aromas of tobacco, leather and just a hint of bubble gum. Cinnamon and plum will be found in the flavor with a slightly tart finish.
A night-long event on Friday and a day-long event on Saturday, food is also an important issue to tackle when discussing Summer Beer Fest. Vendors will be in the park, though food is available on a cash basis only. You can expect to find carnival-style vendors as well as stands from local restaurants. Tacos will be available via Taqueria El Nacimiento and presenting sponsor Westborn Market will have a host of Michigan-made food products available for purchase and consumption. Those products include but are not limited to Gielow Pickles, Johnny Secreto Foods, Detroit Bold Coffee, Scotty O'Hotty Hot Sauce, and Get Up and Go Baked Goods.
Partnering up with the Detroit City Football Club (DCFC), players from the league will make up a large portion of the volunteers that will be pouring beer at the festival. Not a charitable organization in and of themselves, the DCFC will donate the portion of proceeds they'll receive from their voluntary efforts to metro Detroit charities. In short, you're drinking beer for a good cause.
Summer Beer Fest takes place at Campus Martius from 7 to 11 p.m. on Friday, June 20 and from 1 to 5 p.m. Saturday, June 21. Tickets are $45 for each session, or $70 for a two-day pass. VIP tickets are $65 per day or $110 for both days. Campus Martius is found at Cadillac Square, Detroit. See detroitsummerbeerfest.com for more info.