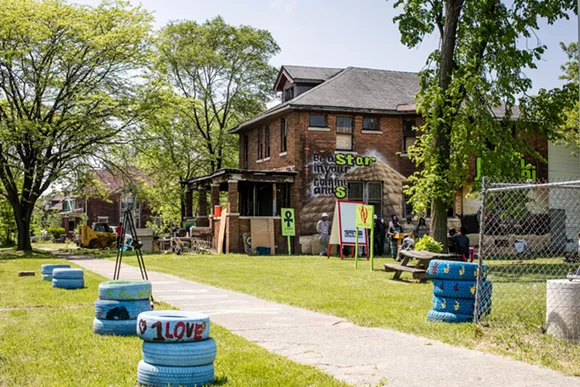 Future site of the Homework House | Courtesy photo
Highland Park resident and rapper Supa Emcee has released a song titled "AVALON" in support of the Avalon Village - From Blight to Beauty project.
The community project nine years in the making, led by Shamayim 'SHU' Harris and a group of concerned citizens, is finally starting to get the traction it needs to transform the neighborhood into a sustainable eco-friendly community called Avalon Village.
Supa provided a few words about the track in an email to Kickstarter supporters.
This song means a lot to me as an artist because it's a community record. The record is about and for the community. The song talks about the vision of what Avalon is, what it's making itself into, and what it's going to be. This song was basically written in the future tense of what Avalon is to become in this community and in all other communities across the world.

So along with fellow artist Alexis Allon, we came up with theme music for 'From Blight to Beauty'. We came up with the theme song for 'positivity over poverty'. We came up with the theme song to be the audio for what the village stands for and what Mama SHU's vision is – a vision that is turning into a reality. All the key elements of what the village is are in this song.
Here's the track:

MT
reached out to Shu about the project.
"This is built by the people, for the people" she says. "This is basically putting the power back in the communities hands. We're undeserved
for whatever reasons...Whatever services have fallen short is what we want to provide. We're creating the life we deserve and the services we want to have here."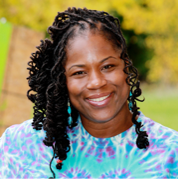 Some of these services include the "Homework House," a place for local students to hang out, get a healthy meal, and work on school work, and the "Goddess Marketplace," an economic initiative for female artists to sell their products and promote their businesses in recycled shipping containers.
One of the first ways the community stepped up to provide for themselves when the City was falling down all around them was installing the first solar-powered streetlight in Highland Park back in 2014.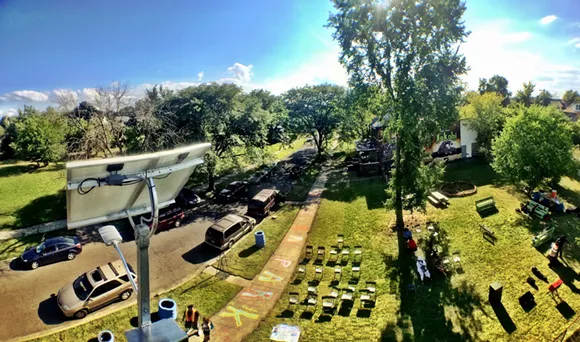 A solar-powered streetlight | Courtesy photo
The campaign is clearly laid out on the Kickstarter page. "Where schools have been defunded and closed down, we are building a Homework House. Where city streetlights have been repossessed and people left in the dark, we're building cooperatively-owned and operated solar streetlights. Where healthy food offerings are few and far between, we're building a greenhouse-to-cafe food system."
The village is a four-phase construction project anticipated to be completed by 2020 and cost around $4,000,000. $119,554 has already been raised and there are seven days left to achieve their goal of $241,900 for the first phase, which will go towards constructing the foundation for the village, scheduled to be completed by October 2016.
If you're interested in supporting the cause and meeting those involved with this project, American Coney Island, located at 114 W Lafayette Blvd, is hosting a fundraiser next Tuesday June 21st from 6-8pm. For a $20 cover, your donation gets you a Coney dog and fries, one free drink from the bar, and one raffle ticket for a chance to win a weekend trip to Las Vegas.
Donate and find more details about the project
here
.