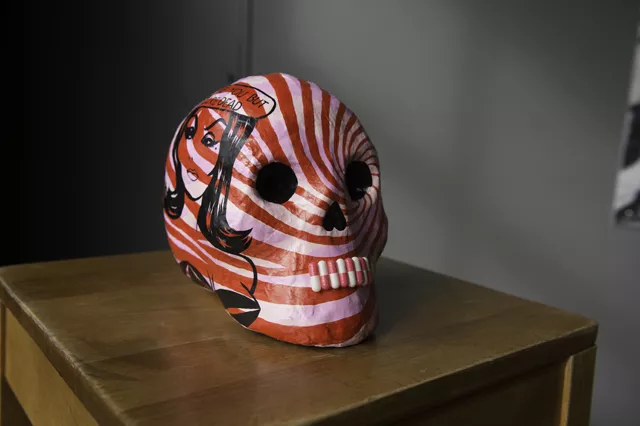 Traditional Day of the Dead imagery is now being reinterpreted by Niagara
Imperial's food, music and art festivities run Thusday-Friday, Nov. 1-2, at the Imperial, 22828 Woodward Ave., Ferndale; facebook.com/imperialwoodward. Artists hand-painting papier-mâché skulls will include Niagara, Glenn Barr, Mark Dancey, Audrey Pongracz, Johnny "Bee" Badanjek, Jerry Vile, Mark Arminski, Kill Taupe, SLAW and Jeremy E. Hansen; 19 mini-skulls are being donated by tattoo artists from Signature Tattoo, Lance Kellar Studios, Big Top Tattoo, Iron Clad Tattoo and Wholeshot Tattoo. The artists' reception runs from 8 to 11 p.m. Thursday, Nov. 1; e-bay auction culminates on Saturday. 
Learn to decorate sugar skulls at a Detroit Institute of Arts drop-in workshop, noon-4 p.m., Saturday, Oct. 27, DIA 5200 Woodward Ave., Detroit, 313-833-7900; dia.org. 
If you've ever been inside a Hot Topic, you'll recognize the iconic sugar skull. But the symbol wasn't the product of the geniuses at Hot Topic (shocking, I know). The sugar skull represents the Mexican and Latino holiday of Dia de los Muertos and has become quite common, but it seems that the origins and the meaning behind it are not so widely known.
The sugar skull itself dates back to the birth of El Dia de los Muertos (The Day of the Dead) with the rituals of ancient Mayans and Aztecs. The holiday was meant to celebrate the lives of loved ones who had died and to release their spirits. The festivities originally went on during late summer, but the Catholic Spanish conquistadors moved into Mexico and, shocked at the joyous attitude surrounding the dead, pushed the celebrations to All Saints' Day and All Souls' Day to Christianize the rituals. Now, the holiday occupies the two days after the gorier Western tradition of Halloween. All Saints' Day occurs Nov. 1 and celebrates the departing of children's souls. The next day, All Souls' Day, honors deceased adults. 
The sugar skull, as well as skulls made of bread or papier-mâché, come into play with traditional customs. Sugar skulls are often decorated with vibrant colors and included in ofrendas, offerings to those who have passed.
The sugar skull has more recently become strongly associated with punk and goth culture (as skulls always have been); you can find them plastered on sweaters, skateboards and especially bodies. And these groups seem to have a view of death that aligns well with Dia de los Muertos. Like the dark subcultures that find a strange joy in death, the celebration is not about fearing death, but accepting it as a part of the cycle of life (though the holiday takes a much more colorful approach than, say, the Misfits). More recently, the iconography of the sugar skull and Dia de los Muertos has meshed more into arts and music culture. And this year, the Imperial, a lounge in Ferndale, even plans to tie all that in with a benefit for education.
Nov. 1-2, the Imperial plans to bring food, music and art together for a Day of the Dead celebration with the clever acronym DEAD (Dedication to Education & Arts Day). Local artists such as Niagara, Glenn Barr and Jerry Vile have been commissioned to paint papier-mâché skulls. Other skulls have been donated by local tattoo artists for auction. 
The proceeds from the event will go to programs at Roosevelt Primary School in Ferndale and the Eagles Pledge's Scholarship Program. 
Sharon LaVoisne, an owner of the Imperial, explains their theme of choice: "Imperial is a marriage of Detroit working-class with L.A. subculture. There is an amazing event in L.A. at the Hollywood Forever Cemetery that celebrates Dia de los Muertos that we go to every year. It's an event for all, celebrated by the diverse community of L.A. through food, music and community. Imperial embraces communal activity." 
The Imperial is all about involvement in the community and in that way Dia de los Muertos ties in well. The holiday is about choosing to view the loss of loved ones as a chance to celebrate their lives. In Mexico, it is often celebrated with elaborate parades; it's not a gloomy private mourning, but a joyous community
 event.
With spirit like that, it's not hard to catch on anywhere, even metro Detroit.
Emily Riopelle is a Metro Times editorial intern. Send comments to letters@metrotimes.com.