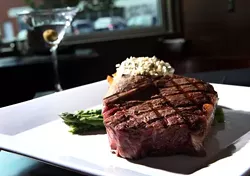 Dry-aged bone-in American Kobe New York strip from T-Bones in St. Clair Shores.
T-Bones Steak & Seafood
23018 Greater Mack, St. Clair Shores
586-776-0062
t-bones.biz
Handicap accessible
Entrées: $10-$40
(most less than $20)
Open 11 a.m. to 10 or 11 p.m. Monday-Saturday and noon-10 p.m. Sunday.
A restaurant in St. Clair Shores that's not on the water doesn't sound like first choice for a person who doesn't live nearby. But we wanted to try the new T-Bones, opened June 1, because the chef, Justin Schneider, used to work at Michael Mina's Saltwater at MGM Grand Detroit. Saltwater served fabulous seafood before it closed, working miracles even with such tired offerings as shrimp cocktail.
Seventy percent of T-Bones' diners don't give Schneider a chance to show his finny skills, though — according to a server's estimate, they're ordering steaks or chops. If we had to choose between the two genres here, it would be difficult. We tasted standouts and more pedestrian dishes in both categories.
The place is supremely friendly and thoroughly unpretentious, with no mentionable decor and a casual atmosphere, even down to waitresses of the type that call you "honey." Entrée prices stay out of the stratosphere too, and the place was full on both the Monday and the Friday we visited.
Schneider isn't serving the sorts of dishes that made Saltwater special — and pricy — such as lobster pot pie, cioppino and ahi tartare. He's keeping the seafood presentations simple, offering to blacken or Cajunize them, or use a garlic-butter or olive oil sauce. That means it's all on the fish itself, and owners Tony Miserendino and Tammy Nicke get theirs flown in each day from a Chicago purveyor, which in turn gets daily deliveries from Florida.
Of these simple entrées, I liked best a Michigan walleye (not via Florida), just a bit peppery, although mahi mahi and salmon were fine too. My companion approved of the fact that her salmon was mildly flavored.
By far the best dish we tried,though, was three lamb chops persillade; tender and pink, they would have been delectable even without that simple garlic-parsley topping.
My companion also praised very tender filet tips Forestiere, served in a mushroom sauce over cavatelli. The flavor was delicate, but we found the sauce a bit gummy. A sirloin was somewhat chewy, with a strong house sauce that was too much like barbecue. Bearnaise, brandy peppercorn and zip are the other possibilities.
Still, the steaks are the stars, along with a popular prime rib served Thursday through Saturday ($15.95). Patrons can go all the way with a 22-ounce (that's 1.375 pounds) T-bone for $29.95 or a certified Black Angus for $10 more.
Note the sirloin special at lunch time: 6 ounces and all the sides plus beer, wine or pop for $8.95, served 11 a.m. to 4 p.m.
As for starters, we liked a loaded warm spinach salad, the type with hard-boiled egg, sweet fried onions, crunchy French-fried onions and lots of bacon. Warm, sweet and unsalad-like, it helped a lot with the long wait for entrées.
Gazpacho was disappointing, too one-note-tomato and too smooth, with the cucumbers providing the only crunch. I know gazpacho recipes are as various as towns in Spain, but I like to taste the different ingredients. Lobster bisque, on the other hand, was delectable in its single delicate, slightly mushroom-like flavor and beautiful peach color, with a swirl of olive oil on top. I saved some for the next day and it was lovely cold.
Another night we ordered kielbasa and German potato salad for an appetizer — both of which surely defy the assigned function of a starter, which is to whet rather than sate the appetite. No matter — the big sausages were smoky and the salad tasty, even if the excellent sweet fried onions are not integrated with the spuds in the way you expect of potato salad. This was a good deal at $8.95.
Warm rolls (good flavor but too soft) are served with honey butter (too sweet). I'm pretty sure patrons enjoy the big baked potatoes that come with most dishes. They're topped with whipped cream cheese that's been mixed with chives and "what they put on 'everything' bagels," again according to our server. It's hard not to fill up on that stuff.
Desserts include a butterscotch pudding that I wish I'd tried — I used to make this from scratch years ago, and thought I was the last person in the world to do so. We tried instead an apple tart with a crunchy topping like a crisp and a tall wedge of Key lime pie with a graham cracker-coconut crust. Both were of the solid and dependable type.
Jane Slaughter dines for Metro Times. Send comments to letters@metrotimes.com.