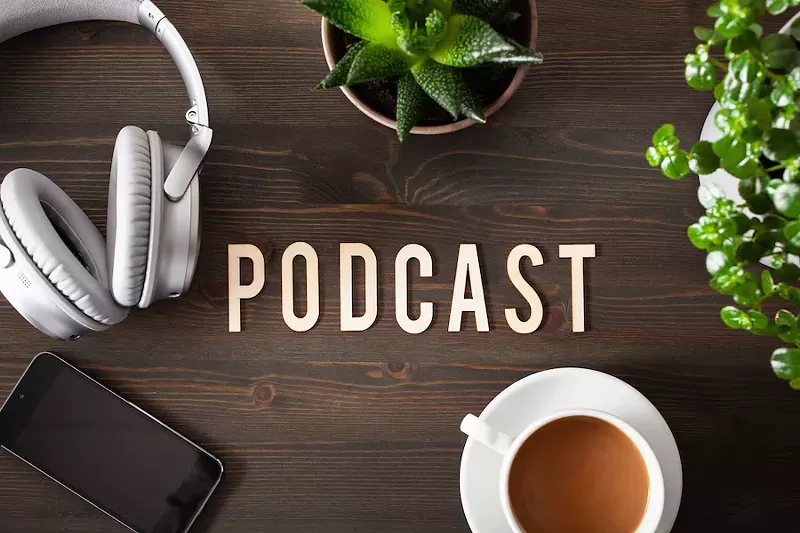 <!—StartFragment—>
Many people dream of starting a podcast and creating a series of digital audio files that users can download on their devices and enjoy. You may even be one of those imagining themselves right now talking about a beloved topic or theme and uploading it to the internet.
If you fancy starting a podcast, you need to consider some things first. You can't just record yourself talking on your smartphone and then put it on a streaming platform. If you want your podcast to be high quality and enjoyable to listen to, you first need a podcast hosting site.
Podcast streaming services and applications provide an advantageous and convenient way to manage an individual consumption queue across many playback devices and podcast sources. They are a must-have for anyone who aspires to build a loyal audience.
There are plenty of podcast sites out there, but finding one that fulfils your needs and suits your preferences is no easy job. Lucky for you, we have compiled a list of the seven best hosting sites out there, so you won't need to do too much research.
You won't have to spend hours reading about everything related to a specific podcast hosting site or test them out, as we have done that for you. All you have to do is read our in-depth and detailed guide that will lead you to the best podcast hostingservices.
What are Podcast Hosting Sites and Which Are the Best?
It's not just podcasts - every website needs a hosting service. These hosting services are like internet landlords; you have to pay them to host your podcast on their servers.
You, of course, want your podcast to be found on Google when someone searches relevant keywords to what your podcast is about. A considerable percentage of website traffic comes from Google and other search engines. If you want your audience to have access to your site and see it when they type in your URL, you need a hosting service to put your site on the web and keep it running.
Our guide reviews the top podcast hosting based on reliability, technical support, price, monthly upload volume, compliance, monetization, ease of use, storage, integrations with other apps, marketing features, and more.
There are various types of hosting services for different kinds of podcasts. Since you have learned the terminology and what it is used for, you now can weigh the features of various podcasting host sites and select the hosting service that works best for you.
Our article will review the top podcast hosting sites, talk about their pros and cons, and discuss the most important features they have. We hope that after you have read this article, you will have a clearer understanding of what type of hosting service you need.
The top 7 podcast hosting sites chosen by us are follows:
We will go over them individually and talk about their advantages and disadvantages and their must-be-mentioned features and characteristics.
Best Podcast Hosting Sites
This site is one of the best out there. It has more than 11 years' experience operating in the industry, as it launched in 2009. Since it is one of the first podcast hosting sites, it has a lot of knowledge of how to meet customers' needs with what they offer. To explain it statistically, there are over 100,000 users that have started a podcast with Buzzsprout.
It offers almost everything you need to host and track your podcasts, and promote them. An extensive network of famous podcast directories are integrated, such as Apple Podcasts, Google Podcasts, Spotify, and Amazon Music. It's perfect for those looking to grow their podcast's reach and audience.
Connecting each of these directories with Buzzsprout is simple and easy. Just click over the 'Directories' tab and select the network. Then, press "submit." Your podcast will be linked to any platform you select on their system.
It also provides different tools for transcriptions to make all of your audio episodes accessible to people who prefer reading more than listening to a podcast, or the hearing impaired. Most importantly for your podcast's audience growth, the transcription tools make it accessible to search engines too.
Most podcasters are looking for ways to generate passive income from their podcast episodes and monetize them. Buzzsprout comes in to help this category with its affiliate marketing database offer. You can join the affiliate program from your Buzzsprout account, which you can access under the Resources tab.
In this tab, you will find plenty of brands ready to form a partnership, and there are no criteria to fulfil for who can use the marketplace. No matter how small you are or whether you are new to the podcasting world or not, everyone can have access to the affiliate program.
Buzzsprout doesn't even take any commission or fees, so your affiliate earnings will be all yours. And for people who are looking to start a blog, Buzzsprout can help you with that too. Buzzsprout allows you to embed a podcast player directly to your website, so you can add your podcasts to your blog in just a few steps.
This platform offers two options; the single episode player and the multi-episode player. If you make a single post for each podcast episode, a single episode player is enough. But if you want to create a page where people can listen to your podcast episodes directly on your website, then a multi-episode player is needed.
If you want to take your podcast seriously, you should treat it like a real business. Buzzsprout offers detailed data reporting metrics that show the total number of downloads and listeners per episode. Buzzsprout can sort the data into seven days, 30 days or 90 days, and even lifetime periods. This hosting service also provides deeper insights into the type of devices and listener locations.
To be affordable to anyone, Buzzsprout offers four different plans that fit most people's budgets. Its objectives include advanced stats, no storage limits, and the possibility to collaborate with unlimited team members. Two hours of podcast hosting are free. For three hours, you will pay $12 per month. For six hours, the price is $18 per month, and for 12 hours, you have to pay $24 per month.
Pros and cons
Pros
Affiliate marketing
Episode transcription and embedding
Award-winning customer care
Free basic plan
Cons
After 90 days, the basic plan expires
Complicated pricing structure
Plenty of new and veteran podcasters are using Spreaker to host their podcasts because of its outstanding characteristics. The features that Spreaker Studio offers make it really simple and easy to manage a podcast. It is a well-designed website with simplistic features so that you won't have any problem managing your storage. It can also quickly find what you're looking for and even let you switch between different podcasts while working. When you upload an audio file to Spreaker, it is also uploaded directly to the listening platform.
People can use the Spreaker platform to listen to and share their favourite shows. It allows you to distribute your episodes to Google Play Store, Apple Podcasts, Deezer, and more with just one click. It also has plenty of audio storage that lets you upload your prerecorded files.
Of course, the most crucial feature is that you can use the Spreaker Studio feature to record and edit podcasts directly on the site. It also allows you to live stream to better engage with your audience. Obviously, you will have to invest in a great mic to start your podcasts, but high-quality audio won't be a problem with Spreaker Studio.
Spreaker Studio makes it easy to migrate your podcast using the Spreaker Importer. On its website, you can find clear instructions on how to do this and have your podcast on Spreaker fast.
Podcast analytics is another vital part of hosting service, even though they are often hard to digest, and because of that, many podcasters don't review them. Reviewing analytics won't be a problem with Spreaker Studio as it has a simple way to show all your website data, such as likes and demographics. These stats are even certified by IAB Tech Lab. This means that you will get the most accurate data possible.
This platform also increases your discoverability and creates curated lists that promote your podcast. It will help you with social media and embedded audio players. You can share your episodes on Twitter, Facebook, and other social media. You can also add your accounts to your website, so your audience can have immediate access to the audio.
And finally, the part that people want to learn about the most: ways to earn money from Spreaker. This hosting service allows everyone to make money out of podcasting. It gives you freedom over ads, and you will also find its content management system helpful.
This hosting site has a free plan that allows you to host your podcast without paying anything. It gives you access to essential tools, including episode scheduling, unlimited listeners, basic statistics, and more.
You can also upgrade to a paid plan, with the option of paying $6 a month, $18 a month or $45 a month. This gives you additional features like customizable players, increased audio and space storage, advanced analytic tools and more.
Pros and Cons
Pros
Increases your discoverability
Easy to use
It lets you live stream
Digestible analytics
Free plan available
Easy to transfer
Cons
Limited customer support
If you neglect to cancel your membership, it is hard to get a refund
Transistor Inc is one of the best hosting platforms that will make podcasting a lot easier for you. It launched in 2018 and compared to its competitors, it's relatively new. Unlike other podcasting platforms, it lets you create as many podcasts as you want under one account, so you don't have to make and manage multiple accounts. If you don't pass your account's download limit, you don't have to pay extra.
It is a perfect platform for collaborating and lets you add members to edit your episodes and complete other tasks. Sharing your workload with your team is made easy with the Transistor platform. All users can get access to advanced analytics too.
You can view data across podcast sites. These analytics will help you reach an even bigger audience, as they are critical to understanding your listeners and expanding your reach. Even if you don't know how to use analytics, Transistor has helpful articles about teaching you how to use them to study your engagement.
Transistor also provides a built-in website for everyone. You can easily design the website however you want. In addition, it helps you distribute your episodes to Spotify, Google Podcasts, Apple Podcasts, and more, so that more people can find the podcast.
Each episode will automatically be published to these major platforms. It also allows you to embed a player onto a page on your site. The best hosting services don't own and control the rights for the content you upload. Just like that, Transistor lets you retain full rights and ownership over your content. You can run ads on your episodes without any occurring problem.
However, Transistor has some download limits. When you go over your limit, which is 5000 downloads, the hosting platform will contact you and ask you to carry out an upgrade. Don't worry, though - it won't shut down your account or delete your podcast. You'll still have access to your podcast website and be able to see its analytics.
One downside of it is that you can't use Transistor to record podcast episodes. But seeing that many people prefer to record their podcasts separately, this may not be a huge issue.
Transistor also has a free plan, but you should pay a monthly fee if you want to have access to all its features. Thankfully, the subscriptions are affordable to many. Still, its best features can be accessed by everyone even with a free plan, and the key differences are few. All plans will let you view advanced analytics, create unlimited podcasts, access customer support and more.
Paid plans will let you have more private podcasts and subscribers, increase your monthly download limits, and let you have more additional users per podcast, etc. Paid subscriptions start from $19 a month and go up to $49 and $99 a month.
Pros and Cons
Pros
Transparent pricing
Simple user experience
Audio transcription
Website creation
Distribution to major directories
Automatic audio optimization
Cons:
Your files will be deleted after 90 days with the free plan
A restricted number of listeners
It has a download limit and doesn't allow more than 5,000 downloads
PodBean is a hosting platform used by many popular shows like True Crime Garage or The Daily Telegraph. This is enough to understand that it is one of the best sites to host a podcast on. It has ties with the most famous directories for podcasts to offer exposure to your audio episodes. If you want a bigger audience, Podbean is the right place to help you achieve that.
There are two types of embedded players available; one for single tracks and one for embedding multiple tracks to your website. It has customizable options to transform the look of your player so that it can match your brand.
The level of reporting at Podbean is also pretty good. It offers in-depth statistics and tells you who is listening, which episodes are the most streamed, and more. It even gives insights like downloads by the time of day, listener engagement and location.
PodBean also offers an optional add-on called Engagement Intel, which tells you if listeners are finishing their episodes or leaving mid-way through. It also provides info if listeners are dropping off because of ads, but this feature isn't available with the free plan. You need to subscribe to a paid plan to have access to this tool.
PodBean also makes it easy to monetize your podcasts and make money online. It has a few options to help you with that. This includes a donation feature, an advertising marketplace and paid content. You won't need to keep track of various logins because all these options are in-house, so ongoing management is simple.
Getting started with PodBean is free, but you may want to consider upgrading to paid plans as they have more available features. The free plan only supports MP3 file formats and is limited to 100 GB of bandwidth and 500 MB of storage. This translates from 7k to 10k downloads.
Its paid plan starts at $9 a month and is billed annually. This plan offers unlimited amounts of storage and bandwidth. It also lets you choose a mapped domain name and customize your site design and monetization. To upload videos, you'll need to upgrade to the Unlimited Plus plan, which costs $29 per month.
The most expensive one is the Business Plan, which costs $99 per month and is paid annually. If you want to pay for a monthly term, it will cost $129 per month. The Business Plan is excellent for large networks and has dedicated customer support. It also offers content segmentation, multiple user logins, and advanced engagement stats. Furthermore, it is the only plan that allows you to remove the Podbean's branding.
Pros and Cons
Pros
Easy to use
Great monetization features
Live streaming
Built-in player for embeddings
Ready-made themes
Cons
Limited site design
Limited Free Plan
Limited SEO capabilities
Blubrry was launched in 2005 and has grown tremendously to become a favourite platform among many podcasters, especially those with a WordPress site. Blubrry's plugin Powerpress is the most powerful plugin for podcasting, with over 60,000 active installations.
The Powerpress plugin lets you upload and handle everything that has to do with your podcast from your WordPress dashboard. Powerpress makes it easy for WordPress users to manage everything. This plugin only works on self-hosted sites, though, and not in WordPress.org blogs. This hosting site lets you upload your media by selecting a file or uploading it straight from WordPress.
Blubrry also offers you many analytic tools that you can use to understand how your podcast is doing. The most valuable sections are the trading reports, which you can view daily and monthly. It also lets you see all the devices and platforms that your listeners use, and their demographic, such as location and gender. This will help you understand your audience better.
Blubrry also lets you set up all your iTunes info from the plugin, including subtitles and summaries. This hosting platform also has excellent subscription plans. Even small packages offer basic statistics for a set amount of bandwidth and an unlimited number of features. It also comes with an optimized RSS feed, so you can customize it to your liking.
The larger your purchase, the more significant the amount of data you can upload every month. Your purchases can be reset every month, so you can choose if you want to change your plan or not after it ends.
If you want to host more than one podcast, you can store it all under the same account. However, you will need to upgrade to a paid plan as the free plans don't allow you to do this. Blubrry has five packages that you can choose from to launch your business online.
If you are a new podcaster, we recommend that you start with the median package. This way, you will get to test out both audio and video podcasting on your service.
But if you are an experienced podcaster and are migrating from one forecasting service to Blubrry, starting with an extensive plan that costs $40 a month is recommended. This plan gives you 500 megabytes of disc space. This will be enough for you to measure your growth. You can also purchase the most expensive package, which costs $80 and offers much more storage space.
Pros and Cons
Pros
It doesn't have a no-fault overage
IAB certified
Great customer support
Plenty of website options
Easy to use interface design
Cons
Need better statistics
You have to rely on a third-party integration
Captivate is one of the newest platforms on the podcasting scene, but the people behind it are industry-heavyweights, so you can rely on this site. It is worth noticing that Captivate's website is not fundamental, and it has a heavily customizable space where you can integrate your personalized elements.
This platform will let you list out episodes by the most popular ones or by the order they were created. Your site will also get a search bar, where your audience can find content easily. You can even pin your favourite episodes at the top of your page. Moreover, you can have a domain name of your own.
It also gives you the ability to work with WordPress, especially if you plan on running your website. You will get a synchronize plugin that allows you to link your Captivate podcasting account to your WordPress website easily. Moreover, it enables you to publish from one platform to another.
If you want to create lots of content, Captivate is a great option because you can start as many shows as you want on whatever plan you choose. You will just need to check the total combined number of downloads on all your shows.
If you hit the limit on the number of downloads, you will need to upgrade, but Captivate will still give your 10% grace percentage. If you use this grace percentage for two months in a row, you will need to upgrade.
Captivate also offers private podcasting that comes with all the packages. Private shows are a great way to create exclusive content for patrons or fans with premium subscriptions. But depending on the payment tier you're paying for, the subscriptions can be limited.
A downside of Captivate is that it doesn't offer a free plan; most hosting services for podcasts do. The basic membership starts at $19 per month and allows 12,000 monthly downloads. The next level is the professional one, which starts at $49 per month and allows 60,000 monthly downloads. The final level is the brand level, which costs $99 per month with 150,000 downloads each month.
The only thing that changes with each plan is the number of download limits. Meanwhile, all the other features are open to every user.
Pros and Cons
Pros
Unlimited uploads
100% independent podcasting
Multiple team members
Great marketing tools
Powerful website functionality
Cons
Doesn't have a free plan
A bit pricy
Fusebox Podcast Player is another hosting platform designed by a podcaster, so you can have complete trust in this platform. Fusebox has a unique tool that a lot of other hosting platforms for podcasts don't have.
Fusebox's email capture tool is a fantastic feature if you want to boost your email list; it encourages your audience to sign up for your newsletter. It takes the form of an embedded button and will take your audience to your subscription sign-up form. There they will put in their information, and as a result, you won't need to use a third-party plugin.
This is precious for podcasters who want to build their mailing list as they are just starting out in podcasting. The subscription buttons make it much easier to convert listeners into leads. It is compatible with many email marketing services, such as AWeber, MailChimp, HubSpot, Constant Contact, and more.
Fusebox has another unique feature called the Sticky Player tool. It is a single-track player that you can stick to your web page. So, even when someone scrolls through your site, this player will remain in the same position. This will help to draw attention to your latest episodes and will encourage people to have a listen.
The Sticky Player feature also lets you stick different episodes to different pages on your blog. This tool allows you to highlight particular podcasts by pinning your introductory audio to your About Me page or by pinning another episode to your service pages.
Another tool is the complete player feature. This gives you the ability to display all of your episodes on one single page of your blog. If a member of your audience clicks on the page, it will show the episode title and description on the left and a list of your podcasts on the right.
This tool is a great way to collate your archive, even though some users have criticized it. They have complained that this tool makes it difficult for the audience to search for particular episodes. Fusebox Podcast Player also comes with a track player that enables you to highlight specific podcasts.
If you choose the monthly plan, the podcasting plugin costs $12 or $144 a year. If you choose the annual plan, it will cost $8.09 a month or $97 a year.
With the premium membership, you'll gain access to all the features discussed in this review. You'll also gain access to other features like volume control, timestamps and future timestamps, host migration, email support, and webinar training.
Pros and Cons
Pros
Social sharing buttons
Built-in mobile player
Embedded email capture
Strong marketing focus
Cheaper than most podcasting plugins
Offers a 60-day money-back guarantee
Cons
Limited features free-version
Only available for WordPress sites
How We Evaluate the Best Podcast Hosting Services
We look at different aspects of the podcast sites when evaluating them. If you are going to use a podcast host that isn't on the list, you should look at the aspects and features of the host to pinpoint which sites are the best ones.
The first thing to keep in mind when shopping for a podcasting host service is the site's bandwidth and disk space. You will have to choose a hosting service that fits your bandwidth and disk space needs, especially if your site features many graphics, pages, and a lot of traffic. If your site is simple and doesn't generate a massive amount of traffic, you can get away with less bandwidth and disk space.
Compatibility is an important feature too. Never overlook the type of operating system supported when looking for a podcast provider. You probably don't want to switch operating systems, so remember to double-check the information about supported systems.
Availability is another critical characteristic to consider. The most preferred hosting sites offer availability rates of 98 and 99 per cent. Security is also essential for an excellent hosting service. Never choose a provider without learning how secure they are and whether they include daily backups, firewalls, and user authentication.
If you receive notifications whenever a change is made, this is also a huge plus because, in this way, you can be alerted of suspicious activity. These characteristics are significant when looking for a hosting site. Always check if a site has them so that you can make the right choice.
Do I Need a Website for Hosting a Podcast?
Due to storage issues and slow loading, we don't recommend hosting your files from your website. A hosting service is beneficial for several reasons. First, it provides the audience with more info about you and your show. Through it, you can tell your story, give information on the guest, and give listeners an idea about upcoming episodes.
It also helps you to build a relationship with your listeners and create a sense of community. Your listeners can communicate with you through forums provided by the hosting service. You can even offer links to topics you are discussing during your broadcasts.
As we said before, a hosting platform helps with your Google ranking and improves the chances of people finding your podcast. Moreover, through advertising on your site, you can monetize your podcast. It allows you to see merchandise or to offer unreleased content as premium subscriptions.
It can even provide you with analytics for your show, so you can better understand your audience and what type of content they want. Website analytics are helpful to see who visits your page. Through a hosting platform, you can own and have total control over your podcast.
Conclusions
This article has talked a lot about what hosting sites are for podcasts, why you need one, and what you should search for in a hosting service for podcasts. We have done this so you do not have to spend a lot of your time researching each service. Our in-depth guide talks about each site's most important features, pros, and cons.
Now that you have read each review, you can decide for yourself which one best fits your needs and, of course, your budget. Most podcast hosting services offer free plans, but many of the features are limited, like the storage space and the number of downloads. Some sites don't have free plans at all.
Some sites are affordable, and others not so much, so you need to choose a site that fits your audience number. Another essential feature that all podcasting host sites offer is the analytics tool. Some sites have a more advanced tool than others. This kind of feature helps you understand your audience better, so never underestimate the power of this tool and always choose a hosting site that offers it. Free plans are a great way of testing the hosting system to determine if it works for you. Besides offering you a chance to get to know the inner workings of the system, free plans are perfect for those starting out with podcasts but on a budget. So, by eliminating free plans, these sites are leaving a lot of potential money on the table, as free users can upgrade to premium ones once they gain enough confidence in the system or gain enough money to invest.
Another essential feature is the strong marketing focus a service has. If they offer an affiliate marketing plan, give you full ownership, and let you run your ads on your podcast, that is a significant advantage. This allows you to earn while still doing what you're passionate about.
If it lets multiple members access your podcast, that is another pro for podcasters that have a team taking care of their episodes. Also, check if a hosting service increases your discoverability on Google or not and if it lets you distribute your episodes to bigger platforms to reach more listeners.
Some sites have unique features that others don't have, like Fusebox's email capture tool. No matter what features a site has, we can never recommend one particular site over another because the best hosting service for you is a matter of your preferences and needs.
We hope that you have found this guide helpful and that you now have a better idea of what hosting service to choose for your podcast. Happy podcasting!
<!—EndFragment—>