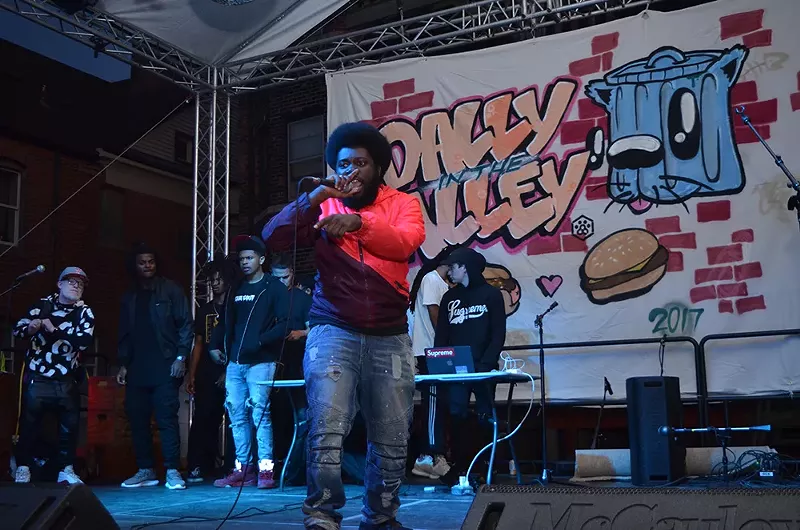 Dally in the Alley
Sept. 8; Cass Corridor, dallyinthealley.com; Free.
Entering its 41st year as Detroit's largest community festival, Dally in the Ally returns with more Dally in the same ol' ally.
The 12-hour festival is made possible by a team of community volunteers who work tirelessly to deliver a platform for artists, vendors, and music acts, while somehow managing a steady flow of beer. At the heart of this homegrown jubilee is beer — lots of beer. To honor the hoppy libation, this year's celebration will feature an expanded beer garden offering a slew of new ciders, IPAs, and elixirs. To help soak up all the boozy goodness, food favorites Amicci's, Nosh Pit, and People's Pierogi Collective — to name a few — will also be on deck.
In keeping with Dally's "come one, come all" spirit, more than 30 musical acts will take the stage, including Mexican Knives, Alexyn Wundrland, Girl Fight, Saajtak, and Liquid Monk. And to top it off, the event has promised an improved sound system so you can get your dally on no matter where in the alley you may find yourself.
Photo by Matthew Sikorski
Michigan Renaissance Festival
Through Sept. 30; 12600 Dixie Hwy., Holly; michrenfest.com; Tickets start at $20.95 for adults, $12.50 for children.
Kicking it back to 1600 AD for its 40th year is the Michigan Renaissance Festival, where all are invited to let their freak flags flyeth. The thematic Holly-based festival known for its elaborate pageantry, rivalry, revelry, and royalty is expected to draw upwards of 280,000 visitors. The 17-acre village hosts 17 stages as well as reproductions of Renaissance shops, taverns, and, of course, a castle.
In addition to the festival mainstays, like full contact jousting, a bevy of artisans, and massive turkey legs, this year's roster includes a Battle Axe Pub, daily Bow Blast archery tournament, and Triumph of the Elements — an interactive, all-day, puzzle-filled adventure quest.
The seven-weekend event boasts a new theme each week, including Highland Fling, High Seas Adventure, Wonders of the World, Shamrocks and Shenanigans, and Harvest Huzzah, and will conclude with Sweet Endings — a chocolate and Shakespeare hybrid celebration.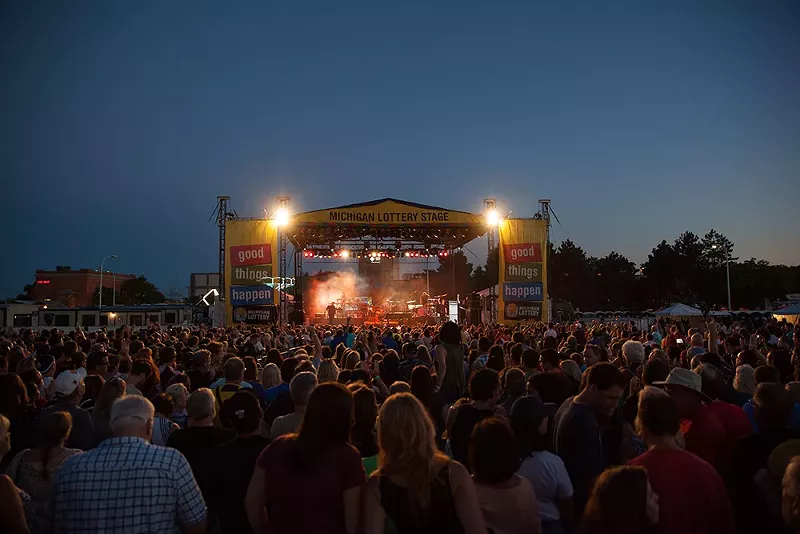 Arts, Beats, & Eats
Aug. 31-Sept. 3; Royal Oak; artsbeatseats.com; Admission is $3-$7.
Good things come in threes. Such is true of the Arts, Beats, & Eats festival, which includes, you guessed it, a Labor-Day weekend feast for the senses.
Moved from Pontiac in 2010, AB&E is now in its 21st iteration and will go big by hosting 200-plus music acts across eight stages. Eddie Money and Awolnation top the bill along with rockers Everclear, Gin Blossoms, and longtime quirky piano man Ben Folds. They will all take to the Michigan Lottery National Stage along with Matt Nathanson, country boy Chris Janson, and Motown's own, the Spinners.
Boasting more than 40 restaurant vendors and 19 beer stations, the eats portion of the festival spans American favorites thanks to the likes of Sweetwater Tavern and Dave's BBQ, Asian fare from Peking House, a taste of Mexico via Big Mike's Mexican Grill, and sweet treats provided by Achatz Pies and Treat Dreams.
Other new additions include a silent disco to the roster of sonic attractions. Arts, Beats, & Eats will also continue its longstanding tradition of giving back to the community by hosting a food drive in support of Gleaners Community Food Bank of Southeastern Michigan.
DIY Street Fair
Sept. 21-23; Ferndale; ferndalediy.com; Free.
You can do-it-yourself without doing it alone thanks to Ferndale's beloved DIY Street Fair. For 11 years, this crafty blowout has celebrated innovation, collaboration, and the beautiful minds of metro Detroit's most ambitious makers. Though the focus of the three-day completely free fair is the marketplace where visitors can snag some one-of-a-kind wares, DIY is a party, and what would a party be without music, food, and booze?
Expect to be tempted by an array of craft beer, wine, and cocktails poured by local favorites, as well as a slew of delectable edibles by food trucks like Mac Shack, Nosh Pit, Slows-to-Go, and more. While you're deciding what BBQ place to nom at and whether that Glass Action nightlight of David Bowie would make a great gift (the answer is a resounding yes, by the way) crowd around this year's diverse local music lineup. Krillin, Brother Son, Double Winter, True Blue, Ryan Dillaha and the Miracle Men, as well as the incomparable Tunde Olaniran are among the 20-plus performers.
Murals in the Market
Sept. 7-Oct. 20; Eastern Market, Detroit (and various other locations); muralsinthemarket.com; Free.
Recently named by Smithsonian magazine as one of the world's best mural festivals, Detroit's own Murals in the Market returns to beautify the many sheds and warehouses of the city's Eastern Market district.
Since 2015, many local and international artists have come together to create 120 murals. Not only an eye-candy feast, MITM prides itself on being a unique form of community outreach by giving the district a unique visibility and accessibility.
This year, the festival has commissioned dozens of artists, including Dutch muralist Leon Keer, Buenos Aires-based artist Ever, and local mainstays like Sheefy and Ellen Rutt. Murals in the Market is also expanding to 10 days and will include a Family Reunion Block Party on Saturday, Sept. 15 at Division Street & Orleans Street, featuring DJ Jazzy Jeff, as well as lonely C and Bamboozle of globally renowned DJ duo, Soul Clap. Auxiliary events include discussion panels, cultural tours, meet and greets, and more. Also new this year is a special run of 10,000 pocket-sized maps that detail the artist and each mural's location. See the festival website for the full schedule.
Detroit International Jazz Festival
Aug. 31-Sept. 3; Hart Plaza, Detroit; detroitjazzfest.com; Free.
The Detroit International Jazz Festival is not only the world's largest free and open to the public jazz fest (that's right — no wristbands, fees, or lines) but one of the oldest, too. Established in 1980, Jazz Fest continues to draw the biggest names in the biz, as well as boast stirring tributes to the classics and showcase contemporary up-and-comers from all around the globe.
What Jazz Fest does best aside from, you know, being the best, is creating an environment in which jazz is inclusive. You don't have to know the difference between hard bop, ragtime, and Blue Note, and maybe you've never heard of Thelonious Monk. Jazz Fest is for everyone and we argue nothing is sweeter than the sound of a horn section bellowing across the Detroit River.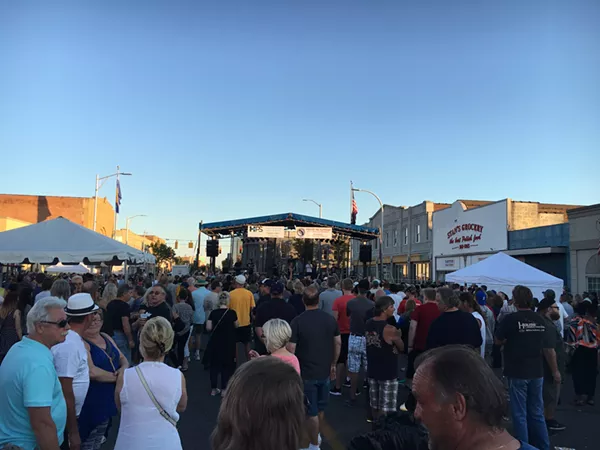 Hamtramck Labor Day Festival
Sept. 1-3; Joseph Campau, Hamtramck; hamtownfest.com; Free.
Hamtramck is tagged as being "the world in 2 square miles" — which is why a festival that draws in over 100,000 people each year is so remarkable. More than a music fest or a foodie-hotspot, Hamtown's Labor Day festivity is a testament to Hamtramck's resilient, community-driven spirit. Well, that and they love to party.
For nearly four decades, Hamtramck has celebrated the working class with a kick-ass blowout along the main drag of Joseph Campau. The festival, which will take place Sept. 1-3, will keep with tradition, returning with Hamtramck Yacht Club's Canoe races, the Polish Day Parade, an artist's village, carnival fun, and, this year, a killer lineup of metro Detroit's finest.
Among the festival's 40-plus acts are Craig Brown Band, Young Punk, and Double Winter. 2017 Metro Times' artist to watch and Rolling Stone fave Stef Chura will take the North Stage Saturday night, while legendary Detroit emcee Awesome Dre will headline the South Stage. Sunday will host the likes of Wasabi Dream, Sisters of Your Sunshine Vapor, the Polish Muslims, and Metro Times' favorite space invaders, Krillin. Koltay, Drinkard Sisters, and the Muggs are among Monday's performers. Closing out the festival are the incomparable Motown legends Martha Reeves & the Vandellas.
Fork & Cork Festival
Sept. 21-23; downtown Utica; forkandcorkfestival.com; Free.
New to the end-of-summer festival circuit is Utica's Fork & Cork Festival. The two-day drink-centric event will take place in downtown Utica, offering up a unique variety of wines and regional craft beers, as well as some necessary bites to soak up all that swanky booze. Following the successful festival formula, Fork & Cork will also feature dueling performance stages with pop and classic rock bands, as well as students from local music studios and country sensation Chuck Wicks as the headliner. If artisans are more your bag, there will be over a hundred different exhibitors. And if that wasn't enough to pop your cork, a portion of the event's craft beer and wine sales will benefit the Humane Society of Macomb.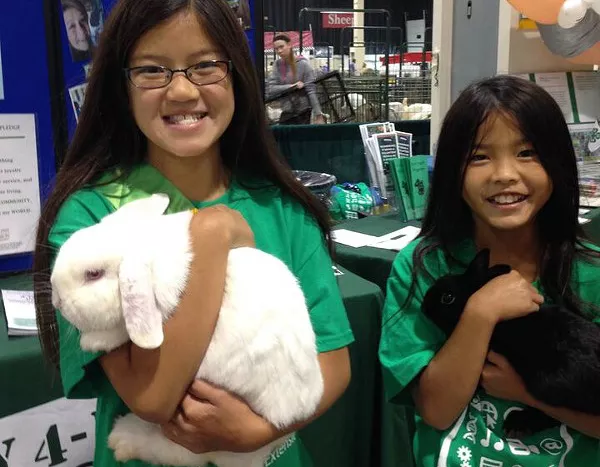 Michigan State Fair
Aug. 30-Sept. 3; Suburban Collection Showplace, Novi; michiganstatefairllc.com; Admission is $8 for adults, $6 for children, wristbands available for $30.
This one goes back to 1849 when Detroit debuted Michigan's original state fair — one of the earliest events of its kind. Obviously, state fairs are a thing now. For most of its existence, the Michigan State Fair was held at the Michigan State Fairgrounds because yeah, we really loved the damn thing. In 2009, Gov. Jennifer Granholm pulled the plug on the longstanding tradition, leaving Michigan to wonder if it would ever be able to watch a baby cow take its first steps, eat an elephant ear, or fight nausea on the Gravitron again. The event switched hands in 2013 and now calls Novi home, where you'll find many of the traditions from the state fair's previous incarnation: Baby animals! Eating competitions! A butter cow! Beer tasting! And endless chocolate milk? Yeah. It's a thing. Also flowing? Live music via its Superstar talent competition as well as a hearty list of contests for those looking to snag a blue ribbon.

Detroit Month of Design
The month of September; Various venues around metro Detroit; detroitmonthofdesign.com; Many events are free and open to the public.

In 2015, Detroit earned a coveted designation as a "City of Design" from the United Nations Educational, Scientific and Cultural Organization — making it the first such city in the United States to get the distinction. To celebrate, a number of design-related events have united under the banner of the Detroit Month of Design. Highlights include Eastern Market After Dark (Sept. 20), Light Up Livernois (Sept. 29), "Shape: Defining Furniture In Michigan's Design Legacy" at Shinola (Sept. 7), Focus: On Detroit Photography Festival in Detroit's Cool Cities Park (Sept. 15). and the Junior League of Detroit's Designer Showhouse at the historic Charles T. Fisher Mansion (Sept. 15-Oct. 7).
Get our top picks for the best events in Detroit every Thursday morning. Sign up for our events newsletter.