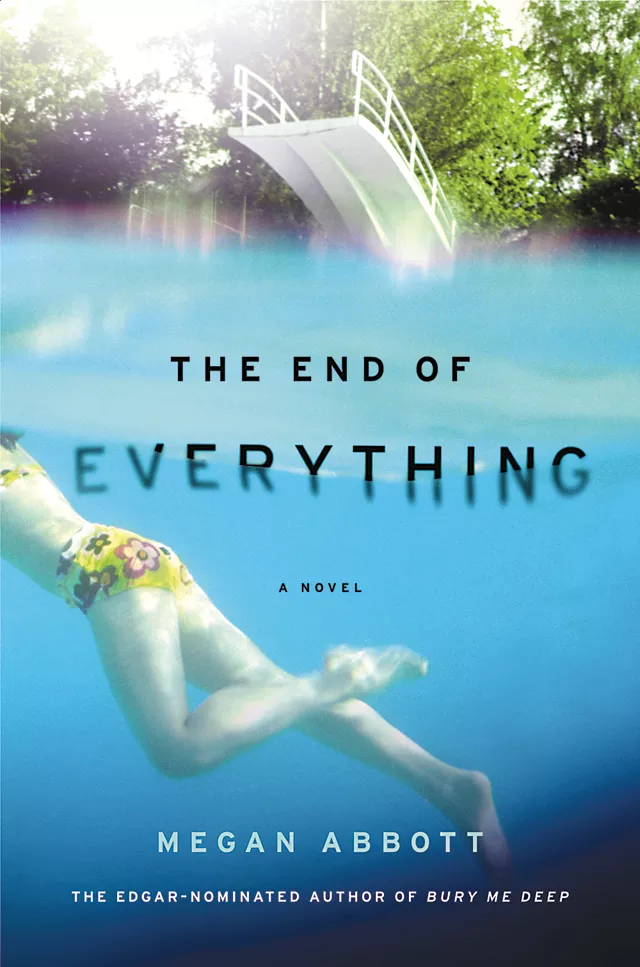 The End of Everything
Megan Abbott
Reagan Arthur Books, $23.99, 256 pp.
It's summer. 1980s. It's a middle-class Detroit suburb, perhaps the very same neighborhood where author Megan Abbott grew up.
Evie and Lizzie are inseparable, soul twins, the best of friends. They share knowing looks and strawberry lip gloss. They spend muggy nights sweating on top of sleeping bags in backyard tents. In the phantom dusk, they run wild with a pack of neighborhood friends playing a horror movie version of hide-and-seek called "bloody murder."
Then one day Evie disappears. And the page-turning mystery begins.
The End of Everything moves with the tumbling momentum of its cartwheeling, daydreaming, bubblegum-snapping prose. All sweet tension, unraveling secrets, and wild naïveté, it runs on the glowing energy of 13-year-old girls who are setting their first flip-flopped foot into sexual awareness. It's one grand attempt to experience their beauty and power by seducing the world at large.
They find themselves caught in fumbling infatuations with the dad next door. They strike Lolita-esque poses on lawn chairs as flashes of Electra complexes spark in their adorable squinting eyes. The really scary part is that they're too green to grasp the danger and treachery that hides inside their bedazzled, often misguided aspirations. They have an emerging power they aren't equipped to handle, a force that excites them as much as it confuses them. It's like the summer vacation sun that bronzes their skin but never illuminates the obscured and shadowy truths around them.
The setting is a familiar one. Lizzie and Evie might have lived a few blocks from the Lisbon sisters in Jeffrey Eugenides' novel The Virgin Suicides, a different kind of girl-tragedy set in the 1970s in the Detroit suburbs.
But in many ways, Abbott's new book sticks to the trademark femme noir style that made her earlier, grown-up novels (Queenpin, Bury Me Deep, etc.) notable. As Lizzie detectives her way into her missing friend's case like some wayward Nancy Drew, she stumbles on the dark desires of her own heart. She becomes both villain and victim only because there's nobody there to protect her from herself. —Norene Smith