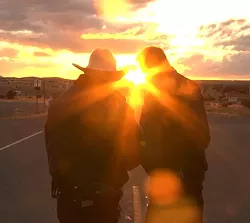 The House I Live In | B+
Unlike his last film, Why We Fight, which examined America's industrial-military complex, Eugene Jarecki's absorbing The House I Live In is not a political indictment disguised as reportage but rather a comprehensive and mostly journalistic examination of our country's failed War on Drugs.
That campaign moniker was first used by Richard Nixon, and has, over the last 40 years, resulted in millions of incarcerations and has cost nearly $1 trillion in taxes. Oddly enough, Nixon emerges as one of the more enlightened actors in this national travesty, allocating two-thirds of his initiative's resources to drug treatment rather than punishment. Over time, however, politics, race-based policies and for-profit schemes have radically shifted that balance.
Starting with the African-American housekeeper who helped raise him and ended up seeing her own offspring lured into a drugs and violence, Jarecki carefully and methodically builds his case that our dysfunctional drug laws have caused far more damage to American families and communities than drug use ever has. The documentarian rides along with cops and dealers, interviews judges and prison guards, and gets some startling testimonials from historians and sociologists — all of whom express frustration, if not outright scorn, for current policies. And they seem mystified about how to end it. Between draconian mandatory-minimum sentencing, drug laws that target the underclass, lack of addiction treatment, and an economically incentivized prison-industrial complex, the War on Drugs has become a monstrously wasteful scheme to warehouse "undesirables," provide politicians with easy election-year slogans, and line the pockets of both private companies and law enforcement departments.
While Jarecki's filmmaking isn't exactly revolutionary (talking heads, man-on-the-street interviews, case studies, archival footage) and he occasionally indulges in some personal hand-wringing, his evidence is never less than compelling. The House I Live In offers a deep and multifaceted portrait of the history, practices and outcomes of our drug policies; although it takes a little while to find its rhythm and focus, when it does you're in, hook, line and sinker.
Jarecki has assembled a first-rate list of subjects, covering a wide span of viewpoints and experiences. In particular, former journalist and creator of The Wire David Simon provides a livid backbone to the proceedings, offering observations that effectively and succinctly tie together Jarecki's findings. But it's Abraham Lincoln scholar Richard Lawrence Miller who offers up the most valuable and provocative discussion. Possessing detailed knowledge about America's early drug laws, he lays out a disturbing yet analytical perspective, explaining how opium, cocaine and marijuana were once legal and regularly used by upper-class whites but then outlawed in order to target Chinese immigrants, African-Americans, and Mexicans for incarceration. Addiction, which was once viewed as a medical issue, became a criminal problem only when minorities and the underclass became targeted. Anyone doubting his thesis has only to look at the 100-to-1 disparity in 1990s sentencing for crack versus powdered cocaine, or compare popular treatments of celebrity rehab with on-the-street drug enforcement. Most damning was the statistic that only 13 percent of crack's users are black but they make up 90 percent of those imprisoned for such offenses.
Of all the many facts, figures and conclusions that populate The House I Live In, this claim hit me hardest: There are more African-Americans currently incarcerated or on parole (thus having their rights as citizens abridged) than there were slaves in the decade before the Civil War. Roughly 50 percent of them have been punished for nonviolent drug crimes. Whether or not you view this mass incarceration as racially motivated, Jarecki makes clear that all our efforts and investments in fighting the War on Drugs haven't yielded any demonstrable improvement, only ruined lives, families and communities. There comes a point in any war where it becomes important to ask: Is it worth it?
In the end, The House I Live In is the kind of film that offers many small insights and revelations rather than one big message. If there is a single takeaway, it's that things must change. What makes that conclusion so despairing, however, is that no one seems to have a good idea about how to do it.