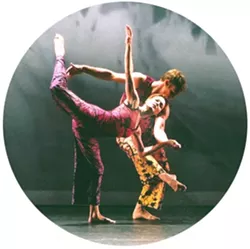 Two dancers strut, moving in concert, but also independently, the gentle undulations of their outstretched arms recalling subtle movement of birds' wings; their careful steps gently bringing them together, then apart, then together again. The dance is Beach Birds, and the choreography is inspired by observing actual birds. Drawing inspiration from unusual sources is but one of many groundbreaking ideas Merce Cunningham brought to modern dance.
From the time Cunningham founded his dance company in 1953 until his 2009 death at the age of 90, he was one of America's most important avant-garde artists, a leading figure of modern dance whose countless innovations changed the very definition of the form. He has worked with the most prominent out-there artists of his day — Andy Warhol, Jasper Johns and Robert Rauschenberg — and, in more recent times, Radiohead, Brian Eno and Sigur Ros. He was acclaimed overseas years earlier than in this country; his company enjoyed a steady stream of international shows and awards since its first international tour in 1964. But at the end of 2011, his company, featuring the last dancers he trained, will cease to exist.
The Merce Cunningham Dance Company's demise is just one part of the Legacy Plan, an outline put in place by Cunningham before his death that established the future of his company and choreography.
Such forethought by an artist — especially in modern dance — is practically unheard of. "It was difficult to develop because there were no existing examples to follow or work off of," says Trevor Carlson, executive director of the Cunningham Dance Foundation. Cunningham and the foundation had to formulate a model, virtually from scratch, to transition from a dance company and organization supporting a living, creating artist to an organization preserving and protecting the works of one who's gone.
Cunningham began formulating what would eventually become the Legacy Plan after handling the estate of his longtime collaborator and life partner, avant-garde composer John Cage. The three-year plan is exhaustive: It includes the creation of a trust to control the rights to all of Cunningham's work; a career transition package for the approximately 40-50 full-time dancers and staff on the Cunningham Dance Foundation's payroll; the two-year legacy tour (currently in its second year), giving audiences one last opportunity to see Cunningham's work performed by his dancers; and comprehensive preservation of 75 of his 200 dances in "dance capsules," digitized versions of everything needed to stage a Cunningham work, from sketches, playbills and Cunningham's notes to photographs, films and instructions on lighting and costume design.
Dr. Beth Genné, professor of Dance and Art History at the University of Michigan, says the Legacy Plan is an unprecedented step for an art long considered ephemeral and beyond the realm of preservation.
"It's a model for modern dance," Genné says. "Merce was really planning; he wanted to have his legacy available."
It's a legacy that revolutionized modern dance. As a dancer and choreographer, Cunningham's achievements include new movement inspired by everything from ballet to the flight of birds; he conceptualized space in new ways; he took dance off the stage, performing outdoors, in galleries and among the audience. He separated dance from music, creating choreography independently from the compositions it would be set to, and, like Cage did with his music, introduced chance procedures into his work. In the '90s, he began choreographing with a computer, placing the limitless movement of computer-generated models onto his live dancers.
But Cunningham's unfettered invention — combined with his ability to simply create beautiful movement — is the result of a belief that is, according to Carlson, Cunningham's true legacy.
"He had a philosophy that was if you say no to something, then you've closed the door. But if you try yes, then you might find something that you didn't know before."
At 8 p.m. Friday and Saturday, Feb. 18-19, at the Power Center, 121 Fletcher St., Ann Arbor; 734-764-2538; ums.org; tickets start at $20. The program features two pieces never before seen in Ann Arbor.