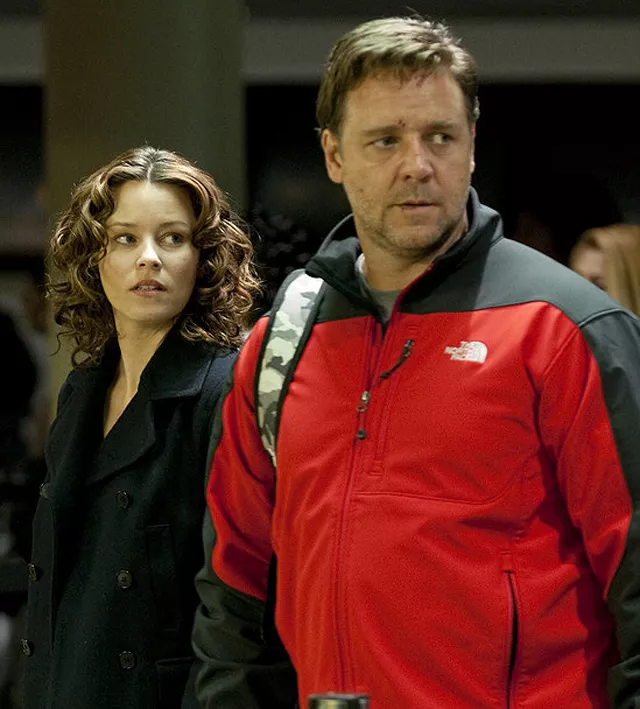 Break-out role: Crowe has ![CDATA[]].
The Next Three Days
GRADE: C+
Crisply acted, smartly directed and patently absurd, The Next Three Days is a high-tension thriller wound so tight it seems ready to snap like a stressed guitar string at any minute. Adapted by award-winning writer director Paul Haggis (Leaving Las Vegas) from a French thriller mostly unseen in this country, The Next Three Days is effective and engaging but sort of hollow. Basically, it's a prolonged exercise in nerve-rattling tension, for little greater purpose. There's nothing wrong with suspense for suspense's sake — Hitchcock made an art of it — but here the caliber of talent involved leaves the final results a tiny bit underwhelming.
Russell Crowe, packing on a considerable paunch since his Gladiator days, plays John Brennan, a humble Pittsburgh family man pushed to the brink of unspeakable acts by an uncaring legal system. His wife Lara (Elizabeth Banks) has been wrongly convicted of murdering her boss, and nearly every form of appeal — and the family's bank account — has been exhausted. He soldiers on, playing dutiful Dad to their young son, but his heart and mind just won't let this injustice stand. Left without options, John begins to think far outside his comfortable law-abiding box, seeking solutions to his wife's dilemma. Soon he's hanging around back alleys trying to buy a gun (bad idea), and arranging a clandestine meeting with a reformed ex-con famed for multiple breakouts, played by Liam Neeson, wrestling his thick Irish accent to a standstill. Armed with a rough outline, he begins scouring the Web for interesting criminal how-to tips, such as forging keys and breaking into a car with a modified tennis ball (thanks YouTube!). Lara is soon to be transferred from the county jail to the penitentiary and, as the deadline looms, the danger swiftly intensifies and the slow-building family drama gets shoved aside in favor of elaborately plotted set pieces. The rumpled junior college English professor sheds his drab corduroy blazer, revealing the steely action hero buried within. While we can initially buy John's planning and resourcefulness, it's a tougher sell when he's outrunning cops, slipping roadblocks and engaging in shootouts with drug dealers. We are meant to believe that any ordinary man can perform incredible feats in the name of love, and while that's an easily understandable sentiment, some of the huge plot holes here are pretty unforgivable.