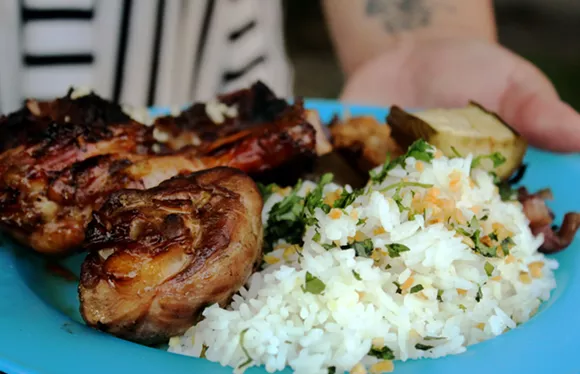 Photo by Lexi Trimpe
A dish from a previous Sarap pop up.
One of metro Detroiter's few options for Filipino fare is chefs Dorothy Hernandez and Jake Williams's Sarap pop up, and April brings us two of their events.
The first is billed as an a la carte street/bar night on Sunday, April 9 at Nancy Whiskey's in North Corktown. Among the menu items are
longanisa
sliders made with Filipino sausage patties on turmeric pandesal with calamansi aioli and achara for $3.5o. Another intriguing options is the
sisig made with p
ork belly, snout, and ear seared with chilies and topped with duck egg. Check out the full menu
here
.
The second, a collaboration with chef Aaron Egan in Eastern Market's Shed 5 on April 24, will see the pairing of Filipino and Jewish cuisine. While it seems like an unlikely match, the cultures shared a dramatic moment in history.
As Sarap explains in its press release: "About 1,200 European Jews fleeing the Nazis during World War II found safe haven in the Philippines. Manuel Quezon, the Philippines' first president, and Paul McNutt, the U.S. High Commissioner to the Philippines, worked together to grant visas to Jews escaping the Holocaust."
Adds Egan: "U
pon (the Jewish refugees') arrival in the Philippines, they must
have cast about for recognizable, acceptable nourishment in a land dominated by
shellfish and pork."


So what might their dinners have looked like? One can only guess, but perhaps something along the lines of what Sarap and Egan have planned for the evening's five course meal, like "borscht" made with beets, coconut milk, cilantro oil, and sprouts. Or the adobo schnitzel with chicken, ube spaetzle, gribnes, and calamansi coconut "beurre blanc."
The event's seating is at 6 p.m. Check out the menu and purchase the $50 tickets
at sarapdetroit.com.
<!——[if gte mso 9]—>
<!—[endif]——>
<!——EndFragment——>
<!——[if gte mso 9]—>
<!—[endif]——>
<!——[if gte mso 9]—>
Normal
0
false
false
false
EN-US
JA
X-NONE
<!—[endif]——><!——[if gte mso 9]—>
DefSemiHidden="false" DefQFormat="false" DefPriority="99"
LatentStyleCount="382">


UnhideWhenUsed="true" QFormat="true" Name="heading 2">
UnhideWhenUsed="true" QFormat="true" Name="heading 3">
UnhideWhenUsed="true" QFormat="true" Name="heading 4">
UnhideWhenUsed="true" QFormat="true" Name="heading 5">
UnhideWhenUsed="true" QFormat="true" Name="heading 6">
UnhideWhenUsed="true" QFormat="true" Name="heading 7">
UnhideWhenUsed="true" QFormat="true" Name="heading 8">
UnhideWhenUsed="true" QFormat="true" Name="heading 9">
Name="index 1">
Name="index 2">
Name="index 3">
Name="index 4">
Name="index 5">
Name="index 6">
Name="index 7">
Name="index 8">
Name="index 9">
UnhideWhenUsed="true" Name="toc 1">
UnhideWhenUsed="true" Name="toc 2">
UnhideWhenUsed="true" Name="toc 3">
UnhideWhenUsed="true" Name="toc 4">
UnhideWhenUsed="true" Name="toc 5">
UnhideWhenUsed="true" Name="toc 6">
UnhideWhenUsed="true" Name="toc 7">
UnhideWhenUsed="true" Name="toc 8">
UnhideWhenUsed="true" Name="toc 9">
Name="Normal Indent">
Name="footnote text">
Name="annotation text">
Name="header">
Name="footer">
Name="index heading">
UnhideWhenUsed="true" QFormat="true" Name="caption">
Name="table of figures">
Name="envelope address">
Name="envelope return">
Name="footnote reference">
Name="annotation reference">
Name="line number">
Name="page number">
Name="endnote reference">
Name="endnote text">
Name="table of authorities">
Name="macro">
Name="toa heading">
Name="List">
Name="List Bullet">
Name="List Number">
Name="List 2">
Name="List 3">
Name="List 4">
Name="List 5">
Name="List Bullet 2">
Name="List Bullet 3">
Name="List Bullet 4">
Name="List Bullet 5">
Name="List Number 2">
Name="List Number 3">
Name="List Number 4">
Name="List Number 5">

Name="Closing">
Name="Signature">
UnhideWhenUsed="true" Name="Default Paragraph Font">
Name="Body Text">
Name="Body Text Indent">
Name="List Continue">
Name="List Continue 2">
Name="List Continue 3">
Name="List Continue 4">
Name="List Continue 5">
Name="Message Header">

Name="Salutation">
Name="Date">
Name="Body Text First Indent">
Name="Body Text First Indent 2">
Name="Note Heading">
Name="Body Text 2">
Name="Body Text 3">
Name="Body Text Indent 2">
Name="Body Text Indent 3">
Name="Block Text">
Name="Hyperlink">
Name="FollowedHyperlink">


Name="Document Map">
Name="Plain Text">
Name="E-mail Signature">
Name="HTML Top of Form">
Name="HTML Bottom of Form">
Name="Normal (Web)">
Name="HTML Acronym">
Name="HTML Address">
Name="HTML Cite">
Name="HTML Code">
Name="HTML Definition">
Name="HTML Keyboard">
Name="HTML Preformatted">
Name="HTML Sample">
Name="HTML Typewriter">
Name="HTML Variable">
Name="Normal Table">
Name="annotation subject">
Name="No List">
Name="Outline List 1">
Name="Outline List 2">
Name="Outline List 3">
Name="Table Simple 1">
Name="Table Simple 2">
Name="Table Simple 3">
Name="Table Classic 1">
Name="Table Classic 2">
Name="Table Classic 3">
Name="Table Classic 4">
Name="Table Colorful 1">
Name="Table Colorful 2">
Name="Table Colorful 3">
Name="Table Columns 1">
Name="Table Columns 2">
Name="Table Columns 3">
Name="Table Columns 4">
Name="Table Columns 5">
Name="Table Grid 1">
Name="Table Grid 2">
Name="Table Grid 3">
Name="Table Grid 4">
Name="Table Grid 5">
Name="Table Grid 6">
Name="Table Grid 7">
Name="Table Grid 8">
Name="Table List 1">
Name="Table List 2">
Name="Table List 3">
Name="Table List 4">
Name="Table List 5">
Name="Table List 6">
Name="Table List 7">
Name="Table List 8">
Name="Table 3D effects 1">
Name="Table 3D effects 2">
Name="Table 3D effects 3">
Name="Table Contemporary">
Name="Table Elegant">
Name="Table Professional">
Name="Table Subtle 1">
Name="Table Subtle 2">
Name="Table Web 1">
Name="Table Web 2">
Name="Table Web 3">
Name="Balloon Text">

Name="Table Theme">
Name="Note Level 1">
Name="Note Level 2">
Name="Note Level 3">
Name="Note Level 4">
Name="Note Level 5">
Name="Note Level 6">
Name="Note Level 7">
Name="Note Level 8">
Name="Note Level 9">























Name="List Paragraph">

Name="Intense Quote">














































































Name="Subtle Emphasis">
Name="Intense Emphasis">
Name="Subtle Reference">
Name="Intense Reference">

UnhideWhenUsed="true" Name="Bibliography">
UnhideWhenUsed="true" QFormat="true" Name="TOC Heading">













Name="Grid Table 1 Light Accent 1">




Name="Grid Table 6 Colorful Accent 1">
Name="Grid Table 7 Colorful Accent 1">
Name="Grid Table 1 Light Accent 2">




Name="Grid Table 6 Colorful Accent 2">
Name="Grid Table 7 Colorful Accent 2">
Name="Grid Table 1 Light Accent 3">




Name="Grid Table 6 Colorful Accent 3">
Name="Grid Table 7 Colorful Accent 3">
Name="Grid Table 1 Light Accent 4">




Name="Grid Table 6 Colorful Accent 4">
Name="Grid Table 7 Colorful Accent 4">
Name="Grid Table 1 Light Accent 5">




Name="Grid Table 6 Colorful Accent 5">
Name="Grid Table 7 Colorful Accent 5">
Name="Grid Table 1 Light Accent 6">




Name="Grid Table 6 Colorful Accent 6">
Name="Grid Table 7 Colorful Accent 6">







Name="List Table 1 Light Accent 1">




Name="List Table 6 Colorful Accent 1">
Name="List Table 7 Colorful Accent 1">
Name="List Table 1 Light Accent 2">




Name="List Table 6 Colorful Accent 2">
Name="List Table 7 Colorful Accent 2">
Name="List Table 1 Light Accent 3">




Name="List Table 6 Colorful Accent 3">
Name="List Table 7 Colorful Accent 3">
Name="List Table 1 Light Accent 4">




Name="List Table 6 Colorful Accent 4">
Name="List Table 7 Colorful Accent 4">
Name="List Table 1 Light Accent 5">




Name="List Table 6 Colorful Accent 5">
Name="List Table 7 Colorful Accent 5">
Name="List Table 1 Light Accent 6">




Name="List Table 6 Colorful Accent 6">
Name="List Table 7 Colorful Accent 6">
Name="Mention">
Name="Smart Hyperlink">

<!—[endif]——>
<!——[if gte mso 10]—>
<!—[endif]——>
<!——StartFragment——>
<!——EndFragment——>