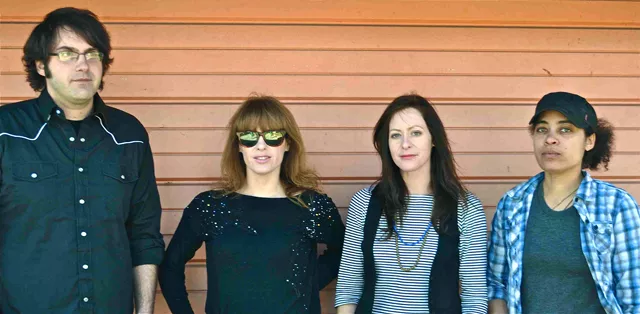 Mirrortwin (from left): Jamiel Dado, Loretta Lucas, Julie Lucas and Beren Ekine.
Throughout the mid-'00s, the Sisters Lucas were an anomaly of sorts in Detroit. Armed with autoharps and other acoustic instruments, Loretta and Julie Lucas would play Detroit venues alongside garage and punk rock bands and not seem out of place. Detroit has always been a city that appreciates eclecticism in its music, but with their "old-timey" folk songs and lack of any conventional sense of performance, they really tested the D's open-mindedness ... and passed — there's no denying beautifully constructed songs and voices.
Individually, lovelies Loretta and Julie are incredible singers, able to absolutely sell any song they sing, but, when they harmonize, they can make the souls of a sweaty crowd rise up and salute. No shit.
With little apparent effort, the women border the ethereal, as if misplaced songbirds from mid-'60s sunny California. But then, a few years ago, they picked up some electric instruments.
Now, the story of an electrified Dylan being called "Judas" by an overzealous folkie at the 1965 Newport Folk Festival in the wake of the Bringing It All Back Home album and the accompanying "Like a Rolling Stone" single has been told over and over.
Loretta and Julie, when hearing that tale, must be extremely grateful to be living now and, more to the point, in this city (in fact, take a look at their life-changing albums and you'll see Bringing It All Back Home).
With the freedom to do whatever they want, the sisters (they are real sisters) are now called Mirrortwin. They've retained the wondrous harmonies that made their previous incarnation so otherworldly, and added some noisy guitar, some pop melody and some groove. The debut album is finished and awaiting the right deal, while the "Kelly and Fibrizio" single has just been released.
"When we were doing the folk song writing, you would get more of a gazing crowd," Julie says. "People would just look at you. I found that when we started writing music that had more of an undercurrent to it, more of a beat, they became more involved. They had an actual physical response as opposed to just staring and clapping. I wanted to be able to communicate with a crowd like that. We wanted to have that kind of involvement and not just people standing around in a room. When it became Mirrortwin, it was more communicative, more upbeat and fun."
Loretta insists that the metamorphosis from the Sisters Lucas into Mirrortwin wasn't so much planned as a natural evolution, and that this is the way it's always been between her and Julie — that the sisters sit down and write what feels right. "The music I listen to sounds nothing like the music that I play, but then I don't sit down and choose to write a song in a certain style," Loretta says. "I didn't go through a stage in my early 20s trying to sound like someone. It's funny that the records that I listen to sound nothing like me."
Loretta, Julie and bassist Jamiel Dado meet with MT at Detroit's charming and relaxed Le Petit Zinc café on Trumbull, where the girls say they "live in here." It's one block from Loretta's place and three blocks from Julie's. Drummer Beren Ekrin couldn't join the party, but props to Dado for coming in from his new digs for the interview.
"I moved to Chicago, but didn't want to give up being in a Detroit band," the bassist says. "I miss the friendliness of it; I'm realizing that it's very competitive there. People don't appreciate other people's music. People are more open to things here and they help each other out.
Dado trips in regularly from Chi-town each month to rehearse and play, and it's a show of determination and commitment that's tangible.
What's also tangible is the energy of optimism within the combo. And why not be optimistic? Alongside such bands as Lettercamp, Lightning Love and Silverghost, Detroit is bestowed with a plethora of uncommonly prolific and fruitful female-fronted pop-rock bands of late. That is, music with uncommonly good melody, which has been fairly scarce in these parts for years.
Julie says pop melody runs through the veins of Detroiters with all the garage-fuzz and engine oil. "There is a new garage rock thing going on and there're a lot of really good bands playing that music locally," she says. "I just think that pop and melody have never really gone away, and a lot of garage does incorporate a lot of melody and not just noise. I think more people are getting in the game now, so the scene is actually larger. It's not a scene of music that's taking over, it's just a bigger scene. It's larger and less insular. That's healthy. It makes it more inclusive, and it means that different forms of music can get heard. Fan bases can overlap. It's refreshing that there are so many different types of music on the scene that can draw and get people interested."

Poor Loretta. Halfway through the interview she announces she needs a walk — seems the previous night's libations with today's caffeine aren't exactly working. She looks a bit flushed. She never returns.
Her sister and Dado talk though. Grabbing the opportunity to converse behind her sister's back, Julie says, "Loretta has a natural sensibility for a hook. Everything that she writes turns into an earworm. It gets into your head. She's so good at it."
After working with the sisters for so long (he played bass with the Sisters Lucas too), Dado has an eagle-eyed view into their chemistry. "I love how, when you listen to the entire [forthcoming] album, you can tell who wrote the songs, but they all work well together," the bass man says. "I think that's a rare thing in bands with multiple songwriters — to make it sound so cohesive, and yet you can pick them out. For me, it's their phrasing. They have their own certain styles, but because they've always played together, it works."
Dado's right too. The chemistry between the two sisters isn't, one suspects, something that can be imitated. Their natural understanding of each other, the almost uncanny way they know where the respective sibling is going to take the song, is a phenomenon that can only happen between blood relatives, and rarely even then. That's what makes Mirrortwin, and the Sisters Lucas before it, an ear-bending experience. You see two people on stage, but it's like hearing two whole halves of one.
Julie sips her coffee, smiles and says, "We put copyright on all our songs. I did it at 4 in the morning and wasn't really paying attention, and the copyright process on the government website is convoluted. Somehow I accidentally made Jamiel the sole copyright owner for all of our music. That was a good day for him."
Dado looks up with a big, shit-eating grin on his face, his expression betraying the fact that he knows how good those songs are.
"Yes," he says. "Yes it was."
The band's 10 life-changing albums
Pixies
Doolittle (4AD, 1989)
Billie Holiday
Greatest Hits (Sony, 1998)
Van Halen
1984 (Warner, 1984)
John Coltrane
A Love Supreme (Impulse!, 1965)
Bob Dylan
Bringing It All Back Home (Columbia, 1965)
Buffy Sainte-Marie
The Best Of (Vanguard, 1990)
Cat Stevens
Tea for the Tillerman (A&M, 1970)
Fugazi
13 Songs (Dischord, 1989)
Devo
Are We Not Men? (Warner, 1978)
Bad Brains
Bad Brains (ROIR, 1982)

Friday, April 29, Mirrortwin supports Dale Earnhardt Jr. Jr. at the Crofoot; 1 S. Saginaw St., Pontiac; 248-858-9333