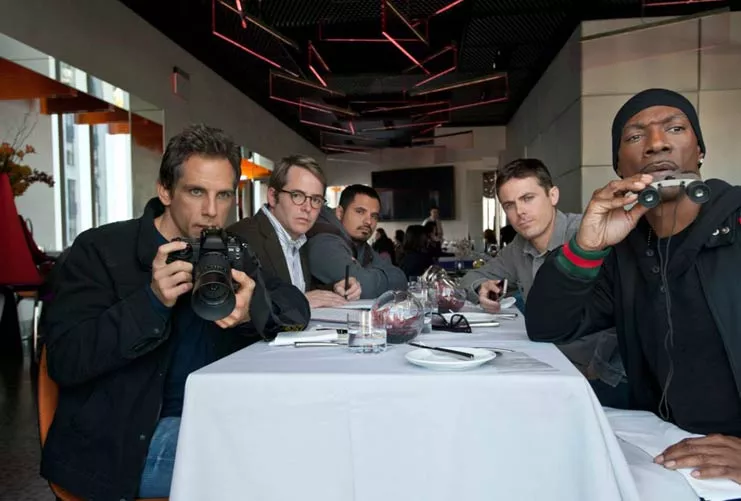 A bunch of millionaires sittin' around pretending to be poor: Stiller, Broderick, Pena, Affleck and Murphy in Tower Heist.
After nearly 20 years of her appearing in films, Hollywood still doesn't know what to do with Téa Leoni. Funny, unconventionally gorgeous, whip-smart and blessed with a uniquely husky voice, she's almost always better than the movies she's cast in. Case in point: her thankless turn as an FBI agent in Brett Ratner's underachieving exercise in exuberant fluff. Watch her brief drunk scene opposite Ben Stiller and it's clear who owns every inch of the screen. Sexy, irreverent, and, most importantly, human, she completely sells a throwaway scene with a throwaway character in a throwaway movie.
The truth is, Ratner's tale of economic comeuppance boasts an entire ensemble of talented actors who outshine an implausible script that, despite a quartet of experienced writers, feels like a first draft. Casey Affleck, Matthew Broderick, Michael Peña, and Gabourey Sidibe (as an oversexed Jamaican maid) are hopefully cashing hearty paychecks for this mild-mannered misfire.
Full disclosure here: Due to traffic issues, I arrived at the screening for Tower Heist 15 minutes late. Still, it took all of three minutes to know exactly who was who and what was going on. Unlike most heist films, where intricately planned robberies are practiced, put into action and then, seemingly, unravel before our eyes — only to deliver a surprise victory in the end, Ratner's predictable, schematic, and thinly plotted action-comedy hops, skips and jumps over plot mechanics and character interactions like a terrier on Red Bull.
Fortuitously timed to channel Occupy Wall Street populism, Tower Heist is the shallow and politically neutered tale of Josh Kovacs (Ben Stiller), the building manager of a Trump-like Tower on Central Park West. He convinces the building's staff to invest their pensions in a fund run by penthouse resident and Wall Street suit Arthur Shaw (Alan Alda), only to discover afterward that their retirement has been swindled in an elaborate Ponzi scheme. Worse, Kovacs and many of his friends (Affleck, Peña, Sidibe and Stephen Henderson) are fired from their jobs. Banding together with a recently evicted resident (Broderick), they concoct a plan to break into Shaw's penthouse suite and steal his hidden stash of millions. But first Josh enlists a childhood acquaintance named Slide (Eddie Murphy) to tutor them in the ways of breaking and entering. Why? Because, you know, he's black. And a thief.
As far as set-ups go, Tower Heist's first act isn't only sound, it has real potential. But what could have been a cracking class comedy is reduced to a contrived, connect-the-dots storyline that isn't only illogical, it's filled with insulting narrative cheats (I defy you to explain how Kovacs and his crew hid their loot at the end). Knowing that the project was originally conceived by Eddie Murphy with an all-black cast makes the loud, obvious, sloppiness of Ratner's film even more disappointing. Rather than construct a caper that impresses us with wit, personality, or wonder, he fudges the details in order to move his cast around like the movie's over-referenced chess pieces.
For the undemanding, Tower Heist does boast a few night-at-the-movies delights. Murphy hasn't been this energetic and funny in years, reviving some of his '80s-era enthusiasm. And the middle act scenes, where he attempts to train his wannabe safe cracking crackers, are filled with amusing character riffs and exchanges.
Still, the cast is far too cute and cuddly to effectively capture the populist desire for vengeance that fuels its "stick it to the man" plotline. A smarter, more provocative director could've drawn bigger laughs and an equal amount of catharsis with a better crafted film. Ratner's Tower Heist, on the other hand, expects us to root for nice-guy Stiller, who pocketed $15 million to play a guy who steals roughly the same amount. Or put another way: The 99 percent get to pay $10 to watch a member of the 1 percent pretend to steal back their money. Who's laughing their way to the bank now?