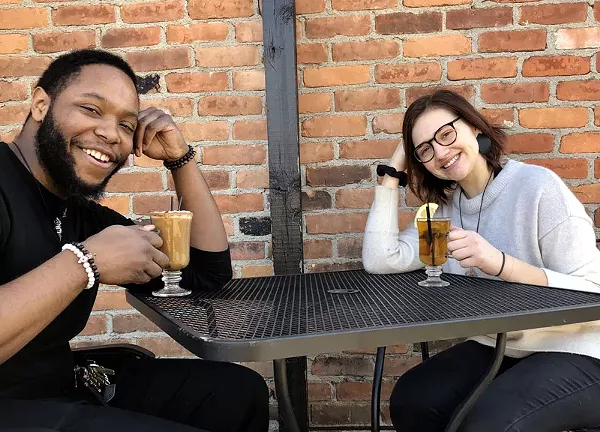 Courtesy of Traffic Jam & Snug
Detroit's Traffic Jam and Snug, the restaurant/creamery/brewery/bakery in the Cass Corridor that has served generations of Detroiters over the last 55 years, is offering diners what's simply described as one of the more interesting deals we've encountered in quite a while.
Those diners willing to sit on TJ's porch and eat and drink in the frigid Michigan winter air will receive 20 percent off their bill. They'll also be given access to a secret drink list filled with the type of libations designed to keep you warm in the winter.
It's worth noting that the porch is enclosed with a fence, but no roof or walls. It also isn't heated — that's what the secret drink list and your coats are for. The deal is good on Wednesdays during January and February.
"We are a hearty people here in Michigan and the challenge is meant to be fun," manager Leah Lynch says.
Slow's To Go now serves beer

The carryout arm of the Slow's barbecue empire is now serving beer and wine. Slows To Go, at 4107 Cass Ave., is stocking a selection of Founders Brewing Co., Bells Brewing, and Underwood Wines.
Chinese Muslim-inspired food at Gather
Chefs Brandon Zarb and Anna Atanassova present a rare chance to taste cuisine inspired by China's Muslim Hui population when they take over the kitchen at Gather.
The menu includes duck heart baozi with sesame pickled cabbage; Lanzhou beef with hand-pulled noodles, tendon, and daikon; barbecue lamb with sour plum sauce and pickled garlic; and sweet fermented rice with green raisin, fried peanut, grilled betel leaf with Thai sauce, pickled white onion, momo, and coconut saffron broth.
Sittings are at 6 p.m. and 8 p.m. on Monday at 1454 Gratiot Ave., Detroit. Tickets can be found
here
.
So many restaurants, so little time. Find out the latest Detroit dining news with our weekly food newsletter delivered every Friday morning.