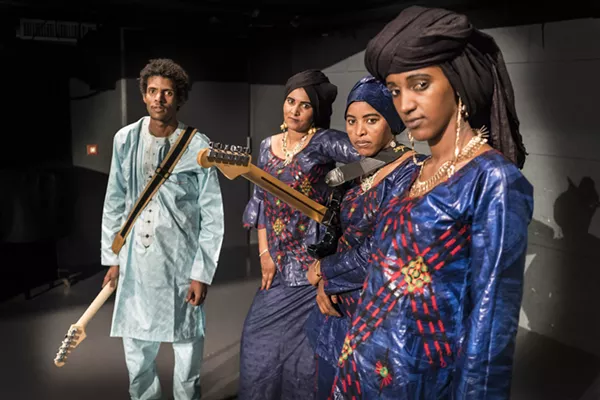 Mdou Moctar with Filles de Illighadad, subject of films and music to be played at Trinosophes. Courtesy photo.
Wednesday, 4/19: 'An evening with Sahel Sounds' @ Trinosophes
Both
Christopher Kirkley
and
Karen Antunes
, who run the exceptional record labels Sahel Sounds and Songs from Home, will be here on Wednesday, April 19 at Trinosophes. They're visiting from Portland, Ore. to show film clips, music videos, and collected footage from travels throughout West Africa (including a sneak peek at the film
Zerzura: the Saharan Acid Western
).
Their releases span the celebrated Tuareg guitarists
Mdou Moctar
and
Les Filles de Illighadad
(our music editor's favorite record from 2017); the revelatory
Music from Saharan Cellphones
series; the master of meditative synth music,
Mammane Sanni Abdoulaye
; and the Moctar-starring feature film
Akounak Tedalat Taha Tazoughai
(a Tuareg "answer" to Purple Rain).
These people are geniuses; do not miss this.
Doors at 8 p.m.; 1464 Gratiot Ave., trinosophes.com; $7 suggested donation.