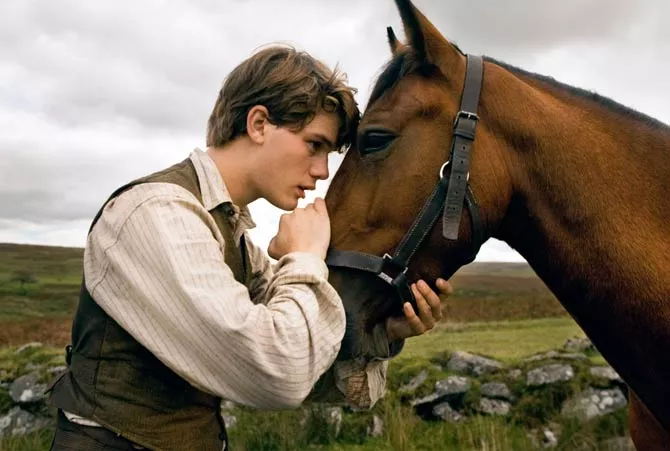 Steven Spielberg probably dreams in Technicolor. Among the crowd of maverick young directors who forever changed Hollywood in the '70s, Spielberg was the most in love with the art form as it used to be — a stark traditionalist in a wave of radicals. Even more than his cinema-obsessed friend Martin Scorsese, Spielberg was immersed in the language of film, and his best work reflects not reality as it truly is, but as we wished it could be when we went to the movies: a glittery fantasia reflected through the camera lens.
So in War Horse we see the full fruition of a lifetime of celluloid fixation, as Spielberg takes us on a guided tour through the portfolios of his cinematic forefathers: the lush sweeping romanticism of John Ford, the grand adventurism of Howard Hawks, the wry cynicism of Anthony Mann, the inventive, scholarly irony of Stanley Kubrick and the tear-jerking humanism of Frank Capra — all of this, in a story about a horse.
Personally, I place horse movies near the bottom of the genre barrel; I tend to be bored silly by tales of the bond between man and horse, and usually reject the hokey sentimentalism these noble beasts seem to inspire in people. Yet War Horse is a steed of a different color, a potent, emotionally gripping yarn that employs every ounce of the director's masterful craftsmanship to squeeze waterfalls out of the most cynical tear ducts.
Skillfully adapted from both Michael Morpurgo's 1982 children's novel and the still-running Broadway juggernaut, War Horse taps a primordial well of feeling, with a cleverly constructed but instantly relatable story about a boy, his horse and the inferno of stupidity that nearly engulfs them both.
The early sections, wrapped in warm bands of gold by cinematographer Janusz Kaminski, depict a Devonshire countryside so warm and green you want to crawl up inside its storybook loveliness and nap. This might as well be the bucolic Ireland of Ford's The Quiet Man, but the tranquility doesn't last. Here in this cozy, mossy shire lives not a hobbit, but a farming family just barely eking a living from the land. Yet when a spirited young stallion comes up for auction, boozy patriarch Ted (Peter Mullan), a former soldier, can't resist bidding more than he can afford. Teen son Albert (Jeremy Irvine) falls for the steed, who he names Joey, too fleet and agile to be a simple work animal.
When their crops fail, and as World War I breaks out, Joey is sold to the British cavalry to make ends meet; and the underage Albert soon enlists in order to be reunited with his valiant four-legged friend. From there, it's a harrowing journey through war-ravaged Europe, as Joey passes through a number of hands, and through treacherous battlefields, each new owner being touched by the creature's innate nobility. We suspect which hand will take the bridle in the end, but the road there is so gut wrenching you'll need an Alka-Seltzer.
So it is that War Horse is manipulative, sentimental and schmaltzy, but dammed effective. And to the eternal discomfort of some detractors, it's a spiritual movie, in which the holy and beautiful creation of nature overcomes the destructive folly of man, most elegantly when Joey gracefully vaults over a machine gun spewing death. We know we're being worked over like a puppet, yet Spielberg's gift is such that we can't help but give in to the triumphant string-pulling; it is a movie for everyone — whether they want it or not.