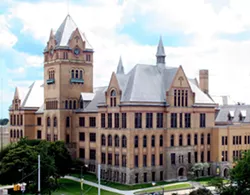 Wayne State University building | Photo/Wikipedia
Next week, the fall semester begins at Wayne State, and for the first time, students will no longer be required to take a math class in order to graduate.
The university recently began an examination of its general education requirements, "seeking to understand how they contribute to the development of knowledge and competencies that shape and prepare our students for lifelong learning and success," according to the
school's website
.
Beginning this semester, a math requirement will no longer fall under the category of gen eds, but rather be set by individual departments.
"We felt the math requirement was better left to the various programs and majors to decide and to decide what levels of mathematics would be needed," Monica Brockmeyer, associate provost for student success, told the
Free Press
. "We still continue to support mathematics at Wayne State."
The university announced the change to students in May and 'strongly encouraged' them to opt to take a math course as an elective if one is not required by their major.