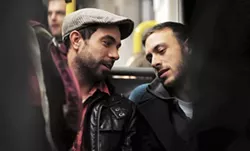 Everybody wants a new romance: Tom Cullen and ChrisNew in Weekend.
Sure, it's a bit like a gay Before Sunrise set in London, but more emotionally and intellectually challenging if, thankfully, not as conventionally romantic. The quiet, reserved Russell (Tom Cullen) lives alone in a small high-rise flat, which is where he brings the chatty Glen (Chris New) after picking him up at a club. What both assumed was a one-night stand becomes something else the next morning when Glen pulls out a recorder to interview Russell —about life, love and everything in between. What follows is a weekend-spanning tête-à-tête involving two out men who lead very different lives, and what's modestly revelatory about writer-director Haigh's second feature is how comfortable it is with being mundane. Weekend is a disarmingly candid snapshot of that moment when two people realize their feelings for each other run deeper than desire, that wonderful and frightening limbo when you're willing to be utterly candid and honest with this brand new person and maybe freaking out a little bit about why he or she is interested in you in the first place.
Showing at the Landmark Main Art Theatre, 118 N. Main St., Royal Oak; 248-263-2111.