As we look back at the Dumpster fire of a year that was 2017, it's important to set our sights closer to home and honor Michigan's best — the best of the worst, that is.
That's right, folks: It's once again time for Metro Times' annual Dubious Achievement Awards. OK, sure, this is really only the second year we've done it in a row since 2004 and 2005, and we stole the idea from Esquire magazine back then anyway. Nevertheless, we are excited to bring awareness to what we feel are Michigan's most dubious, foolhardy, baffling, hilarious, or just plain bad stories.
Without further ado, we present to you this year's Doobies.
JANUARY
She should be in her own unemployment line — MT readers may recall the state's infamous $47 million-dollar computerized fraud-detection program, known as MiDAS, which created fraud out of thin air. According to one study, it falsely identified fraud an astounding 93 percent of the time. When people applied for benefits, they found themselves incorrectly charged with fraud, getting returns garnished, and being hit with expensive judgments — basically being harassed by the agency that was tasked with helping them. Attorney David Blanchard calls it "literally balancing the books on the backs of Michigan's poorest and jobless." But those jobless will not include Sharon Moffett-Massey, who oversaw the implementation of the program. In January, the state of Michigan announces a reshuffling of state employees under which she will remain on the state payroll, working on "special projects" at the same salary.
FEBRUARY
Time to go back to school — U.S. Education Secretary Betsy DeVos — whose generous contributions to the GOP over the years likely helped her cinch a position in the White House, despite having absolutely zero qualifications — made a pretty foreboding flub shortly after taking on the role. In a February morning post from the U.S. Department of Education's Twitter account, someone on DeVos' staff tweets a quote from W.E.B. Du Bois — but they spell his last name wrong. As if that blunder weren't embarrassing enough, they also screw up an apology tweet, rendering "apologies" as "apologizes." The deeply embarrassing tweets are later deleted, but not before a flurry of screenshots captured the whole ordeal.
A self-fulling prophecy — He killed a pigeon with his department issued-Glock in the '90s, and put at least two people within inches of their life in the years that followed, but the Detroit cop who made his Instagram handle "FatalForce" had yet to kill a human being. That changes in February, when officer Jerold Blanding kills an unarmed teen after what he says was a struggle. With no eye witnesses to the crime, Blanding is given a pass from the Wayne County Prosecutor's Office, which says a close-range bullet wound and Blanding's word were enough to prove a struggle. It's Blanding's third time lading in the clear: He'd also managed to escape charges in two previous near-killings of unarmed people, both of whom wound up suing Blanding and the Detroit Police Department for excessive use of force. The lack of charges has likely ruffled the feathers of the family of Blanding's latest victim, and we're sure the downtown pigeons will soon be dumping their frustration on the Frank Murphy Hall of Justice.
MARCH
Slick marketing — The neighborhoods falling under the "The District Detroit" umbrella may not exist, but they're driven by the most remarkable marketing effort ever. This month's new video seems to be founded on the belief that if you pack enough contemporary beats and millennial whoop into the soundtrack, nobody will notice that the neighborhood you're selling simply doesn't exist. What's more, they probably won't notice that the shots of the neighborhoods you're showing are not even of Detroit. As street scenes flash by of what appears to be the Upper West Side of Manhattan or a city in Europe, we can only stare in amazement at the fevered imagination shown by the developer's copywriters and marketers. If only there were an award for Marketing Balls of Steel.
APRIL
Hard at work, or hardly working? — In April, Facebook founder and billionaire Mark Zuckerberg decides to leave his Silicon Valley bubble to experience the real world that his horrible invention helped ravage with fake news and an uptick in social media addiction-induced depression. One of his first stops on his cross-country tour takes him to Ford's River Rouge plant, where — after working on a few F-150s — he notes in a Facebook post that "working on the line at an assembly plant is physically hard." An astute observation! We're still not sure why Zuckerberg decided to tour the country — at the time he said it was a New Year's resolution, though some have theorized that it could be the lead-up to a possible presidential campaign. At any rate, we can rest assured that Zuckerberg will probably take his experience back to his Silicon Valley pals to figure out how to "disrupt" what's left of the auto industry, or something.
MAY
Welfare king — Quicken Loans founder Dan Gilbert wins again. In May, after his cronies flood the state legislature with hundreds of thousands of dollars in campaign donations, Lansing lawmakers approve a series of "transformational brownfield" incentives that will let Gilbert and other wealthy developers in the state get up to $1 billion in incentives for their projects by siphoning the income taxes of those who live and work in their new buildings. The approval sets the stage for profound cash grab by Gilbert, though in order to get lawmakers to approve the giveaway, he has to convince them the money could go to other projects around the state. In the fall, it emerges that Gilbert would immediately hit up the $1 billion pot that's supposed to last five years for $250 million in order to help bankroll a new skyscraper and some other stuff he's building in an already-gleaming downtown Detroit. Let's see how far that money goes in other Michigan cities — after all, it's residents across the state that are missing out on tax money that has historically gone to funding things like schools and road improvements. All this for a guy with multiple lawsuits against him — and that investigations show holds a healthy level of responsibility for the mortgage crisis that catapulted the country into the Great Recession.
It's all in your head — Ben Carson, Trump's secretary of Housing and Urban Development, says in a SiriusXM interview that he believes poverty is "to a large extent ... a state of mind." People develop that "state of mind" due to poor parenting, he says, and praises his mother for helping him rise out of his impoverished upbringing by focusing on education. Despite the fact that Carson's family relied on food stamps when he was growing up, Carson is a vocal critic of welfare programs, and his department budget is slated to be cut by $6 billion in Trump's 2018 plans.

Highway scar — As part of National Infrastructure Week, the American Society of Civil Engineers releases the Michigan Infrastructure Overview, a sort of report card on how the state is doing keeping up all those bridges, ports, dams, those tens of thousands of miles of railroad, and those millions of miles of road, many of which are falling apart. To put it in terms of dollars and cents, the ASCE study determines: Driving on roads in need of repair in Michigan costs each driver $540 per year. What's more, consider a study last year that found 63 percent of Americans say they're unable to handle a $500 car repair.

JUNE
Mopless top gun pop sought by cops — A desperate man commits a most hair-raising crime that will remain unsolved at least all year long. Employees of an unnamed pharmacy say a man between 30 and 40 years old wearing an "Air Force Dad" T-shirt proceeded to steal seven boxes of the popular hair growth product Rogaine. Oh, yeah — he was also described as bald. Very bald. Which would explain why he might risk the punishment for such a crime, as the required 12 to 14 months of consistent use for desired results might make him a more attractive candidate for conjugal visits. Neither the National Association of Dads, Rogaine, nor the Hair Force— er, Air Force can be reached for comment.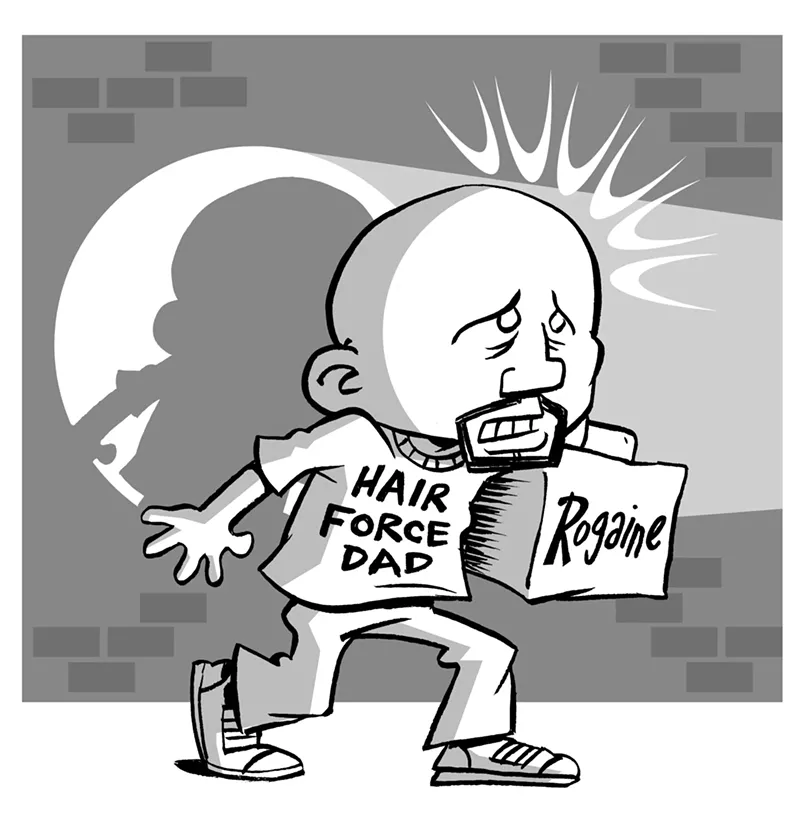 JULY
One nation, under Bullgod: On July 12, a mysterious website kidrockforsenate.com surfaces. The site, which remains active, features a portrait of rap-rocker Kid Rock perched beside a taxidermic deer and the caption "Are You Scared?" and hawks merch emblazoned with "Kid Rock for U.S. Senate '18." Rock, née Robert Ritchie, keeps political wonks guessing with a well-rehearsed "stump speech" composed of campaign promises delivered as rhyming stanzas at each one of his six shows opening the then-new Little Caesars Arena in September. Preliminary polls show Ritchie trailing behind Democratic Senator Debbie Stabenow, but not by enough to feel comfortable — this is, after all, the age of Trump. It isn't until October that Ritchie confirms that his Senate run was simply PR at its most ill-advised. "Fuck no, I'm not running for Senate," he tells Howard Stern. "Are you fucking kidding me? Who couldn't figure that out?"
AUGUST
UFO crash — One of the year's best David vs. Goliath narratives arises when developer Soave Enterprises destroys Corktown rock 'n' roll bar the UFO Factory. Apparently Soave had wanted the land on which the UFO Factory sits near Trumbull and Michigan for his $150 million Elton Park development, and word on the street is Soave lowballed UFO Factory, who said, "No thanks." Months later a construction crew accidentally(?) cracks the venue's wall, causing the club to become condemned. Soon, someone approaches Metro Times with documents showing that Soave, a company headed up by garbage collection magnate Tony Soave, was previously accused of intentionally and significantly destroying another company's property for its benefit. In a 1994 Free Press article, Macomb County prosecutors alleged that Soave — through mob-figure Vito Giacalone — hired an associate to firebomb a Warren garbage dump so he could secure a $16 million City of Warren trash collection fee. After Soave associate John Pree was caught, he entered the Witness Protection Program and testified that Giacalone asked him to commit the crime for Soave. Fortunately, the UFO Factory survives the ordeal, and announces plans to reopen in 2018.
SEPTEMBER
Et tu, Etue? — Amid a national debate over the role that racial bias has in a rash of deadly police shootings in recent years, Michigan State Police Director Kriste Kibbey Etue shares a text-based meme on her Facebook page that calls NFL national anthem protesters "millionaire ingrates who hate America" and "rich, entitled, arrogant, ungrateful, anti-American, degenerates." After a public outcry Etue deletes the post and offers a lukewarm apology, but refuses to disown the controversial statements. In October, Governor Rick Snyder docks Etue five days' pay and calls for sensitivity and bias training, community outreach initiatives, and a review of State Police recruiting standards.
Fouts flouts the laws of morality — Longtime Warren Mayor Jim Fouts — he who is allegedly on tape surfaced by Motor City Muckraker disparaging women, and mocking black people and children with disabilities — spent the first part of 2017 denying that he's a racist, sexist, handicap child-hating monster. The voice on the recording is not his, Fouts claims. That scandal dies down a little (but not before a Detroit minister shows up at a Warren City Council to call Fouts a "coward" for keeping a low profile) until a new one arises this month when it is alleged that he used his position to help a 31-year-old woman he appears to be dating get lifetime job protection through the city's civil service system. Fouts survived a recall effort in 2017. What will 2018 bring?
Maybe we're just better shots — The FBI's annual report on crime in the United States comes out, and, as the Daily Mail puts it, Detroit "regains its crown as most violent large city in America, overtaking St. Louis, according to new FBI data." But that crown will be refused by the city's police chief, James Craig. Detroit's top cop says violent crime continues to fall, although he agrees with the murder numbers, which show that Detroit has experienced more murders last year than Los Angeles — even though L.A.'s population is nearly six times that of Detroit.
Forget it Jake, it's Chinatown — In early 2017, developer arrives in Ypsilanti promising to solve all of its economic woes with a $300 million Chinese-backed development called International Village. It seems too good to be true. It was. It turns out that the "developer" had no relevant experience in such projects, and the whole thing implodes in spectacular fashion over a six-month period between May and November. A Metro Times investigation finds that Ypsilanti Mayor Amanda Edmonds failed to reveal that a September trip to China she and other city officials took was funded by the Chinese government or developer, or both. (Some called it "lying.") The public is led to believe that a Wayne State University student group funded the trip, which leads to public outrage and an ongoing investigation — but no heads roll. Is that surprising?
OCTOBER
No grow — The Detroit Police Department discovers a massive grow operation with at least $127,000 worth of marijuana — a huge bust. As it happens, the guerrilla enterprise that includes nearly 50 plants is being carried out in a building directly across the street from the department's 11th precinct. Detroit Police Chief Craig is quick to sing the praises of his officers, telling reporters they discovered the operation through "some diligent police work." The illegal scheme had likely been in business for as long as eight months.
Mile-high-five — In October, a Delta flight lands in Detroit. Pretty unremarkable. Its contents, however, include two freaky passengers who decide that there is no time like the present and no place like row 9 seats B and C to do the nasty. A 48-year old woman was caught giving fellatio to a 28-year old man whom she had only just met on the flight. While it may be true that out of 1,600 passengers an estimated 15 percent have done the deed in the air, it is perhaps far stranger for a WDIV newscaster to interview passengers live on the air about what it is like to travel alongside this crude, albeit passionate, display of blow-jobbery. But one question remains — did he stick the landing?
NOVEMBER
Duggan be buggin' — Remember when you were a kid, and you didn't get your way? If you were a normal child, you'd probably throw a tantrum. But if you were particularly calculated and evil, you might hatch a plan to bring down those who'd disappointed you. Detroit Mayor Mike Duggan looks a lot like the latter kid when he didn't get his way in trying to retool Michigan's no-fault auto insurance system earlier this year. The idea was to get the state legislature to approve a plan that would lower insurance rates for Detroit drivers, but Duggan was behind an effort Democrats saw as disproportionately beneficial for insurance companies. Sure enough, campaign finance records reveal insurers liked the plan too, with just a cursory search showing they'd given tens of thousands of dollars in campaign contributions to Duggan up until just before the bill went up for vote. When it does, those pesky Dems got in the way, with all but four of them voting against the bill. Unable to take the loss in stride, Duggan set his sights on the Detroit lawmakers who didn't side with him. While campaigning for his own reelection in November, Duggan promises to "campaign against every one them." In the end, some kids don't grow up — they just grow more powerful.
Should they offer "frequent fire miles"? — David Fiedor of Wixom is sitting in the rear of Southwest Flight 1863, which is preparing for takeoff from Detroit Metro Airport. Fiedor hears a weird noise that causes him to look out the window and sees "the wing had flames coming out from the bottom," Fiedor says. "The flames were coming out intermittently." He notifies a flight attendant, who at first is more concerned that Fiedor is out of his seat. But when she sees the flames shooting out of the wing, she radios the cockpit and the plane turns back to the gate. The airline refuses to acknowledge the fire, saying instead the pilot received "reports of signs of a potentially mechanical issue," and that there were "no indications of anything abnormal."
Bumbling brawl — A handful of Detroit police officers are the subject of an internal investigation after an undercover sting went terribly wrong in a city neighborhood. It seems the 11th and 12th precincts didn't effectively communicate about a "push off" taking place on the borderline of their respective turfs — leading to a brawl during which guns were drawn. Detroit Police Chief Craig admonishes the precincts during a press conference, saying the incident was "probably one of the most embarrassing things I've seen in this department."BFFs 4ever: In November, Michigan Attorney General and 2018 GOP gubernatorial hopeful Bill Schuette decides to lean into President Trump's base, blowing up our inboxes with emails with embarrassingly giddy subject lines like "President Trump noticed" and "Liberals in Michigan are scared." It's a bold stance to be sure, given the fact that Trump barely scraped by in Michigan in 2016 by just 10,000 votes or so — and his approval rating has steadily diminished ever since, currently hovering around 35 percent. Also in November, Schuette is spotted cozying up with well-documented neo-Nazi sympathizer and former Trump strategist Steve Bannon at a Macomb County GOP fundraiser.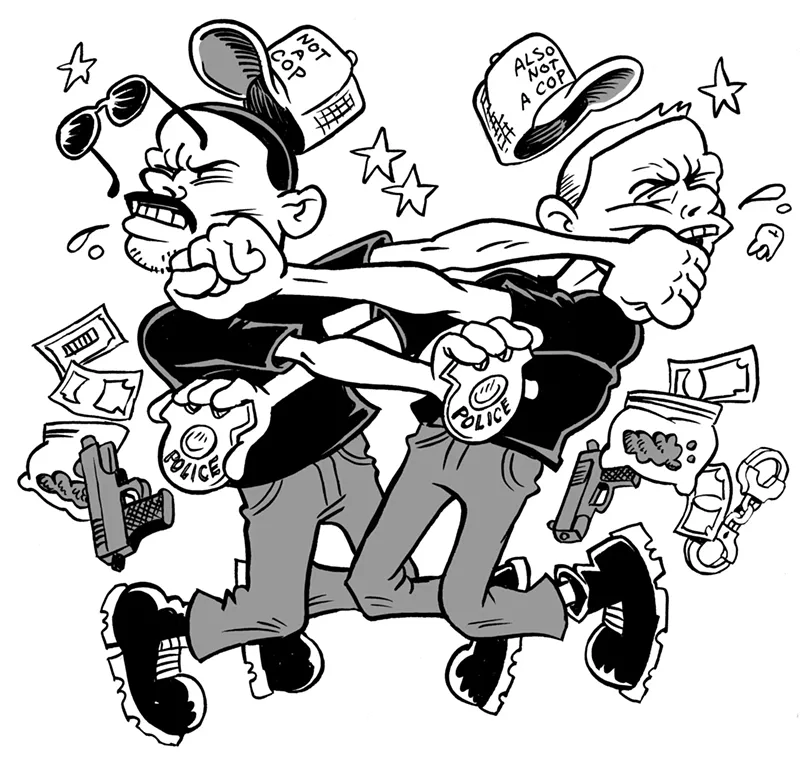 Down the tubes — In August, Gov. Snyder called for immediate repairs to the Canadian oil giant Enbridge Inc.'s 64-year-old oil and gas pipeline after it was revealed that the company downplayed damage to its enamel coating, later saying he was "no longer satisfied" with Enbridge's operations. In November, Enbridge reaches an agreement with the state of Michigan to move the pipeline to tunnels that will go under the St. Clair River, and will do a study to find ways to eventually move it to tunnels under the Straits of Mackinac as well. The agreement also calls for the pipeline to be shut down during adverse weather conditions that could complicate a cleanup effort in the event of a spill.

DECEMBER
The only innocent people who got burned were newsreaders — A "news" report that an employee at the Macomb County morgue was accidentally cremated makes the social media rounds. The story alleges that 48-year-old Henri Paul Johnson was taking a nap on a stretcher when another employee mistook him for the corpse of a 52-year-old car accident victim and carried him to the crematory, where he was burned alive. The story turns out to be a hoax. Patty Roland, manager of operations at the Macomb County Medical Examiner's office tells MT that not only are the people named in the story not county employees, but none of the office's employees are recently deceased, and the agency doesn't even have a crematory.
Caught with his pants down — Longtime Congressman John Conyers, once known primarily as a civil rights hero, became the first big local lawmaker to be outed for sexual harassment amid the #MeToo movement in November. Allegations by a staffer and her subsequent taxpayer-funded settlement were first reported by Buzzfeed. According to MT's own Jack Lessenberry, the staffer in question said she'd been told, upon joining the Congressman's office, that her duties would occasionally include "polishing" Conyers' "knob," and sexual advances from the congressman followed. After the woman comes forward, other complaints about Conyers began to trickle in — all of which he initially vehemently denied and refused to resign over. But on Dec. 5, while in the hospital for "stress-related symptoms," Conyers pulls the white flag and says he would step down. But it wasn't a resignation, per se — the 88-year-old would simply be retiring, effective immediately.
Shooting blanks — In December, Vice News issues a report of a nine-month investigation that looks at fatal and nonfatal police shootings in the 50 largest police departments in the United States from 2010 through 2016. Yet data from the Detroit Police Department is glaringly absent from the report. According to Vice, "The Detroit Police Department said it would take up to 3,120 business days and cost at least $77,532 to retrieve records that other departments made available online for free." Under Michigan's notoriously awful Freedom of Information Act laws, an agency only has to operate under a "best efforts estimate" to fulfill the request, and the law "does not impose a specific time by which a public body must fulfill a request for public records that it has granted." In other words, we're left to assume that DPD is trying its hardest when it says it would take 12 years and tens of thousands of dollars to provide information they are already tracking and that every other major police force in the country can provide.
Not with a "bang," but a... "poot?" — To be fair, in announcing the demolition of the aging Pontiac Silverdome, officials had originally warned spectators that a blast would only break the metal beams along the stadium perimeter used to keep the roof inflated. Yet when officials set off a string of explosions, so little happens that people start asking questions. Some say the building was too strong. Spokespeople for demolition crew Adamo says 10 demolition charges failed to go off, and that some circuits may have been damaged by trespassers the night before. Hulk Hogan even offers to tear it down himself. But for the national press, it was another opportunity to link the Detroit Lions with failure — even though they hadn't played there in 15 years.