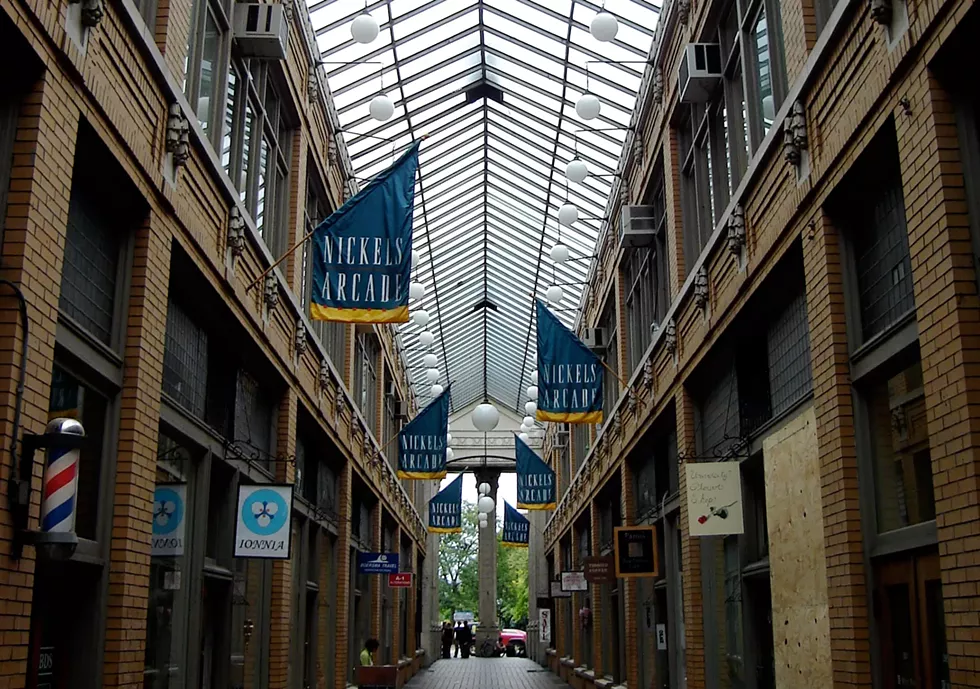 John Kannenberg, Flickr
Nickels Arcade.
People, it's your duty as conscientious Detroiters to shop locally and the area's (sometimes literal) flora and fauna of independently owned shops will not leave you disappointed. There's essentially a shop to suit every need — making trips to Target just an ugly memory. Here's a breakdown:
Nickels Arcade
328 S. State St., Ann Arbor
This section of State Street near the University of Michigan in downtown Ann Arbor affords shoppers an all-encompassing experience. Just down the street is the State Theatre, a recently renovated movie house where you can catch an art flick or two. Down Liberty you'll find the Michigan Theater, Dawn Treader Book Shop, and Underground Sound. But Nickels Arcade might be the most magical of all the shopping experiences in this little hub. Built in 1918, the glass-covered block features a rotating cast of small boutiques where one can shop for antiques, old prints, or women's clothing. During the winter months, the atrium is hung with garland and other festive decorations, and shoppers can take rest at one of several cafe tables parked along the brick pathway.
Discount Candles
1400 Gratiot Ave., Detroit; 313-566-0092; easternmarket.org/district/discountcandles
Need to banish your boyfriend's side chick? Got to get the police off your back? Do you need to dominate that upcoming work presentation? Eastern Market's Discount Candles has a candle to help you achieve all those aspirations and more. Donna Adams has run this 7-Day candle shop on the corner of Gratiot and Russell for 25 years and despite recent rumors the shop would soon shutter, she says she's not going anywhere. The store is cherished within the community, due largely to the fact that Adams often prays over the candles and with her customers. On its metal shelves you'll find varieties that include "Bitch Be Gone," "Law Stay Away," "Spider Queen," "Fast Luck," and "Money Release." For an extra couple bucks, an employee will anoint your candle with special oils, and a little glitter, to give it that extra oomph.
Xochi's
3437 Bagley Ave, Detroit; 313-841-6410; xochis.net
Shoppers looking for some Mexican flavor will find it inside this 30-year-old gift shop tucked into the streets of Mexicantown. Sparkly sequin Virgins de Guadalupe and some Frida Kahlo imagery can be found in the back room, along with donkey-shaped planters, sugar skulls, and other forms of artwork. Near the register are baskets upon baskets of small wonders that will delight children — maracas, bracelets, wooden snakes, stones, rings, and more. Ever wondered where those ceramic chili peppers that so often hang in Mexican restaurants com from. The answer? Xochi's. Oh, and they have strands of garlic, too. Katrina dolls and handmade nativity scenes are also for sale in this independently owned shop.
Sfumato Fragrances
3980 Second Ave. Unit E., Detroit; 313-305-1442; sfumatofragrances.com
It's quite likely there is no other place in the world where you can shop for perfume, then sip a cocktail made to match your favorite scent's fragrance profile. Sfumato owners Kevin Peterson and Jane Larson opened their Midtown flagship in a renovated mansion on Second Avenue and added a concept they're calling Castalia Cocktails. The shop is open during the day, and the same space converts to become an 18-seat cocktail bar in the evening where mixologists craft scented cocktails using house-made tinctures, juices, and mixers along with rare and locally made spirits. Sfumato's eight signature perfumes are already based on culinary flavor profiles, and the cocktails add another layer of sensory adventure.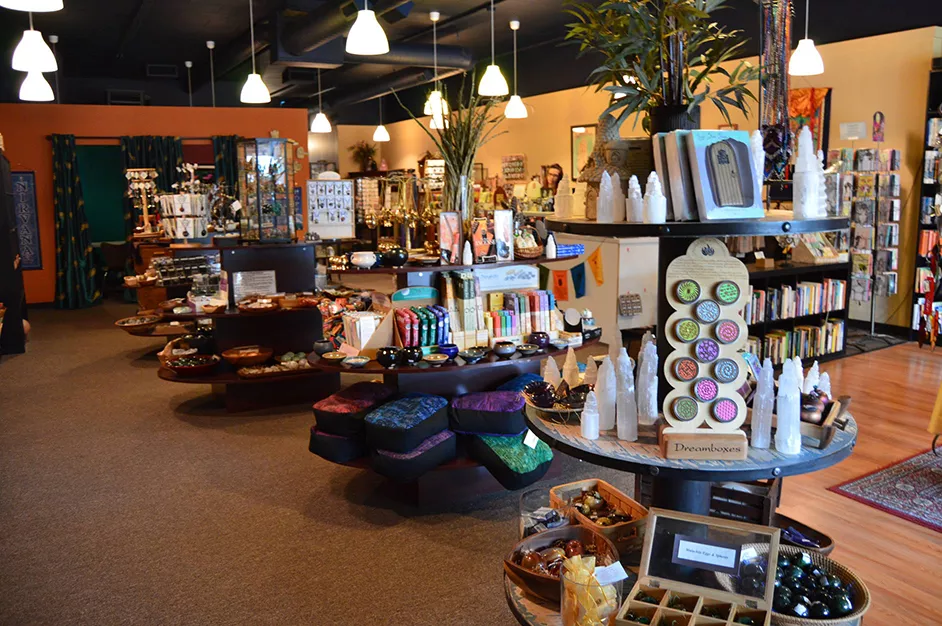 Jessica York
Boston Tea Room.
Boston Tea Room
224 W. Nine Mile Rd., Ferndale; 248-548-1415; bostontearoom.com
You'll find all things occult inside this downtown Ferndale shop, so it might come as a surprise to know the original owner was a Catholic woman who enjoyed reading tea leaves for customers at her son's restaurant. That was nearly 40 years ago, but the Boston Tea Room is still known as a place to get a psychic prediction and pick up a pack of tarot cards or a magic candle. The shop offers a variety of spiritual products, including those that will appeal to the most benign Christians. It's run by the original owner's great niece, who uses the store's witchy reputation to promote a compelling agenda for intersectional feminism and inclusivity.
Conant-Caniff Market (Rock 'n' Roll Liquor Store)
11303 Conant St, Hamtramck; 313-892-3685
Metro Detroiters in the know occasionally skip their corner party store to make the trek out to Conant-Caniff Market instead, lovingly referred to by locals as "The Rock 'n' Roll Liquor Store." That's thanks to the store's reputation for blaring classic rock and for a selection of wares so diverse it borders on absurd. This is a liquor store on steroids — the place is filled to the brim with just about anything you could possibly need for a night of partying, stored on 20-foot high shelves, with some items even dangling from the ceiling on wires for maximum efficiency.
Corey Lamont
Henry the Hatter.
Henry the Hatter
2472 Riopelle St., Detroit; 800-591-4343; henrythehatterdetroit.com
This hat shop has been a beloved staple for over 100 years and has seen celebrity clients like Steve Harvey, Kate Moss, and several U.S. presidents, but last year it seemed unclear whether a Detroit location would remain open after news broke that owner Paul Wasserman could no longer afford the rising rent costs associated with a downtown Detroit location. Luckily, he found a spot in Eastern Market where the shop relocated after being closed for several months. Stop by the Riopelle store during a Saturday morning at Eastern Market and pick up a new felt fedora or a rabbit fur topper — this hattery has something for everyone. While a large selection of well-made hats is a huge draw, it's the old school service that has long wooed customers. A sales associate will measure your noggin to ensure you get the perfect fit, clean your new hat, and wrap it in a cardboard box to make carrying it home a cinch.
Warby Parker
1449 Woodward Ave., Detroit; 248-721-4126; warbyparker.com
Normally we wouldn't bat an eye at a national retailer with a location in a busy downtown district, but Warby Parker's Detroit store is truly something special. The eyeglass makers snatched up a space on Woodward Avenue that used to be a pharmacy owned by James Vernor — you know, the guy who invented Vernor's Ginger Ale. They've completely renovated the interior and it looks like Wes Anderson died and went to heaven (we mean that in a good way). You'll find a variety of affordable frames on perfectly white walls, and you can sip Vernor's Ginger Ale straight from the tap while you do it.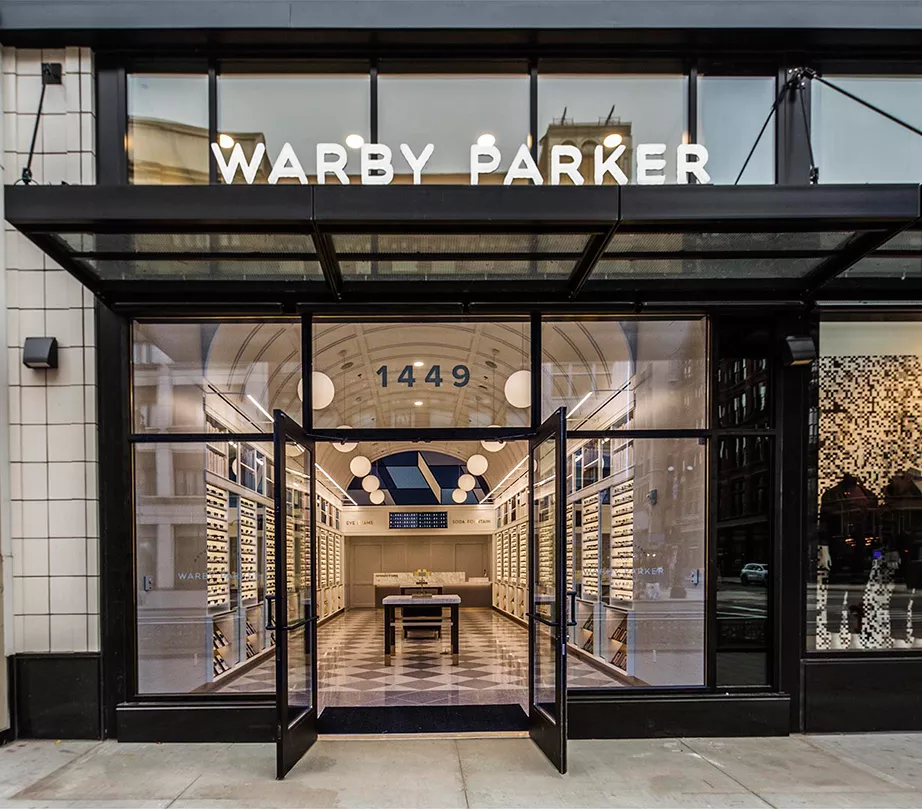 Courtesy photo
Warby Parker.
Eastern Market Antiques
2530 Market St., Detroit; 313-259-0600; easternmarket.com/district/eastern-market-antiques
If you have an afternoon to spend poking through three stories of vintage finds, this is the place to do it. This towering antique store found just outside of Eastern Market's sheds is packed to the brim with architectural salvage, decor, lighting, clothing, furniture, and a host of untold treasures just waiting to be discovered. You'll need ample time to wander through the nearly 15,000 square feet — but they're only open until 2:30 p.m. on Saturdays, so we suggest you start your weekend shopping early.
Pot+Box
3011 W. Grand Blvd., Suite 130, Detroit; 313-212-1869; potandbox.com
Lisa Waud is a botanical designer best known for her groundbreaking "Flower House" art installation, but you've likely seen her stunning arrangements elsewhere too. She's the mastermind behind Detroit Flower Week, and she recently opened a brick-and-mortar store inside the Fisher Building. Pot+Box serves as a hip florist where you can pick up a super special arrangement that will turn your drab dining room into a place of beauty. Waud has more than 20 years of experience creating avant garde designs, and it shows. Do your mom a favor and skip the trip to Thrifty Florist this year — she'll love a break from the ordinary.