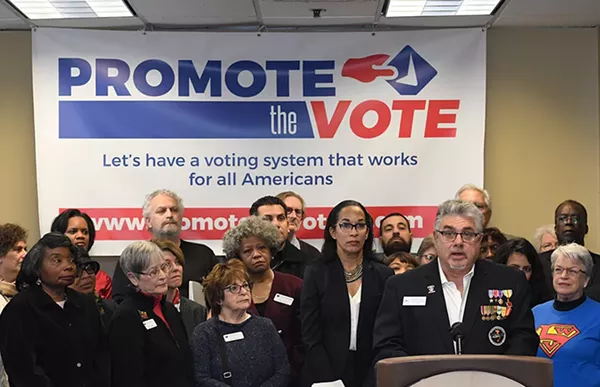 Courtesy photo
A broad coalition including the ACLU of Michigan, the League of Women Voters, the state and Detroit branches of the NAACP, and others launched a campaign Monday to bring comprehensive election reform to Michigan through a ballot initiative.
A coalition made up of the League of Women Voters, the ACLU of Michigan, and the Michigan and Detroit branches of the NAACP filed ballot language last week calling for a constitutional amendment that would enact comprehensive election reform in Michigan.
Titled Promote the Vote, the campaign aims to align Michigan's voting laws with 40 other states that make voting more accessible.
"It is happening," Judy Karandejeff, president of the League of Women Voters of Michigan, says. "It hasn't happened here, but hopefully we'll be able to follow the national trends for a change."
As Karandejeff points out, the League of Women Voters grew out of the suffragette movement. "It's one of our basic goals, to ensure everyone has access to voting," she says. "We were concerned about the need for some reforms here in Michigan, and to be able to guarantee that these in our constitution."
She calls the proposed ballot language simply "common sense," and says it would help eliminate some of the confusing (and annoying) barriers for entry in participating in Michigan elections.
Among the changes the ballot language seeks to make the ability to register to vote 15 days before an election, the ability to vote with an absentee ballot for no reason within 40 days before an election, to allow straight party voting, to grant the option to be automatically registered to vote whenever doing business at the Secretary of State's office (such as getting a driver's license), to register to vote in person at any time with proof of residency, and the right to have statewide election results audited for accuracy.
Karandejeff points out that the ballot language does not say exactly how to make some of these changes, such as the method for auditing. That, she says, would be left for the Secretary of State to decide.
Concerns that the 2016 presidential election could have been hacked led Green Party candidate Jill Stein to demand a recount in several closely contested states, including Michigan. After two-days of recounting, a federal judge halted the efforts, siding with the Michigan Court of Appeals which ruled 3-0 that Stein had so few votes that she was not an aggrieved candidate.
told the Detroit Free Press
in 2016 that Michigan's law surprised him. "You wouldn't want someone to be able to, after the fact, stuff the ballot box and have that counted," he told the paper. "But it seems like to have such a strict rule is a bad idea because it potentially incentivizes someone who doesn't want a recount."
"I think after the 2016 election especially people want to know that the election system is safe and secure," Karandejeff says.
The coalition has provided several examples of the ways in which Michigan's voting laws have created confusion on election day. Karandejeff says in 2016 when she was in line to vote at her polling location in East Lansing she noticed many other people in line discovered they were not on the electoral roll. Under current state law, a voter whose name does not appear on the electoral roll can cast a "provisional" ballot by completing an application to vote form as well as an affidavit stating they registered to vote during the registration cycle, in addition to providing answers to questions regarding identity and residence. Election workers then decide if the ballot can be counted or if it needs to be reviewed by the clerk's office — a time-consuming process.
In all, Karandejeff says the campaign aims to make the voting process that much more simple. "I think there are just problems with knowing how to register, when to register, and what to do when you move in the community when you vote," she says. "The League of Women Voters and the Secretary of State and many others try to publicize the deadline to register to vote and what you have to do to register, but I don't think the majority of Michigan citizens start thinking about it [before] election day."
Once the Promote the Vote's ballot language is approved, the coalition has to collect approximately 316,000 signatures to get the measure on the November 6, 2018 ballot.
More information is available at
promotethevotemi.com
. The petition language is available below.
See related PDF