Page 3 of 3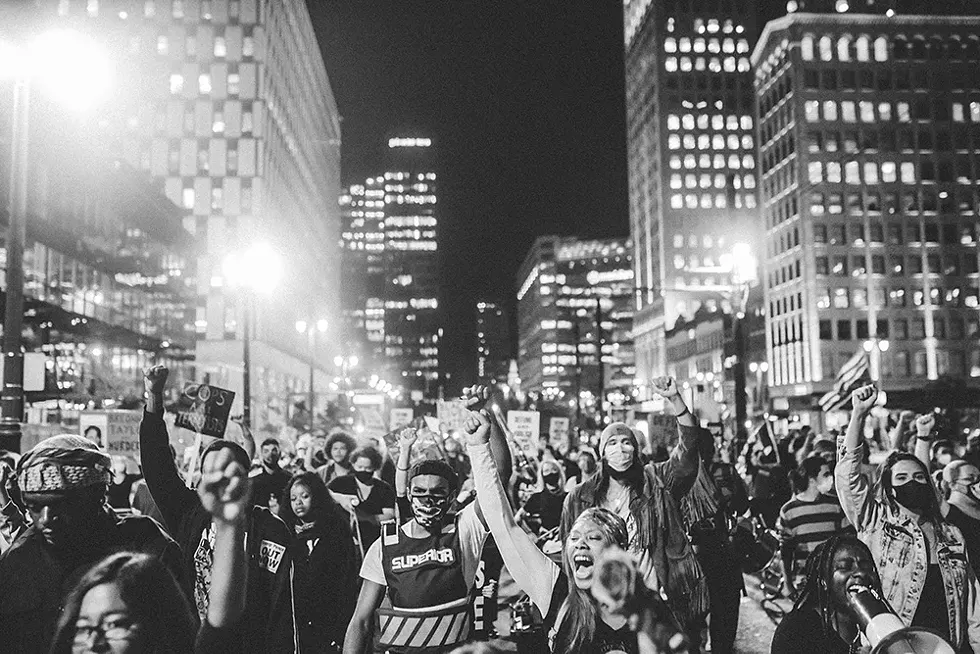 Marc Klockow
Police brutality protesters, lead by activist group Detroit Will Breathe, have been marching in the streets of the Motor City for more than 100 days.
'The media is complicit'
In the days following the Hakim Littleton shooting, a controversy developed — Littleton's family and a coalition of civil rights groups say dash-cam footage shows Littleton was subdued when police fired a final shot that killed him. Police say he was not.
But the media largely hasn't mentioned the controversy, and instead mostly presented DPD's side. The situation highlights how Detroit reporters regularly fail to scrutinize or challenge DPD's and Craig's narrative around law-enforcement controversies.
Critics say that persistent failure partly explains why the department enjoys a relatively high level of support, and why there isn't a harder push for reform among city residents.
"The media is a huge factor — it's the factor," Moratorium Now's Grigsby says. "The media is complicit in this and alway has been. I don't know how we can get around that."
Within hours of the police killing Littleton, Craig called a press conference and delivered a play-by-play of the deadly incident as seen in video from police cameras. The chief painted Littleton as a gang member possibly linked to a deadly block-party shooting." Officers were clearly justified in firing four bullets into Littleton, Craig told reporters.
The stories that followed largely reported that version of events. The Detroit Free Press even took it a step further, declaring that Littleton was a "suspect" with "ties" to the block-party shooting. Several days later, the paper penned an editorial under a headline proclaiming Littleton "was no George Floyd."
But Craig's presentation involved some trickery — he had turned off the video's audio, perhaps because the audio contradicts his story. A closer examination of the videos with audio turned on revealed that officers had shot Littleton in the legs three times and may have subdued him. A moment later, an officer ran up from behind Littleton, who was underneath another cop, and fired a final bullet into his head. The last shot can be heard while Littleton may be subdued.
Reporting from Deadline Detroit, a small, independent news source, revealed the full video with audio, as well as a more complete picture of the circumstances around the shooting and Littleton's life. Police also later admitted that Littleton had nothing to do with the block-party shooting.
By that time, however, Craig had already won the public-relations battle by using the supportive media as a tool to convince the public that his department had done no wrong.
Civil rights attorney Burton-Harris says the narrative around Littleton took hold because "Chief Craig immediately went to the media because he knew he had a problem."
"He did what he thought was smart — he showed one vantage point of the incident through an edited video," Burton-Harris says. "Lo and behold, [more complete footage emerged] and it showed something totally different than what Chief Craig showed and told the media."
The Littleton killing's coverage is part of a larger problem. Even with the city's high crime rate and troubled police department, the Free Press doesn't have a regular police reporter. M.L. Elrick, the staffer who has most regularly covered the protests, is the son of a police officer, and The Detroit News's crime reporter, George Hunter, comes from a family of Detroit cops.
The summer is full of examples of questionable reporting on police incidents and issues.
On Aug. 11, The News's Hunter penned a story under the headline of "Autopsy backs Detroit police in shooting that killed Hakim Littleton." But the dispute in the Littleton shooting is over whether the final shot, which killed him, happened after he was subdued. The autopsy doesn't refute or corroborate police claims on that question, and Hunter doesn't offer anything in the story that speaks to it.
Instead, the story appears to grant DPD a win in a battle that doesn't exist.
In a July 28 segment, WXYZ reporter Jim Kiertzner "fact checked" Detroit Will Breathe's statements on police killings. He found some inaccuracies, but also made factually incorrect statements in his own reporting. Kiertzner notes in the segment that Detroit Will Breathe claimed that two of the victims in the summer's string of police shootings were on the ground when they were shot. Kiertzner tells his audience that Detroit Will Breathe is wrong — neither was on the ground, Kiertzner says, and he plays video to support his claim.
However, he stops the video short of the part where an officer fires on Littleton while he's on the ground with another cop on top of him. That part of the video shows that Detroit Will Breathe is correct in this case.
Though the department has been repeatedly caught making false or questionable statements, Kiertzner did not apply the same level of rigor to vetting its claims.
In fact, the omission of the circumstances around the final shot, which killed Littleton, is a common theme in the coverage of the incident. Though video appears to show an officer firing while Littleton may be subdued, and a coalition of civil rights groups and attorneys have called for an investigation into the final shot, the Free Press, News, and television reporters rarely, if at all, mention that part of the story.
The Detroit media's timidity around law enforcement extends beyond DPD. Burton-Harris says most reporters seemed afraid to challenge Worthy, her opponent in the August 4 primary and the longtime Wayne County prosecutor. Burton-Harris questioned whether reporters were afraid to lose access, and asked why it's national media who are breaking stories of law enforcement wrongdoing in metro Detroit.
"I'm hopeful the town will become more and more ready for significant change," says Burton-Harris, "but it's going to require people to tell the full story and not let it be told through false narratives put out by public officials."
Stay on top of Detroit news and views. Sign up for our weekly issue newsletter delivered each Wednesday.