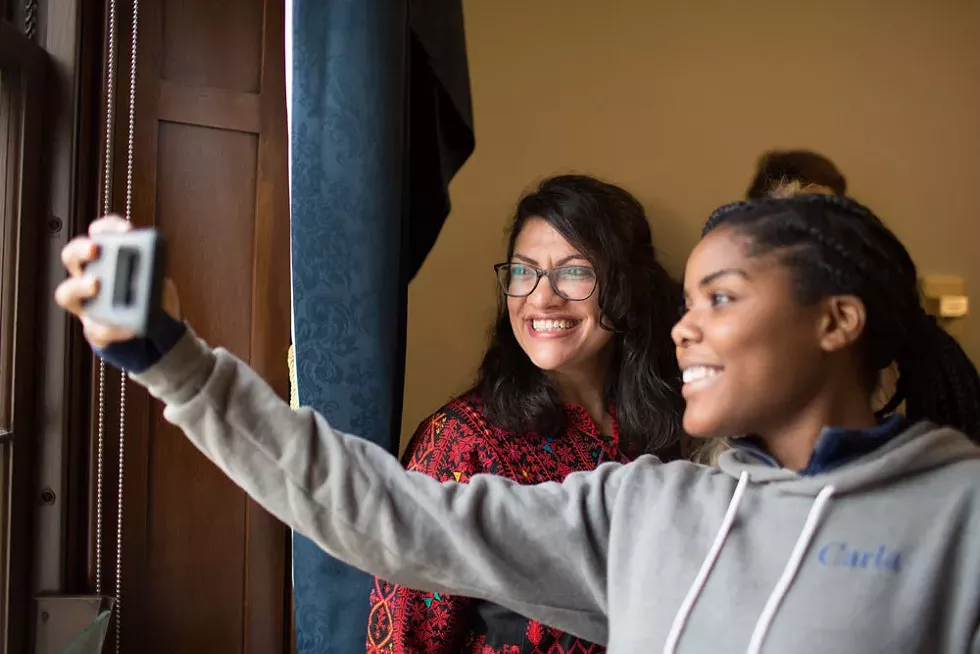 Erik Paul Howard
Teenager Carla Underwood, who volunteered for Tlaib's campaign, poses for a selfie with the new congresswoman. She says she sees herself in her newly elected representative. "I always thought this was so far away from me. Untouchable," she says. "The government was far away and separate from my life here in Detroit. In many cases, people aren't represented like they should be represented. Rashida gives me hope that I can do this too if I wanted to. I always thought of this as a 'them' thing. Not something that someone like us from Detroit could achieve."
On Thursday, Jan. 3, U.S. Rep. Rashida Tlaib of Detroit made history — and it wasn't just because of those colorful and now-famous words she had for President Donald Trump on her first day. The swearing-in ceremony for the 116th U.S. Congress was a moment of many firsts, ushering in the most diverse Congress in U.S. history.
Tlaib was one of the first two Muslim women ever elected to Congress, along with Ilhan Omar of Minnesota; other historic firsts included Deb Haaland of New Mexico and Sharice Davids of Kansas elected as Congress' first two Native American women, Kyrsten Sinema as the first U.S. senator to identify as bisexual, and Alexandria Ocasio-Cortez as the youngest woman ever elected to Congress at 29. In all, a record 127 women serve in the new Congress — the most ever, at about 24 percent of the seats.
It also marks a shift in the balance of power in Washington, with Democrats, led by speaker Nancy Pelosi of California, taking back control of the House — the fruits of November's so-called Blue Wave. For Tlaib, it's a story that starts more than five years ago in Detroit, when as a state representative she fought the Michigan Department of Environmental Quality over the piles of Canadian petroleum coke, or petcoke, a byproduct of the oil industry that were polluting communities along the Detroit River. Or perhaps it started earlier, when Tlaib's mother immigrated to Detroit from a small village on the West Bank. Now, Tlaib is bringing Detroit issues to Washington — and is part of a Congress that is much more representative of the United States, and the Motor City.
A philosophy Tlaib refined at home is to treat her office like a service center, and granting the community she serves access. Tlaib is taking that mentality to the Capitol, where a cohort of youth from Southwest Detroit was invited to join her for the historic day. Photographer Erik Howard, who also hails from Tlaib's Southwest Detroit, accompanied the new congresswoman and her family on the trip for the swearing-in ceremony. This is what he saw. —Lee DeVito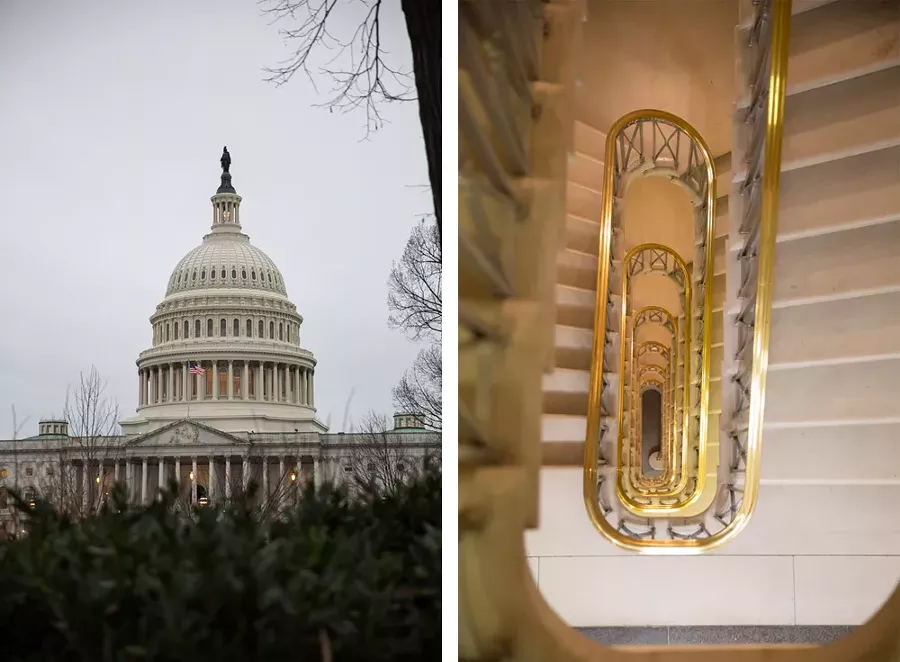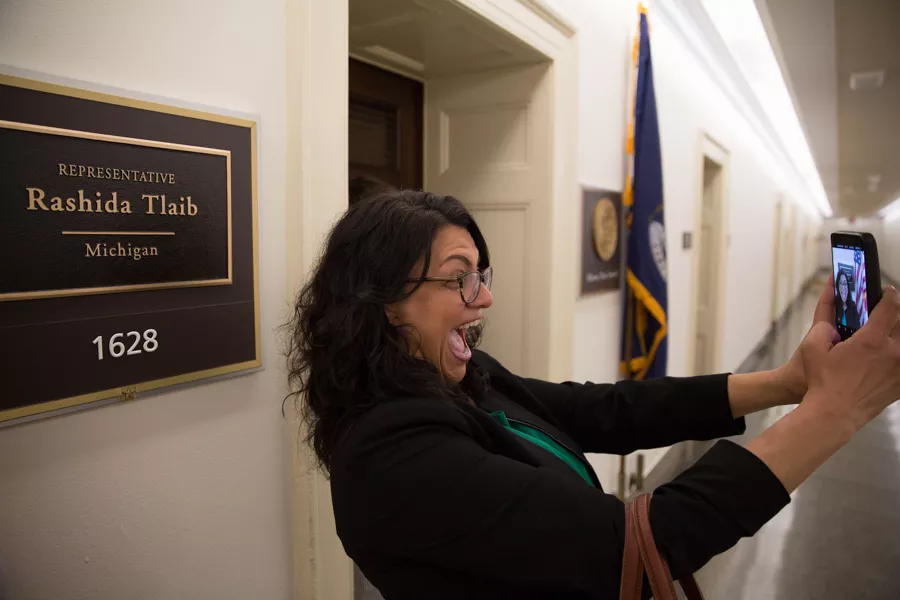 Erik Paul Howard
Congresswoman Tlaib arrives at her new office for the first time to livestream on social media and share with her constituents. Immediately after, she snaps a selfie in front of her office's placard.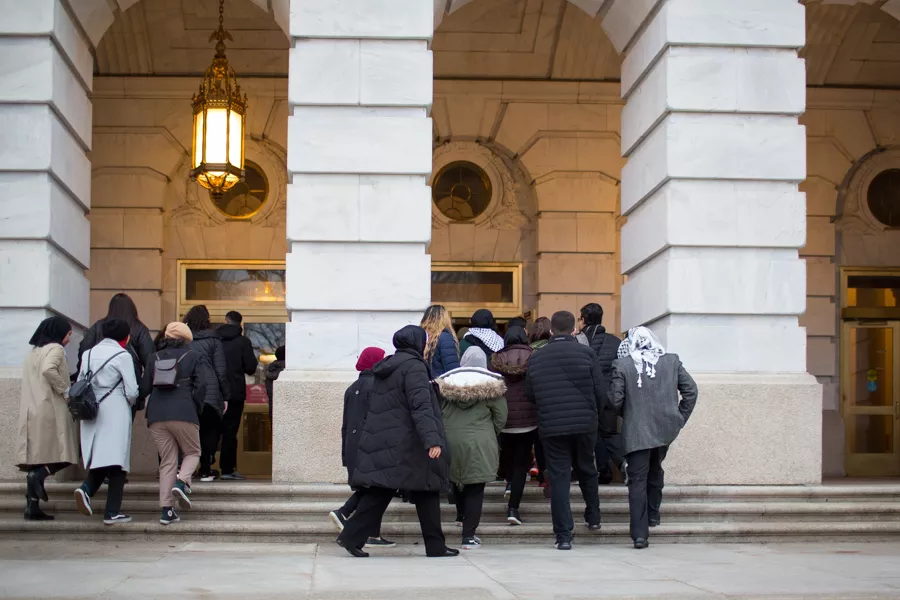 Erik Paul Howard
Youth from Tlaib's district boarded a bus in Dearborn for a nine-hour commute to Washington, D.C., in response to Tlaib's open invitation for constituents to see her office and celebrate together.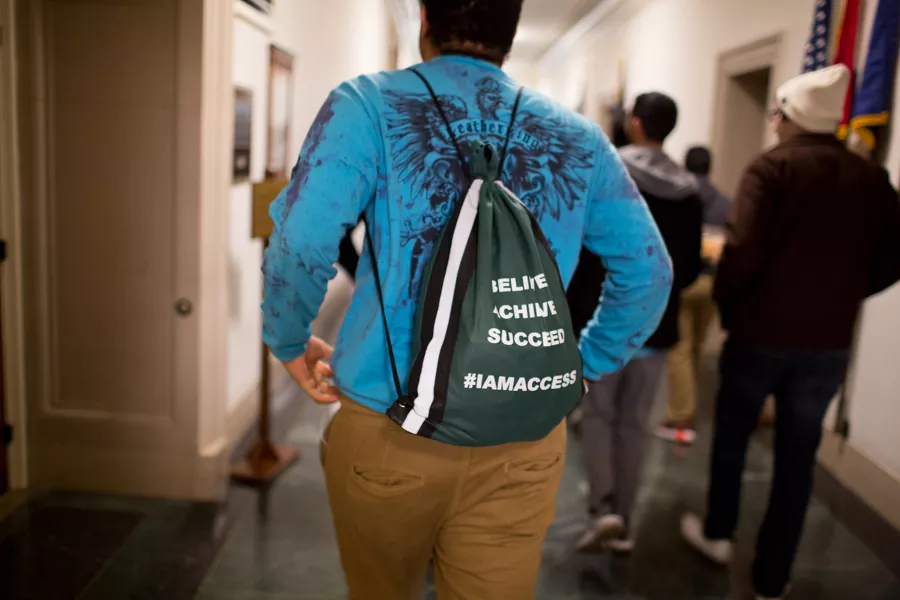 Erik Paul Howard
Youth from Tlaib's district walk the halls of the congressional offices for the first time after traveling from Michigan to see Rashida Tlaib sworn in to the 116th Congress.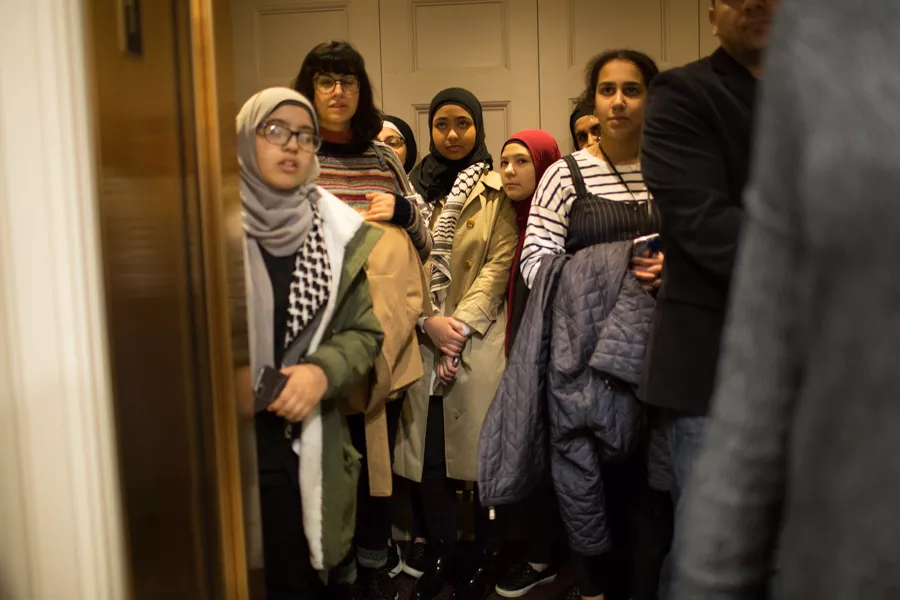 Erik Paul Howard
Youth squeeze into an elevator to the sixth floor on their way to Tlaib's office.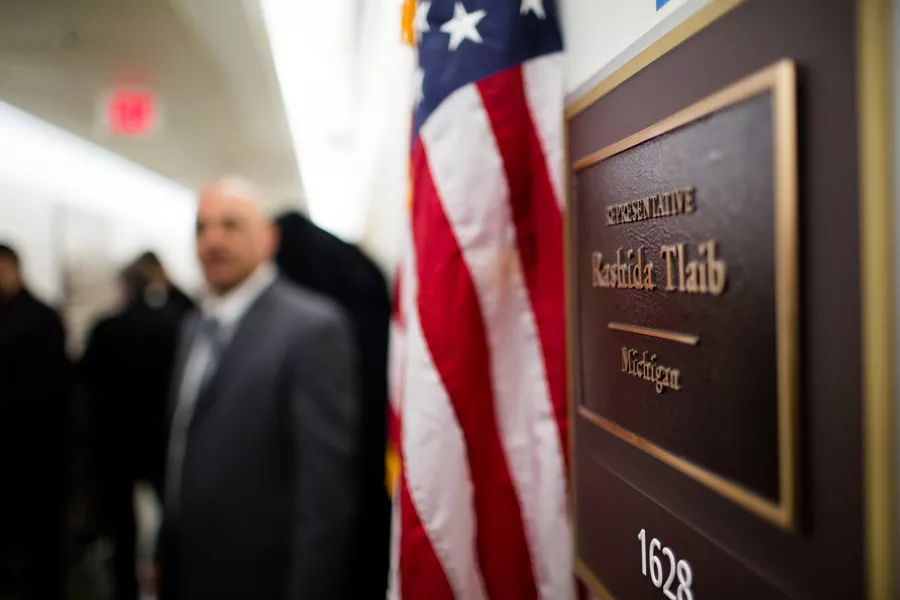 Erik Paul Howard
Tlaib's office is now also known as the office of Justice for All Civil Rights Act, in reference to the first bill she will issue. "People across metro Detroit face discrimination every day in housing, employment, insurance, the list goes on," Tlaib says. "It might not always be explicit and in your face, but my residents know when they're being mistreated."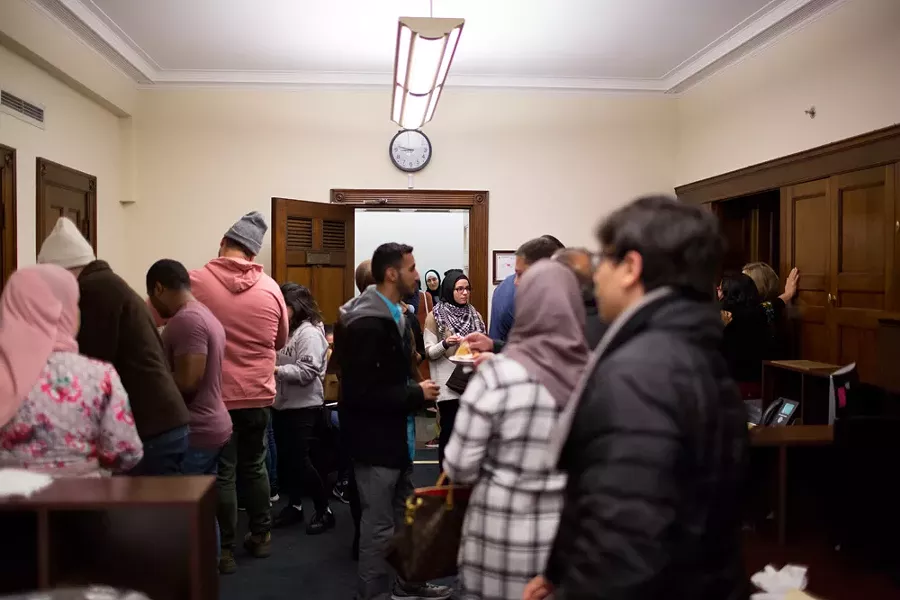 Erik Paul Howard
More than 100 constituents and supporters visit the new office in the morning before the swearing in of the 116th Congress.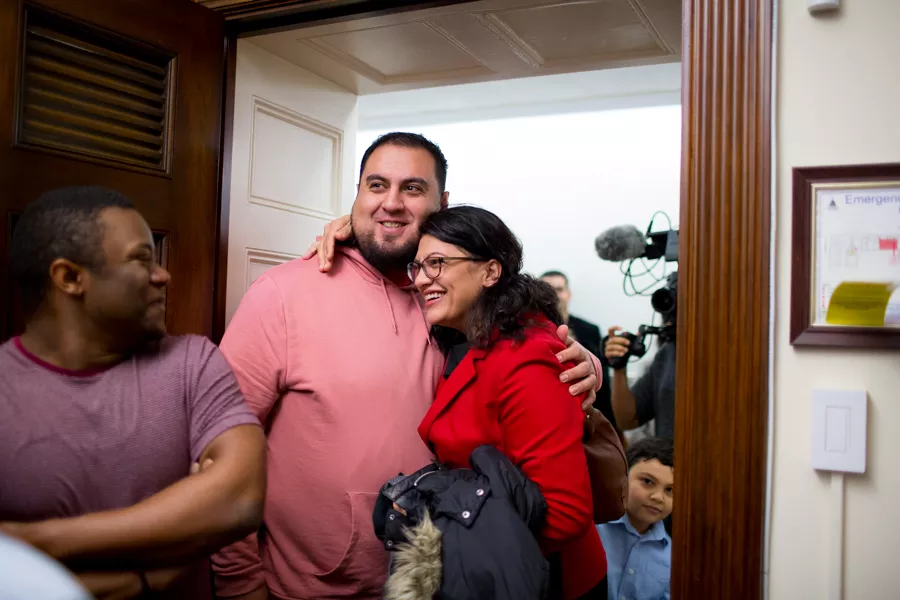 Erik Paul Howard
Rashida hugs activist Jose Franco, who drove down from Southwest Detroit to join her. "I needed to show support for Rashida because she's from the hood and is an inspiration to us," he says. "She's like a lot of us — fearless, unapologetic, and a badass who will fight [for] social justice for us all."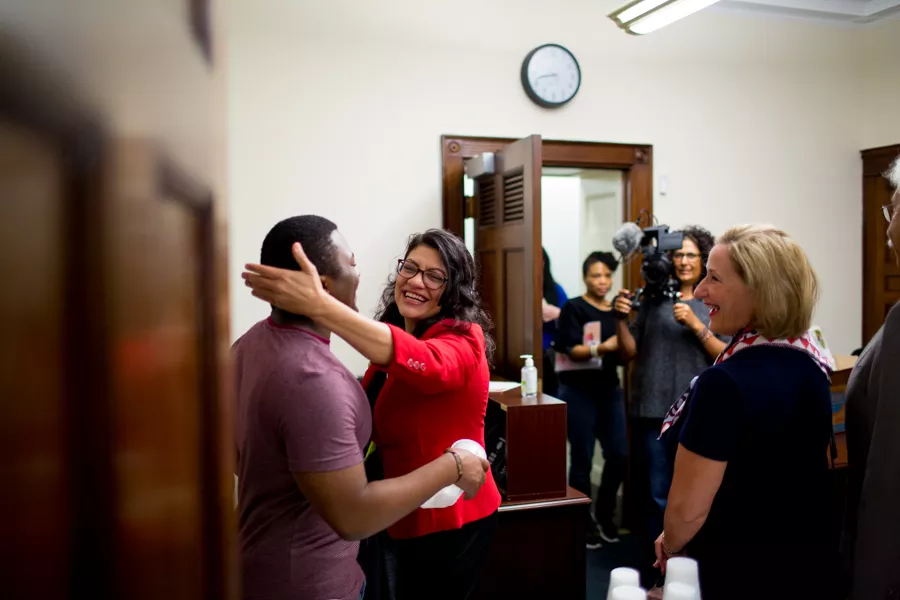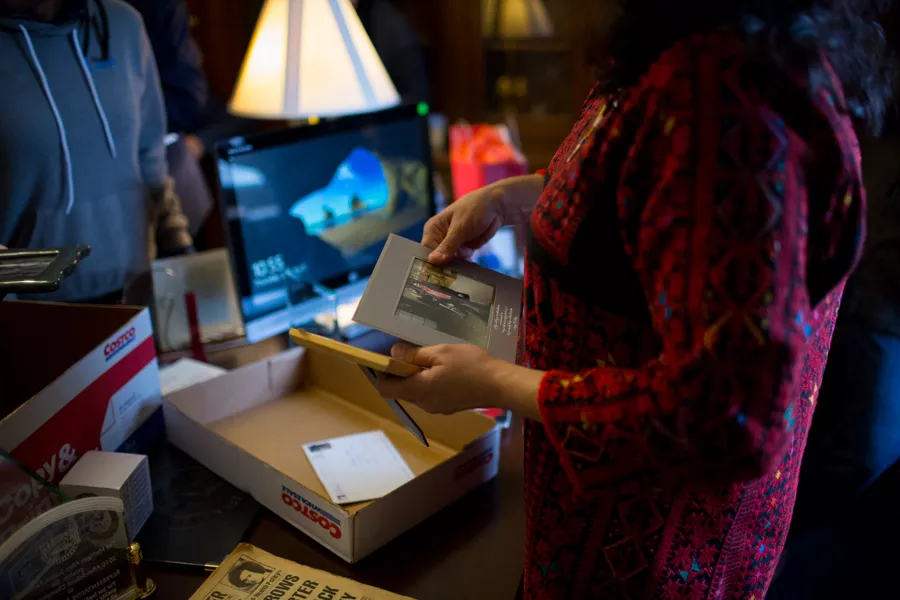 Erik Paul Howard
Campaign staff surprise Rashida with a box of her belongings for the new office.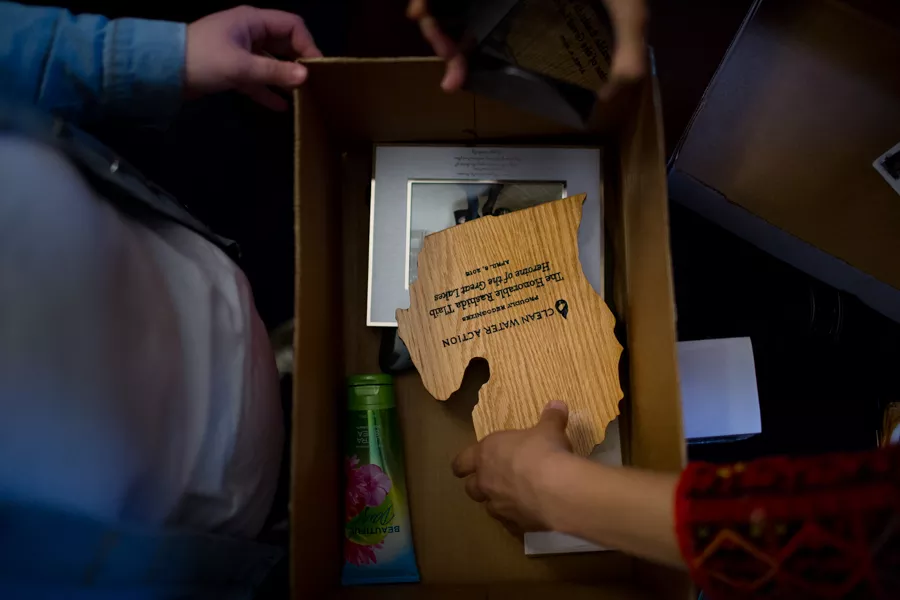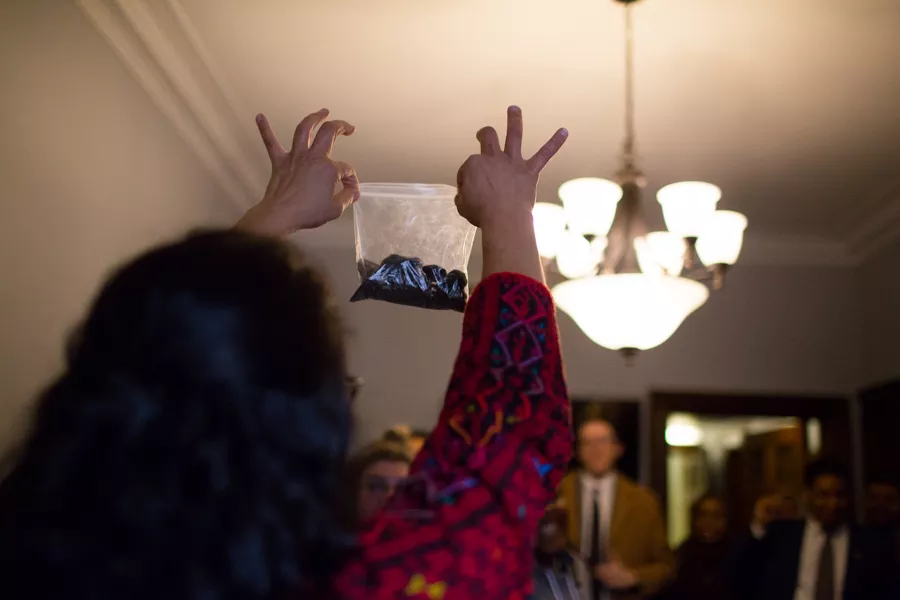 Erik Paul Howard
"You see this?" Tlaib says, holding up a plastic bag containing a byproduct called petcoke, which she was amused to find had been packed along with her belongings from her Detroit office. "Some of you don't know what this is. It's part of why we're here now."

In her battle over the petcoke, Tlaib took samples from the piles that were stored along the Detroit River and had them tested. They turned out to be toxic, despite assurances from officials stating otherwise. Thanks to Tlaib, the piles of petcoke were later covered up.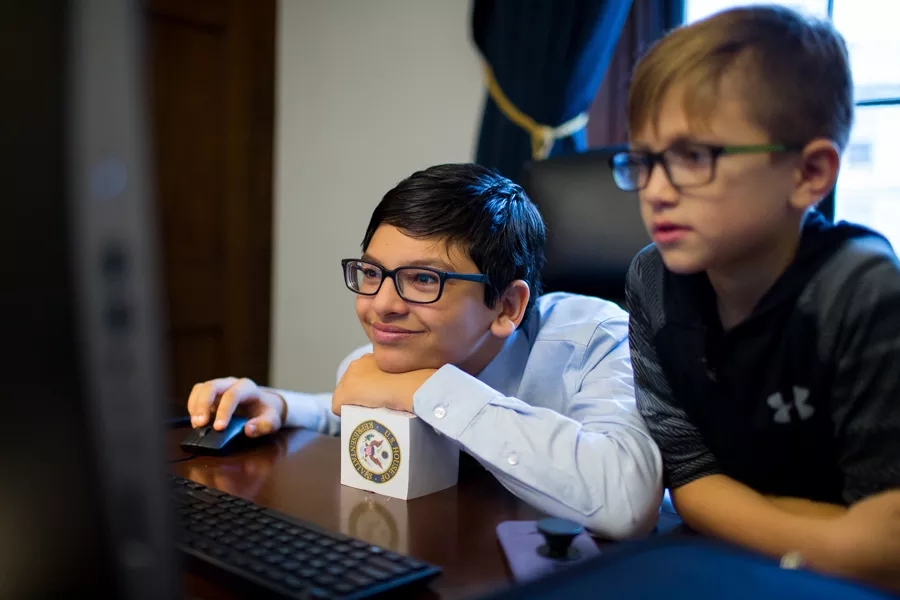 Erik Paul Howard
Tlaib's son, Adam, reads the day's news on his mother's newly set up computer in her office.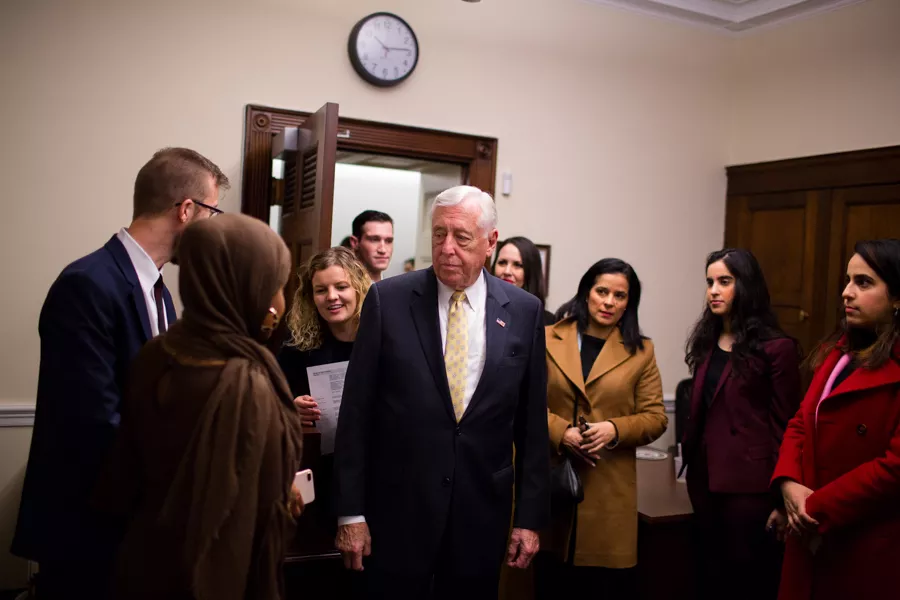 Erik Paul Howard
Steny Hoyer, now the newly elected House majority leader, visits Tlaib's office in the morning before heading over to the Capitol Building for the swearing in of the 116th Congress.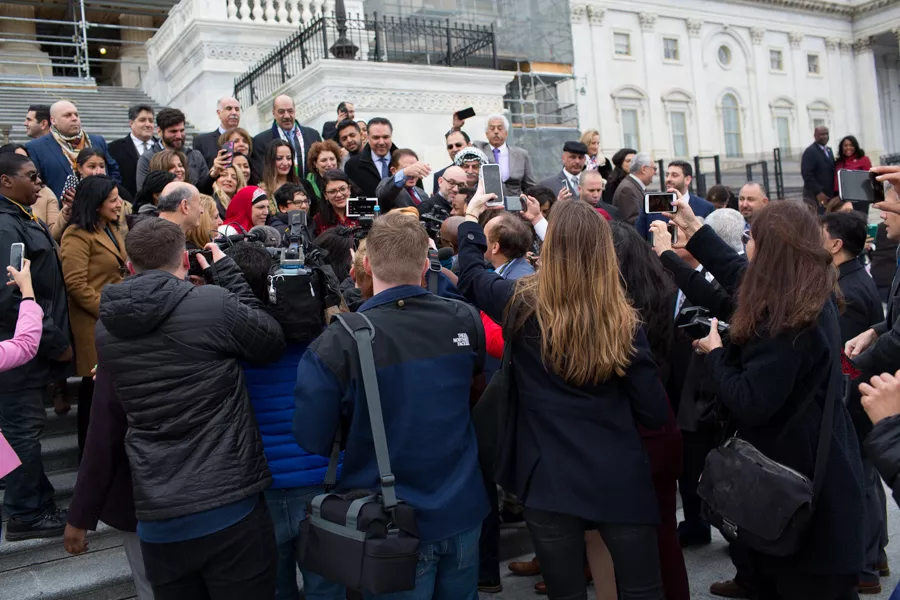 Erik Paul Howard
Tlaib heads over with constituents and supporters to the Capitol Building for a group portrait and the swearing-in ceremony.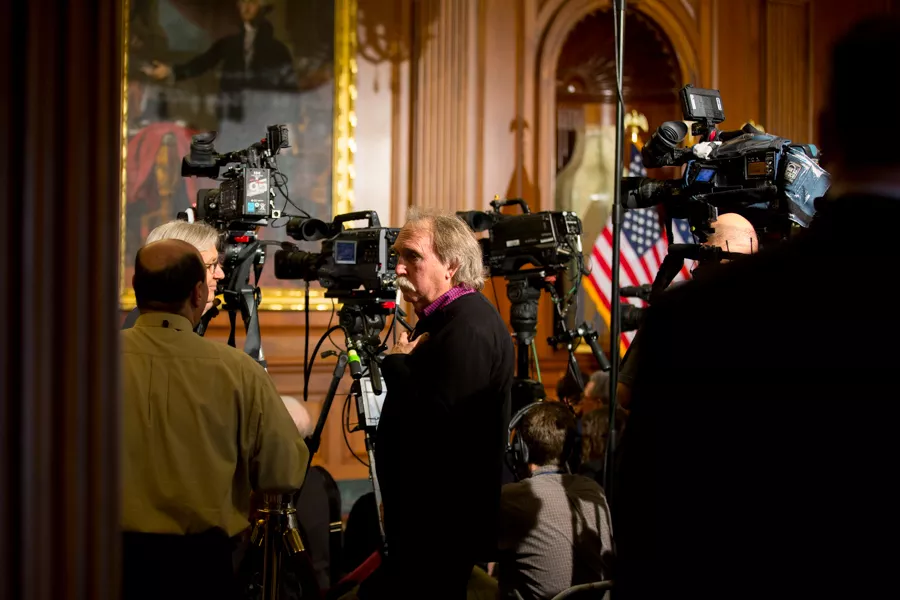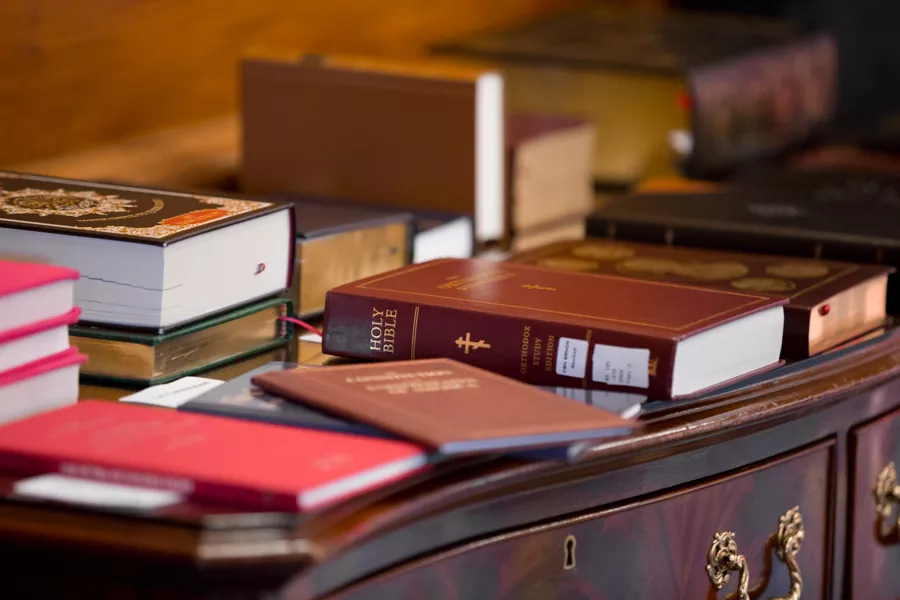 Erik Paul Howard
Bibles line the table adjacent to the staging area for the ceremonial swearing in.
Erik Paul Howard
Left: Contrary to what was widely reported, Tlaib was not sworn in using a Quran once owned by Thomas Jefferson. "I used my own personal Quran that my best friend of 25 years gifted me to use for the ceremonial swearing in," she says. "I did not use Jefferson's Quran as reported. I wanted it to be more personal and my own."

Right: Tlaib and her mother each wear thobes, a traditional Palestinian garb, for the swearing-in ceremony. "My Yama shined in her Palestinian thobe," Tlaib says. "Growing up in Detroit taught me strength, and she taught me to be compassionate."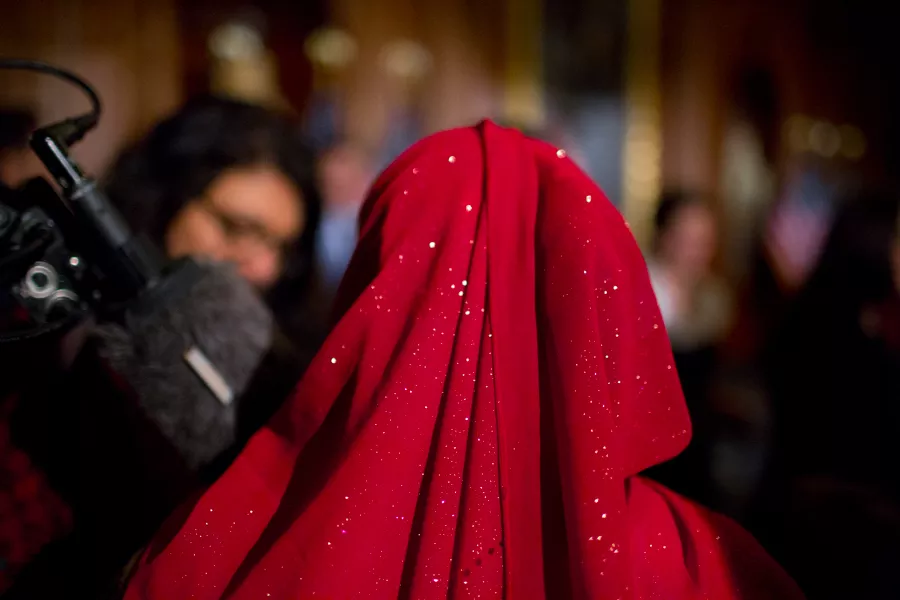 Erik Paul Howard
Tlaib and her mother enter the staging area with family and supporters for the ceremonial swearing in with Speaker Nancy Pelosi. "It was important to have my mother with me in D.C. for the swearing in because of all we've been through together, it feels like both the culmination of one journey and the start of another," Tlaib says. "My mother raised 14 kids, with little means, from our humble house in Southwest Detroit — and now her daughter who started school not speaking English is going to be a congresswoman. It was so important for her to know her strength got me here, and that I'm going to fight everyday with her spirit inside me."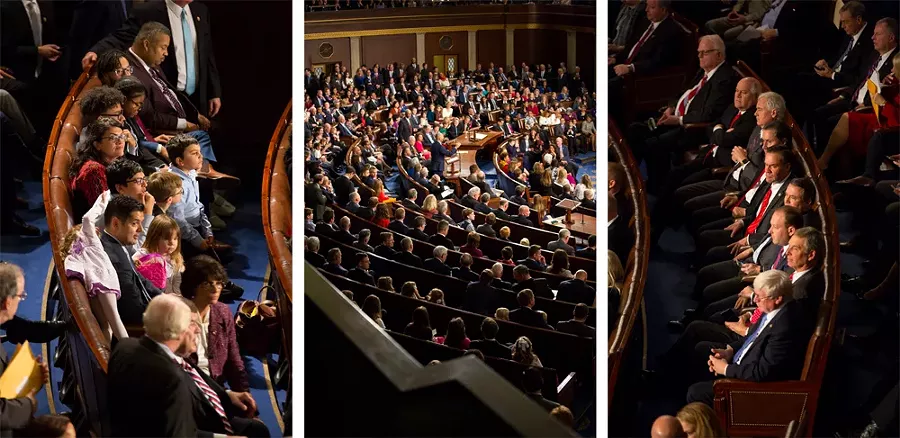 Erik Paul Howard
Tlaib and family sit on the House floor with fellow Democrats and their families as the 116th Congress convenes.

The Republican congressional representatives sit on the House floor across the room from their Democratic colleagues. The sea of white men in dark suits is in stark contrast to the color and diversity on the Democrats' side.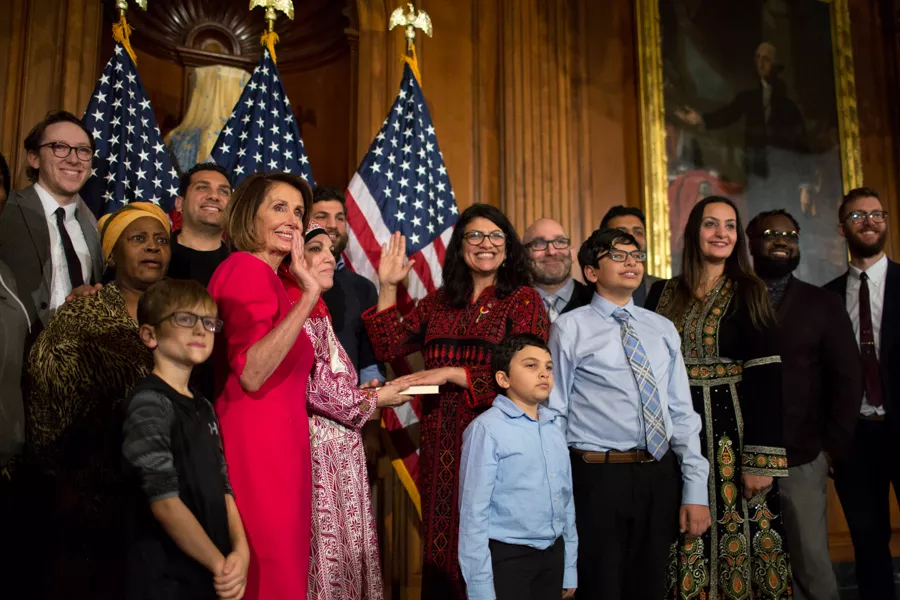 Erik Paul Howard
"I will always embrace my roots and allow it to help me to serve with love and [an] unwavering fight for justice," Tlaib says.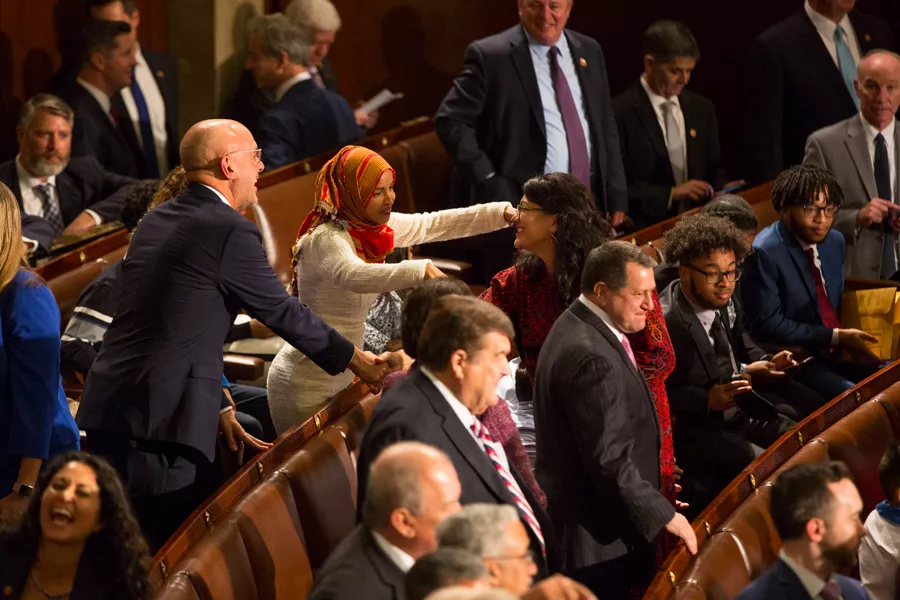 Erik Paul Howard
Rep. Ilhan Omar, the only other Muslim woman elected to Congress, reaches out to hug Tlaib as Pelosi concludes the ceremony.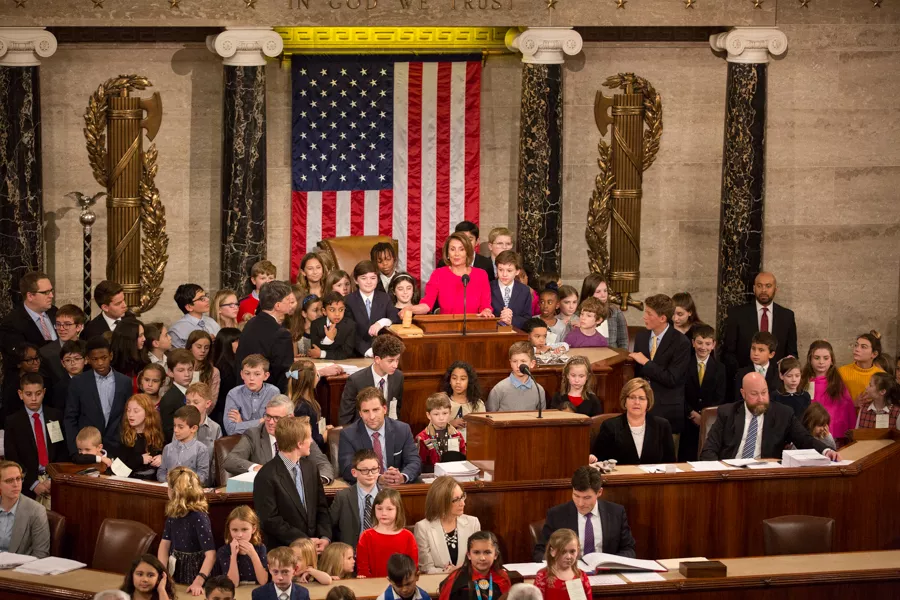 Erik Paul Howard
Speaker Nancy Pelosi invites all children present up to the podium as she convenes the 116th Congress for the first time.
Erik Paul Howard is a photographer based in Southwest Detroit. You can find more of his work at erikpaulhoward.com and on Instagram at @erikpaulhoward.

Stay on top of Detroit news and views. Sign up for our weekly issue newsletter delivered each Wednesday.