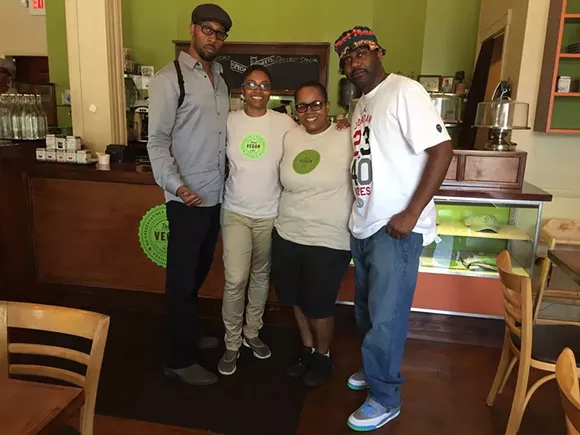 photo via Facebook: Detroit Vegan Soul
Left to right: rapper RZA, owner Kirsten Ussery Boyd, owner Erika Boyd, and rapper Ghostface Killah.
Who knew RZA was a vegan? Well, any Wu-Tang fan for sure, but we were excited (and a bit surprised) when we saw he and Ghostface Killah made a stop at Detroit vegan hot-spot Detroit Vegan Soul on Sunday, May 29.
RZA performed at Movement Saturday night and the restaurant posted a photo showing the happy customers, stating the duo loved the "catfish" tofu, a dish made of cornmeal battered tofu, broccoli/corn medley, and redskin potatoes & onion.
RZA has been very passionate about going vegan and recently started encouraging fans to follow in his footsteps. In an interview with PETA, he detailed his reasons for deciding to go vegan, which you can watch in its entirety below.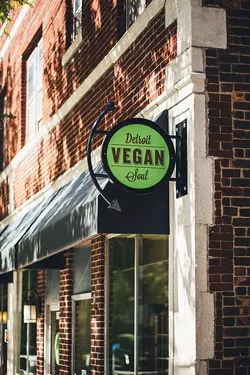 photo via Facebook: Detroit Vegan Soul
We're totally not suprised the pair was spotted at Detroit Vegan Soul, which has drawn fanfare from
vegans
and meat eaters alike, and good news is, there's another location in the works.
BLAC Detroit reports
that DVS is expanding to a second location in Detroit's Grandmont-Rosedale area, the former Blue Moon Ice Cream shop near the new Pages Bookshop.
No word on when the second location will be open, but
here's what you can expect
when you drop by the West Village spot, including the aforementioned tofu catfish.