In the year 2016, Detroit's dining scene continued its ascent toward culinary greatness. Our new restaurants and chefs were included as some of the best in the country, and for good reason. The narrative about our food and drink culture is no longer being tied to the city's comeback – it's making inroads on its own merit. This year, we were introduced to a number of Asian-inspired eateries. We learned that the next generation of Detroiters can embrace an old Chinese-American classic in a reimagined Chinatown. Our senses have been awakened by regional Thai cooking at Katoi and we discovered that fine Vietnamese cuisine can come out of an old school Coney Island. We also saw the rise of women chefs who are butchering their own meat and have found that food (specifically tacos) can be used as a form of political protest. While it may be quite impossible to encapsulate all of the excitement that has come out of Detroit dining this year in a singular list, we can certainly eat great food in the process of learning about some of it.
Almond boneless chicken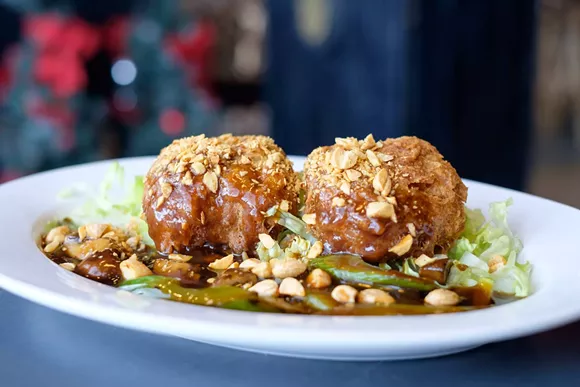 Photo courtesy of Jason Troy
Somewhere around 75 years ago on the corner of Cass and Peterboro, entrepreneur Harry Chung opened Chung's Chinese restaurant, and with it one of the city's most beloved dishes: almond boneless chicken, or ABC for short, was born. For the uninitiated, the entrée is comprised of fillets of sort of Southern-style fried chicken breast, that are smothered under a thick coat of brown gravy. It's usually topped with scallions and thinly sliced almonds on top of shredded iceberg lettuce. Long after Chung's sold its last plate of ABC, the quintessentially Detroit dish was reborn, thanks to chef Brion Wong at The Peterboro. He gives the classic a modern twist by braising and shredding both white and dark meat, then gelling it together with gravy, before it's beer battered, and accompanied with Marcona almonds, and shredded lettuce.
See also: The Peterboro has Detroit's newest Chinese American comfort food
Chinese duck noodles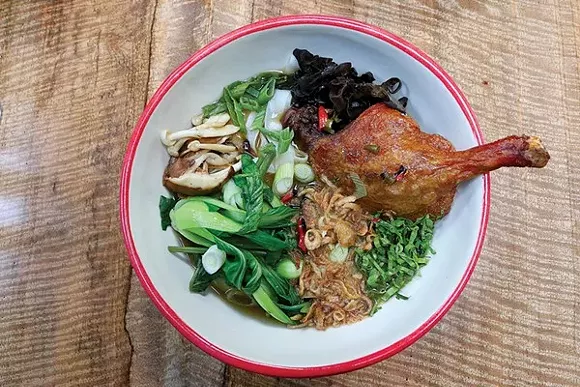 There's a sensuality that's paramount in Thai cooking that until Katoi arrived on the scene – first as a food truck, and then this year as a brick and mortar in Corktown – was mainly lacking in local, Americanized establishments. It's to be experienced tactilely, as you grab mounds of sticky rice with your hands; visually; and through your nasal passages, as you get a whiff of fresh herbs; even via your neuroreceptors, when you bite into a fiery chili pepper. Chef Brad Greenhill achieves this sensory arousal by drawing inspiration from the distinct northern section of Thailand. A playfully inspired creation from his early menu came in bowl form with his Chinese duck noodles. The dish was plenty ample for sharing, with juicy, bone-in pieces of chicken, and a broth loaded with umami flavor, with a blend of wood ear and shiitake mushrooms, bok choy, and five spice.
See also: Detroit Eats: Katoi lives up to the hype

Mangonada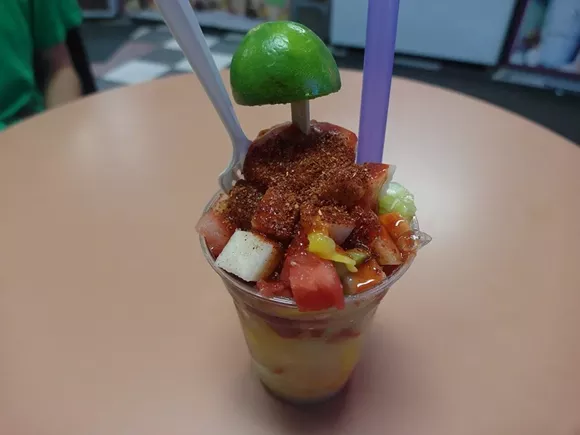 If you grew up in a Latino neighborhood, the sight of a mangonada stand is somewhat common. The Instagrammable summertime treat combines sweet, spicy, and frozen together resulting in an explosion of flavors. To make such a concoction, one takes a cup full of sliced frozen mangos and other fruits, and loads them up with tangy chamoy sauce, chili powder, and lime. While outdoor fruit stalls aren't exactly practical for Detroit winters, the mangonada can be found in the growing Mangonada del Barrio chain, with locations on Lawndale and West Vernor Highway, as well as at the longtime Neveria La Michoacana, also on West Vernor.
See also: The Mangonada: The mind-blowing summertime treat you've never heard of

Pizza at El Club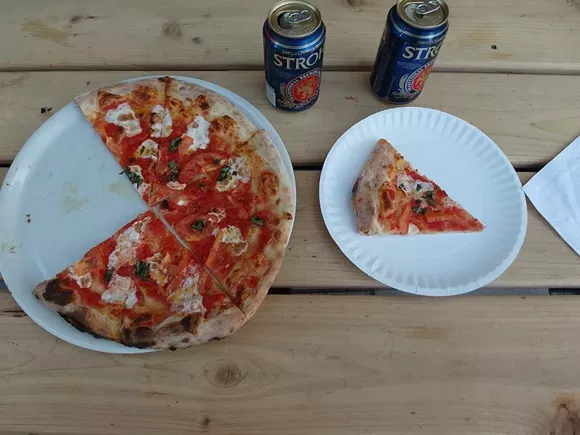 Photo by Serena Maria Daniels
The lineup at El Club is badass. Since opening, the West Vernor Highway venue has attracted a bilingual mix of iconic acts, from 70s LA punksters like Alice Bag, Mexican rock bands like Molotov and poppy Belanova, and local hits like Jessica Hernandez and the Deltas. But as great as the music is, the food, specifically the pizza, is also plenty reason to pay this spot a visit. Matt "Pepe Z" Ziolkowski's pies are part Neapolitan, part New York style, and are fired up in an impressive gas-wood hybrid oven, resulting in a heavenly, crispy crust. His sauce is made with four types of tomatoes, and as for the toppings, well, he abandons tradition by embracing all manner of combinations. Most recently, he came up with the taco truck pizza, a "green" pie topped with carnitas, radish, cilantro, pickled jalapeno, onion, cotija cheese, salsa verde sauce, and a lime wedge garnish.
See also: What's for Dinner: El Club kids find a sweet pizza with Pepe Z

Gratinato di finocchio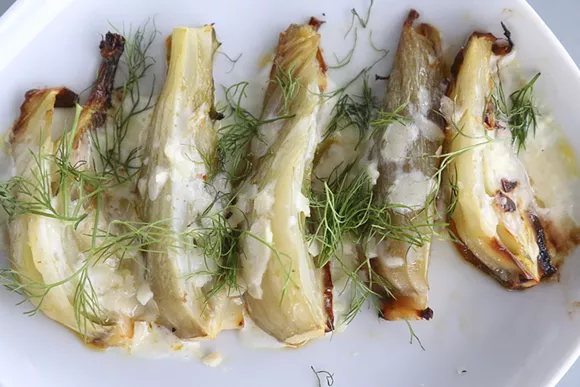 Our traditional notion of Italian-American cuisine has been ingrained in our consciousness from an early age, back to when we gathered in front of the TV to watch two cartoon dogs smooching over a heaping plate of spaghetti. Thing is, our palates have evolved. And thanks to the opening this year of La Rondinella, we have just that: an evolution in Italian cuisine that's unmatched in the city. A favorite of ours from the Eastern Market eatery's initial menu was the gratinato di finocchio (roasted fennel). With slivers of Parmigiano-Reggiano, and lemon vinaigrette, the simple, yet expertly executed dish is robust in cheesy flavor, but simultaneously light. And, not a canned tomato in sight.
See also: A night to remember

Pollo Sambucha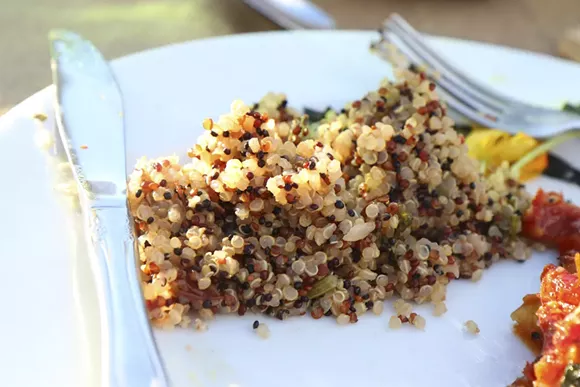 Increasingly, chefs are taking advantage of the bounty in local produce found in our many urban farms and gardens. One such highlight came in September, with the launch of the Detroit Grown & Made dinner series. The unique pop-up events highlight the talents of black farmers and chefs – specifically chef Maxcel Hardy, a Detroit native, who's spent a good chunk of his career in NYC. We attended the inaugural event at Oakland Avenue Urban Farm, which during the fading days of summer resembled a rustic farm in upstate New York (save for the abandoned buildings across the street). A highlight in the multi-course meal was the Pollo Sambuca – a succulent plate of chicken, paired with oven roasted herb tomato quinoa pilaf, pine nuts, and dried cranberries – almost all of which were sourced at the North End farm.
See also: Detroit Grown & Made dinner series shines light on black chefs and farmers

Cơm Tấm
See also: Vietnamese eatery opens in southwest Detroit at Vernor Coney Island

Brisket and cornbread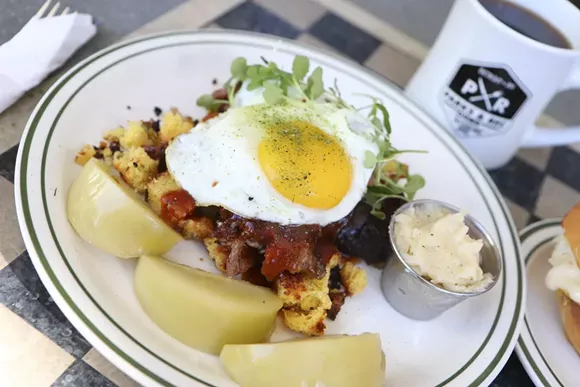 We tend to think of a greasy spoon Coney Island when we think of the traditional diner fare. But that's been changing in Detroit as of late with the addition of more inspired eateries that focus on technique, local ingredients, and unique flavors on top of the expected coffee and pastries. At Parks & Rec inside the GAR Building, chef Sarah Welch does just that. Standout on the menu over the summer was the exquisite and complex brisket and cornbread. The subtly spicy, crumbly layer of house-made cornbread is covered in sweet, marinated brisket sourced from livestock at Michigan State University, and topped with a yolky duck egg, sunny side up. The sweet and savory is cut nicely with the acidity from a side of pickled green tomatoes – all making for a dish one would expect to find in a Southern-inspired establishment, not a lunch counter.
See also: Parks & Rec is downtown's designer diner

Transylvanian Wooden Platter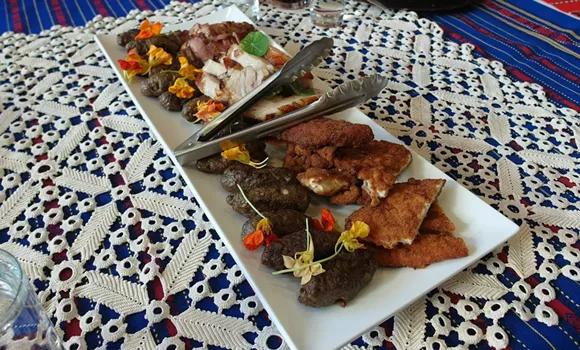 Photo by Serena Maria Daniels
We've witnessed a number of women chefs who are breaking into the male-dominated world of butchery. Among them, Larissa Popa, AKA The Meatstress. In addition to teaching others the art of whole-animal butchery and making her own sausages and pates, Popa holds the occasional pop-up alongside chef Aaron Egan, which embrace their "Old World" ancestry. This summer, we were lucky enough to attend one such event at Eastern Market. While Egan played up his Austrian and Jewish roots, Popa celebrated her Eastern European heritage, with the Transylvanian Wooden Platter, served family-style. The smorgasbord featured all manner of cured meats, including schnitzel, roast pork, and mititei, as well as braised cabbage, cucumber salad, herbed spaetzel, house pickles, and of course, left all dining guests thoroughly full for days.
"World Famous" fried chicken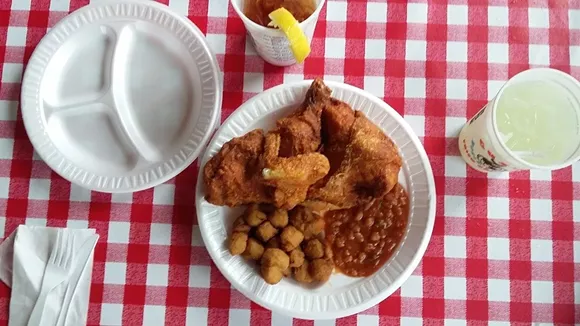 Photo by Serena Maria Daniels
The Nashville hot chicken craze has yet to really take hold in Detroit, but a distant cousin can be found in Midtown at the impressive Gus's Fried Chicken. Restaurateur Zack Sklar bought into franchising rights for the Memphis-based chain, thus introducing it to the Motor City and other Midwestern cities. The batter-fried chicken here releases a subtle heat that coincides with each immensely juicy morsel of protein. We recommend sharing a half chicken plate ($12.10) – which comes with a mix of white and dark meat, choice of two sides and a slice of white bread – immediately, to ensure maximum crunchability. And, make sure to wash it down with some sweet tea or lemonade.
See also: First Taste: Gus's World Famous Fried Chicken delivers on taste, value

#TacoTrucksOnEveryCorner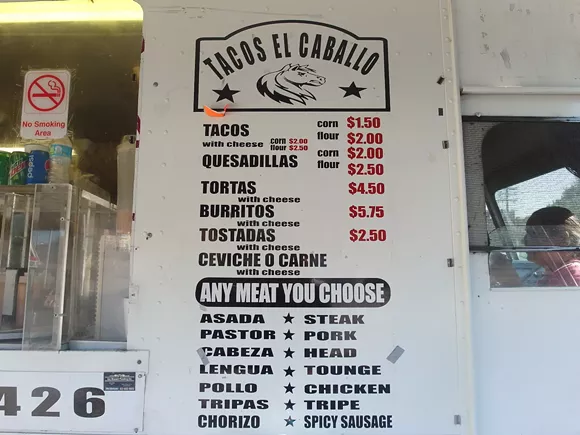 Photo by Serena Maria Daniels
The Internet went nuts this summer when a Trump supporter warned that should opponent Hilary Clinton take the presidency, America could expect #TacoTrucksOnEveryCorner. Alas, Clinton was defeated, but activists, Dems, and Latino Americans everywhere took to the moniker to mobilize a most tasty form of political protest. In Detroit, the proprietors of the Taco El Caballo truck parked their business outside of the Great Faith Ministries Church, where Trump sought support from African American voters. Their delicious demonstration added to the countless memes in support of an explosion of taco trucks, and scored them some extra business. We caught up with owners, husband and wife team Jose Badajoz and Nancy Paz, at their usual stomping grounds on Springwells and Longworth and sampled their taco al pastor and taco de lengua. The couple's brief menu attracts folks from all over and we highly recommend them, in addition to the handful of others that roam southwest Detroit.
See also: We caught up with the owners of SW Detroit's viral sensation taco truck

See also: Voter registration (and taco trucks) on every corner this Friday in southwest Detroit

Mocha Treat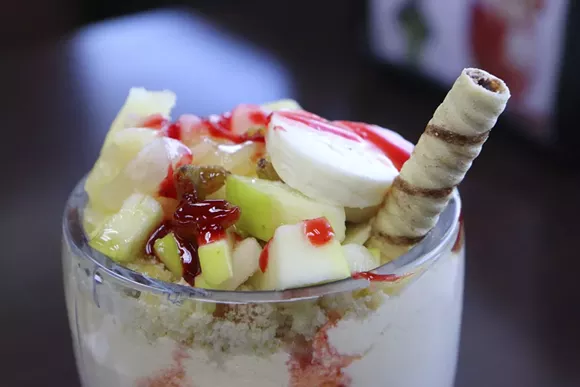 Hamtramck is known for its mashup in cultures, in particular, its food reflects an international influence. One somewhat recent arrival in the town's dining scene is Mocha Café, a Yemeni-owned spot that is especially appealing to the area's sizable first-generation American millennials. The casual eatery caters to youngsters who've grown up on burgers, shakes, and fries, but with a Halal-friendly twist. One such highlight on the fusion menu is the colorful Mocha Treat. It starts off with a creamy mango Lassi as a base, which has origins in India (and locally, at many Bangladeshi restaurants) and is typically made from yogurt, water, and mango pulp. Then it's packed with a melody of tart apple slices, sweet banana, strawberries, and pineapple, cake crumble, golden raisins, a chocolate waffle stick, and pure honey – all of which is covered in a strawberry drizzle.
See also: Restaurant review: Mocha Cafe is a Yemeni-American treat