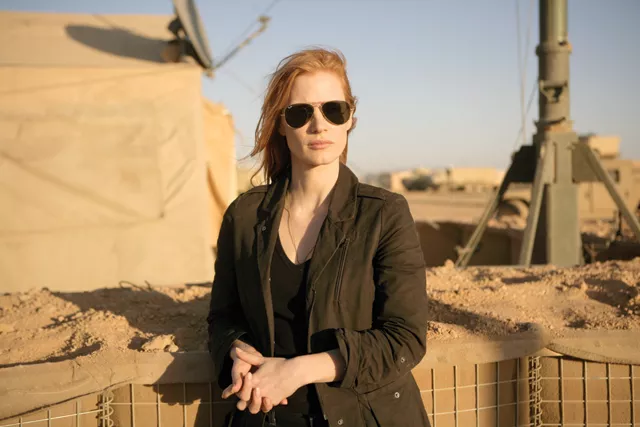 Jessica Chastain plays a dogged spook on a dark mission.
Zero Dark Thirty | A-
For more than a decade, the War on Terror has been relentlessly waged at any cost in lives, time or resources, though as posited by director Kathryn Bigelow's electrifying and gloomy Zero Dark Thirty, there has been no higher cost than the notion of liberty. While mostly fought in distant lands, this has always really been a war for the American soul, and as on the real battlefield, the final results in the spiritual realm are equally murky.
Both a profound examination of how far a nation will go to defend itself, and a sneaky bit of jingoistic mythmaking, Zero Dark Thirty simultaneously celebrates and condemns its protagonist, a singularly obsessive CIA operative named Maya, played with blistering passion by Jessica Chastain. 
Recruited straight out of high school, Maya is a driven woman, a guided missile with only one target. We follow her from the early months after 9/11 until the fateful raid on Osama bin Laden's compound. Along that long road there are setbacks, false starts, small victories and tragic losses.
Zero contains elements of many genres: It is a crime procedural, a character study, a civics lesson, an action movie and a revenge picture. There is also a strong odor of torture porn in extended sequences during which veteran specialist "Dan" (in a brilliant turn by Jason Clarke) subjects a detainee (Reda Kateb) to beatings, near drowning, hunger, claustrophobia, humiliation and sleep deprivation via the playing of ear-bleeding speed metal. The suspected terrorist denies knowing anything, and resists caving, but as Dan coolly reminds him: "Everybody breaks, bro. It's biology."
Chastain looks on horrified, but stifles her objections when she thinks the methods are working. Indeed these "enhanced interrogation" procedures are shown to be effective, at least up to a point; Bigelow and screenwriter Mark Boal hedge their bets by having the key revelation come through a bit of trickery, though one that wouldn't have worked if the suspect hadn't been pushed past the breaking point. Torture also seems to have taken its toll on the torturer, as a disgusted Dan retreats to a desk job. Maya, as always, presses on, even while most of her bosses back home seem to have lost faith in the cause. 
Chastain brings smoldering intensity and focused intelligence to a part that on paper is largely a cipher. With her ginger locks, full lips and delicately porcelain complexion, you'd be hard-pressed to imagine a lovelier face involved in a nastier business. Some people in the know have speculated that the same real-life person provided the template for both Maya and Claire Danes' brilliantly unstable agent on the hit series Homeland. Perhaps they are both personifications of our deepest fantasies that the people who do our dirty work always look gorgeous and clean while doing it. 
The film is populated by an impressive ensemble of quality character actors, many of whom just sort of shuffle through in a blur of neckties and coffee mugs. This revolving door underscores the impersonal nature of bureaucracy and the baroque rituals of government that, while familiar to us, would be as alien to our enemies as some of their most cherished religious rites are to us. There are some performers that emerge through the haze: 
Mark Strong, usually a villain, is potent as an impatient official. As Maya's bureau chief and confidante, Jennifer Ehrle brings needed warmth to the movie's bone-dry middle acts. James Gandolfini, known for imparting menace, is a weirdly comforting presence as someone who is not named, but is clearly meant to be CIA Director Leon Panetta. 
Politics here are mostly an abstraction; a nuisance that prevents the boots on the ground from doing what needs to be done. When a newly elected President Obama is seen decrying America's use of torture, it is received less as a rebuke than a need for new tactics. 
The least conflicted, and most openly heroic participants are the SEAL team members, who approach their job with both a relaxed professionalism and a sort of jocular locker-room bravado. This attitude is embodied by Chris Pratt, best known for playing a lovable goofball on Parks and Recreation. The commandoes are always confident in their abilities and the necessity of their mission, even when their workday involves gunning down fathers and mothers in front of their children. The raid itself is brilliantly realized, and not a whit less compelling for the outcome being known already. 
Zero Dark Thirty mingles excitement and revulsion, though Bigelow understands, first and foremost, that there is great romance in vengeance, even if the resolution brings only a sense of relief and not exaltation. mt