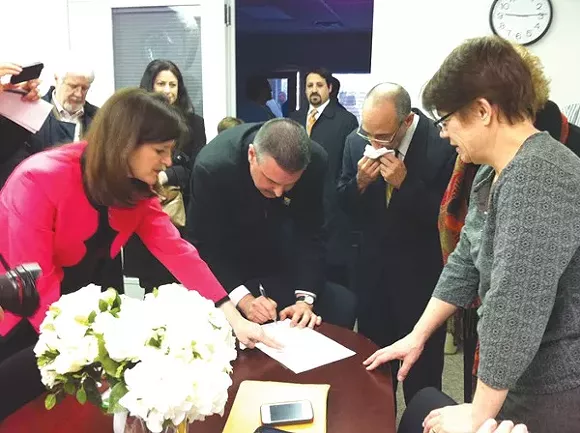 Ryan Felton
James Ryder, 48, and Frank Colasonti, 61, the first same-sex couple married at Oakland County Circuit Court Saturday, March 22, make it official with County Clerk Lisa Brown and their two witnesses, Jan Stevenson, publisher of Between the Lines, and Susan Horowitz.
Almost five months after U.S. District Judge Bernard Friedman
struck down Michigan's same-sex marriage ban,
the U.S. Sixth Circuit Court of Appeals today will hear arguments in the case — which has been roped in with with similar cases across three other states.
Bernard's order was stayed after the appellate court granted a request for a stay by Michigan Attorney General Bill Schuette. Arguments in support, and against, the ban will be heard today at 1 p.m. A ruling from the three-judge appellate panel is expected to come within weeks.