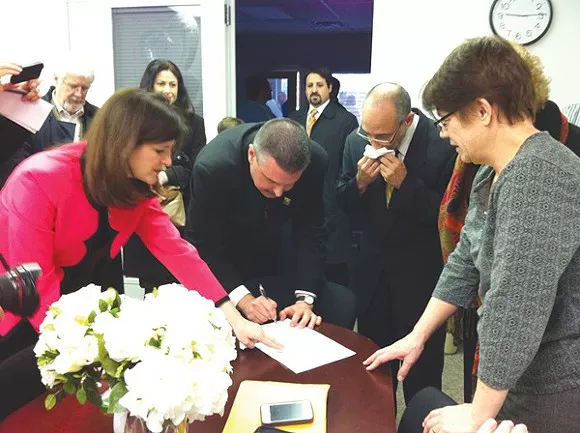 Ryan Felton/Metro Times
James Ryder, 48, and Frank Colasonti, 61, the first same-sex couple married at Oakland County Circuit Court Saturday, March 22, married the day after a judge struck down Michigan's same-sex marriage ban. The American Civil Liberties Union is asking a federal judge to have Michigan immediately recognize their marriage, as well as nearly 300 other couples.
Michigan's same-sex marriage ban remains in limbo before the
Sixth Circuit Court of Appeals in Cincinnati
, but the American Civil Liberties Union of Michigan wants Michigan to recognize the marriages of 300 same-sex couples who wed before the decision was put on hold.
The ACLU filed the lawsuit after the state of Michigan said it would not recognize those marriages until the appellate court issued its ruling.
"Never before has our state arbitrarily stripped lawfully married couples of their marriage recognition and it shouldn't be allowed to do now to same-sex couples," says Jay Kaplan, ACLU attorney, in a statement. "At the hart of these case are loving families who want to protect and care for one another."
The lawsuit, filed in April on behalf of a number of couples who were married during the short window, contends Michigan can't "undo" those marriages, the ACLU says in a press release.