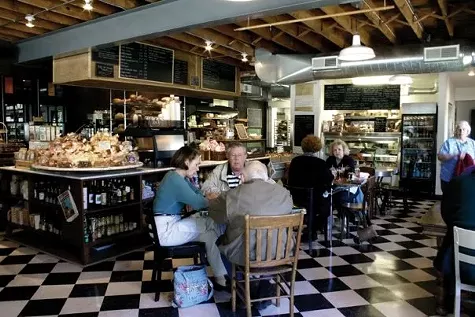 Photo courtesy of the Laundry, Facebook
The folks at Thrillist recently compiled their list of the
21 Best Breakfast Spots in America
and Fenton's the Laundry made the cut for their Bacon 'n Brie hotcakes.
Here's what they had to say about the joint, located just an hour northwest of Detroit:
Located in the Rockwellian mid-Michigan town of Fenton, The Laundry has become an institution of the downtown scene, a rock-solid bakery that doubles as a supper club, a cocktail bar, and a destination for locals and out-of-towners looking for an amazing breakfast with a side of small town charm. Most small town joints, though, aren't rolling with upscale stacks like the Bacon 'n Brie hotcakes, topped with apple-cinnamon compote, or highbrow takes on lowbrow fare like a skillet of chorizo-, egg-, and cheese-topped tots. Save room for pie, some of mid-Michigan's best (which, in orchard country, is not a statement to be made lightly). Or use that room for a breakfast cocktail and take the pie with you to eat before napping on a Silver Lake beach.

If you've never made the trek to Fenton to try this place out, we recommend you do, perhaps this coming weekend.