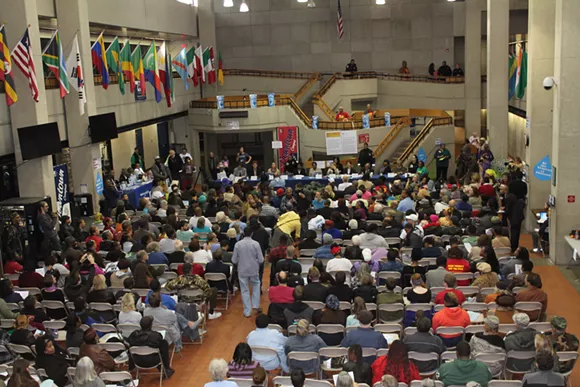 Ryan Felton/Metro Times
A town hall forum was held to discuss Detroit's water shut-off program with representatives from the United Nations on Sunday, Oct. 19, 2014.
Following a packed town hall forum on Sunday, representatives from the United Nations slammed Detroit's water shut-off program, saying it runs "contrary to human rights."
Speaking before a packed room inside the atrium of Wayne County Community College's downtown Detroit campus,
Catarina de Albuquerque
said she doesn't carry a substantial amount of power when it comes to her role at the U.N. For the most part, her role as the U.N. special rapporteur on the human right for safe drinking water and sanitation, provides her with, at most, the ability to advocate on behalf of people facing possible human rights violations.
That's why de Albuquerque, and her colleague
Leilani Farha
were in Detroit, listening to dozens of Detroiters offer testimony on the city's water shut-off program. The initiative from the Detroit Water & Sewerage Department (DWSD) has drawn international attention for its scope alone: estimates suggest upwards of 1,500 homes are losing water service due to nonpayment. DWSD has gone after residents who are 60 days overdue or hold $150 in past-due fees.
After
months of demonstrations
,
a shakeup in DWSD's governance structure
, and
a heated hearing before the bankruptcy judge overseeing Detroit's bankruptcy case
, the situation presented before the U.N. officials wasn't pretty. It still isn't.
Valerie Blakley
, a resident of Detroit's North End district, says her entire neighborhood endured a mass water shut-off this year — twice. Her 86-year-old neighbor went 11 days without water in her home.
The immediate issue, she says, is obvious: "When you shut off whole neighborhoods, we're not able to help each other."
Similar to other residents who spoke during the hearing, Blakely, a mother of five, says she did what she could to help her neighbors. "The only reason why I was able to service people was because I stopped them from shutting off my water both times," she tells News Hits. "Them" being Homrich, the contractor who inked a near $6 million deal to service Detroit's water shut-offs. When the company came around to cut her neighbors' water, Blakely says she simply blocked workers from reaching the valves to shut off her home's water.
Gregory Price
raised concerns about the city's plans to assist low-income residents who need financial assistance to pay their bills. Even with new arrangements from Mayor Duggan to allow some to enter into payment plans, it still leaves a high balance, Price says, something he called a "monstrosity."
Even if Duggan maintains he has a better grasp of DWSD than Emergency Manager
Kevyn Orr
ever did, the truth is that problems still persist: Last month alone, an estimated 5,100 residential customers faced shut-offs, by DWSD's account. In all, more than 27,000 have been cut this year alone, outpacing the entire 2013 total.
And even though the creation of a regional authority to oversee DWSD has been greeted with widespread approval, some points Duggan touts have been somewhat overstated in their significance: For instance, as American Civil Liberties Union of Michigan investigative reporter and occasional
Metro Times
contributor
Curt Guyette
pointed out last week
, the new regional authority will provide $4.5 million annually in funds to help low-income customers pay their water bills.
And when you consider that roughly 15-20 percent of the entire eight-county region served by DWSD lives below the poverty level, with about 70,000 in Detroit as Guyette notes, that $4.5 million annually won't go very far: "[W]hat you get is about $64 dollars a year in water bill assistance for Detroit's neediest residents — and zero for all the other poor folk among the roughly 3 million customers throughout the rest of southeast Michigan … served by the new Great Lakes Water Authority." In other words, it's likely that $4.5 million will barely make a dent in anyone's water bill.
Though she reinforced the fact she doesn't have the ability to force Detroit to implement additional changes, de Albuquerque told the room she does have the ability to make recommendations and draw additional international attention to the matter.
"We don't have dynamite," she says, but "we work with the weapons we have."
Following her Monday meeting with Duggan's administration, de Albuquerque said in a statement that, "It is contrary to human rights to disconnect water from people who simply do not have the means to pay their bills."
She added: "This, combined with the decreased number of customers, and increased unemployment rate, has made water bills increasingly unaffordable to thousands of residents in Detroit living under the poverty line."
Duggan's chief of staff,
Alexis Wiley
, wasn't pleased with the U.N.'s response, saying it "became clear" shortly into the two-hour meeting that conclusions from the rapporteurs have already been made. .
"Hundreds of cities in Michigan and thousands nationwide shut off water to people who do not pay," Wiley said in a statement Monday. "It is a standard practice among utilities. Yet for some reason, the UN is focusing only on Detroit, apparently to the exclusion of all others."
That may be; however, other cities offer
different payment options that are based off affordability
, unlike Detroit's payment plan program. While there is certainly disagreement over whether Michigan law affords Detroit the opportunity to implement such a plan that is based off of a customer's income, it's still clear that other payment options in cities that shut off water for those who do not pay do exist.
And while Wiley may be disappointed by the U.N.'s take, the scene inside the town hall forum offered a picture that more-or-less corroborated the rapporteurs point-of-view: water shut-offs have, and have continued, to cause problems in Detroit.