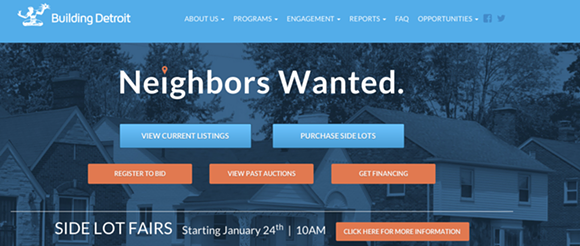 screengrab via BuildingDetroit.org
A plan announced today by Detroit officials would provide a 50 percent discount to city employees and retirees on homes purchased through a city auction program.
The plan, put forth by Detroit Mayor Mike Duggan and the Detroit Lank Bank Authority, was submitted to the Detroit City Council today for approval, city officials say.
"Our employees are the city's biggest champions," said Duggan, in a statement issued Monday. "Whether they are renters looking to buy, homeowners who want to restore and move into a bigger house, or employees living in the suburbs who might like to return to the City, we wanted to make it easier."
All city employees, retirees, and their family members can take advantage of the discount, officials say, as long as they reside in the home for at least three years. The auction,
launched last year
at a website called
BuildingDetroit.org
, auctions off homes in certain neighborhoods for as little as $1,000.
Once an employee, retiree, or family member registers as a bidder at the website, they're eligible to bid on any home. If they win, the city says, the 50 percent discount will be applied to the total purchase price.
In the simplest terms, Erica Ward Gerson, chair of the Detroit Land Bank Authority Board, said in a statement: "If an employee wins the house with a $10,000 bid, they will pay the Land Bank $5,000." Anyone who qualifies must be verified by the city as eligible for the discount prior to bidding on a home.
The city says it auctioned off 400 homes last year, with sales having closed on about 150. This has been attributed to the difficulties some homeowners have faced in
finding available financing to support renovations
, however the Land Bank has said it's taking steps to implement programs with banks that offer funds to eligible homeowners.
If any person who qualifies for the half-off discount resells the home before three years, the city says it would have to share the profit with the Land Bank based on the following: A sale in the first 12 months, 75 percent of profit earned is returned to the Land Bank; a sale in 13-24 months after a purchase, 50 percent of the profit is returned to the Land Bank; and a sale that takes place 25-36 months after a home is purchased, 25 percent of the profit earned is returned to the Land Bank.