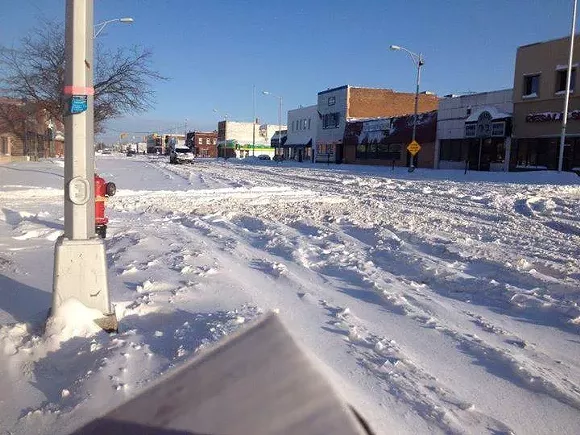 MT
Scene from Hamtramck following the Feb. 1-2, 2015 snowstorm.
It was as if Mother Nature set out to prove something last night: Metro Detroit awoke this morning to hundreds of school closings and likely thousands of vehicles rendered useless, following last night's
relentless pounding of snow
. Most communities received about a foot, with parts of Wayne County seeing as much as 17 inches.
Here,
via the National Weather Service outpost in White Lake Township
, is a summary of last night's totals for some communities:
Brownston Township: 17 inches
Romulus: 16.7 inches
Wyandotte: 16.5 inches
Shelby Township: 15.5 inches
Leonard: 15 inches
Milan: 15 inches
Northville: 14.2 inches
Lakeville: 14 inches
Waterford: 14 inches
South Lyon: 13.7 inches
Garden City: 13.5 inches
Rochester: 13.1 inches
Livonia: 12.3 inches
Novi: 11.5 inches
White Lake: 11.2 inches
Ortonville: 11 inches
Farmington: 10.6 inches
Dearborn: 9.6 inches
Grosse Pointe Farms: 9.5 inches