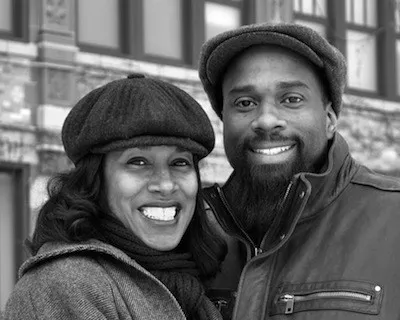 Photo courtesy Mariuca Rofick
Husband-and-wife team Nicole Pitts and LaMar Williams are closer to their dreams becoming a reality.
We always like it when
a story we've followed for a while
seems to be arriving at the long-anticipated happy ending. As of today, that seems to be the case with the
Cooley Reuse Project
, which aims to transform the architecturally significant Cooley High School, which has been vacant for a few years, into a multi-use commercial property. The duo driving the effort was husband-and-wife team Nicole Pitts and LaMar Williams.
The project had seen
some hopeful moments
, and even
some setbacks
, but word came to us via a forwarded email that the project appeared to be on the verge of having the official go-ahead. The email from Nicole Pitts read:
Last night around 6:45 pm in New Center's most beautiful building, The Fisher Building, Detroit City Council unanimously approved our offer on Cooley. We have a few more steps left, and we will have keys perhaps as soon as September! Congratulations on being at the threshold of a whole new adventure, Team! We all did this together!


We'd like to offer our congratulations, while hoping they aren't premature, to Pitts and Williams and everybody else who's fought to find a new, community-oriented purpose for this historic building.