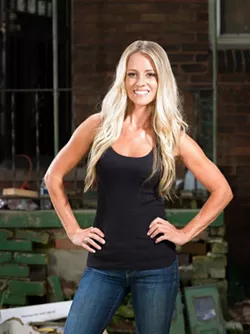 Updated 11:49 a.m. Thursday, Sept. 10 — In Curtis' now-deleted post, she initially characterized the theft as an "attempted carjacking."
Originally posted at 10:27 a.m.:
News that
Rehab Addict
star Nicole Curtis was robbed in Detroit is currently making the rounds, but Curtis took to Facebook Wednesday night to vent frustration with the media's version of events.
Reports characterized the theft as a
"robbery"
or
"attempted carjacking"
in which the thief reached into Curtis' car and stole her purse. But according to Curtis, that's not the case. "It kind of reminds of that game telephone we played in Junior High," she writes.
Curtis says that the thief jumped out from a black SUV parked in front of her car. As she and her family were loading into the car, the thief jumped into the driver side and stole her work bag, not her purse.
The reality TV star is in town working on the restoration of the historic Ransom Gillis mansion for her show. In a now-deleted post, Curtis wrote Wednesday, "The truth is ... crime happens. I thought here I am the self-appointed 'come live in the city -there's no such thing as bad neighborhoods just bad neighbors' and I got F%*+# robbed ????"
"You know what happened ? I got comfortable," she added. "Don't be stupid, don't be naive."
Read her full post below: