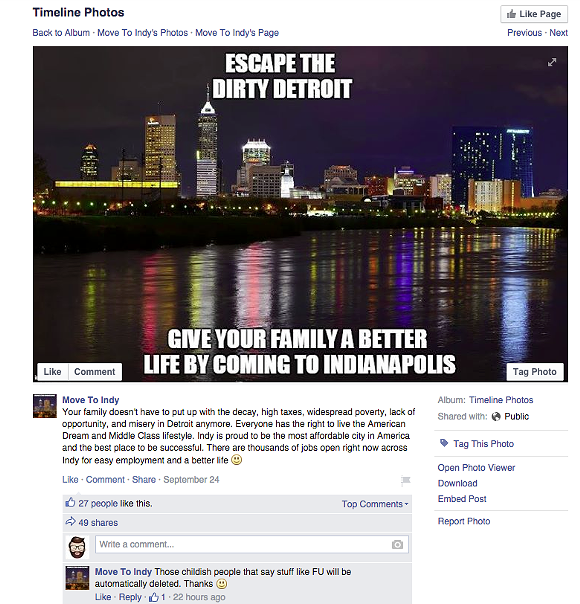 Updated 8:26 p.m., Sept. 30:
The real estate agent whose name has been attached to the controversial "Escape the dirty Detroit" campaign says it was created without his knowledge.
Speaking by phone, Drew Doran says that while the Move to Indy Facebook page linked to his official real estate website, he did not manage the page nor author any of its content.
Doran says the page was run by an associate, who linked to Doran's website in the About section.
"We're not businesses partners, and we're not affiliated," he says. "He'd come to me and said, 'Hey, I have people who want to move here once in a while. You're in real estate.' I said, 'Sure, if you get any leads, let me know.' That's about the end of it."
Doran says he was completely unaware of the incendiary posts until he started getting a barrage of angry messages.
"I can understand why people are mad. I get that. But it's not me saying it," he says. "I don't condone that type of behavior."
Doran has since had his name and website removed from the Facebook page.
Originally posted 10:47 a.m., Sept. 29:
Where is that Facebook "Dislike" button?
Last week, a Facebook page called "Move to Indy"
posted an image
of the Indianapolis skyline with the words "Escape the dirty Detroit — Give your family a better life by coming to Indianapolis."
The caption continues:
Your family doesn't have to put up with the decay, high taxes, widespread poverty, lack of opportunity, and misery in Detroit anymore. Everyone has the right to live the American Dream and Middle Class lifestyle. Indy is proud to be the most affordable city in America and the best place to be successful. There are thousands of jobs open right now across Indy for easy employment and a better life :)
The page appears to be run by Realtor
Drew Doran
, who, of course, could have chosen to advertise his city without trolling Detroit. At the moment, Doran seems to be in the middle of smiley face emoticon-filled social media meltdown a la Martin Shkreli,
the misanthropic pharmaceutical CEO
.
One commenter wrote, "This guy paid to sponsor this post. Lol... sounds like Detroit is a big threat to the progress of Indy."
The page responded: "Threat? Detroit is still shrinking. We are not threatened or intimidated by Detroit one bit. Indianapolis population: 850,000 and growing by 8000 per year. Detroit's is less than 700,000 and still falling by 4,000+ per year :)"
Another commenter wrote, "This isn't the way to build a strong Midwest region, it doesn't help the Indy message, and it doesn't accurately represent Detroit or any of the huge strides the city is making. Indy is a beautiful place, and Detroit has a ton to offer to newcomers as well. The zero-sum game you're playing is misguided."
What do you think about the advertising campaign? Sound off on the comments for the Facebook post below.